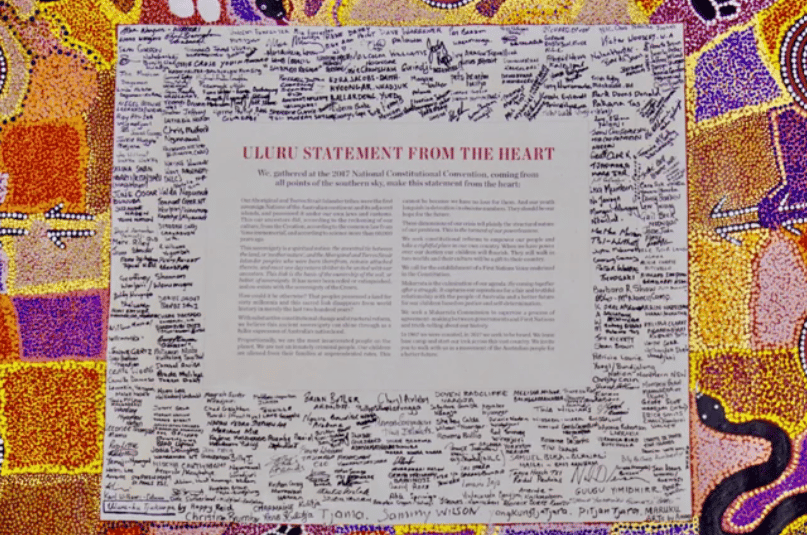 To keep up to date with the federal election campaign as we head to the polls to vote on May 21, visit our election hub page. There you'll find analysis, explainers and all the results of our Mamamia Votes survey.
It's been five years since the Uluru Statement from the Heart was delivered. And it's still yet to be enacted.
With two weeks left until we head to the polls, the authors of the statement are calling on Aussies to make constitutional change an election issue.
A new campaign has also been launched this week by 'From the Heart', calling for whoever wins the election to commit to a referendum on Indigenous constitutional recognition and a Voice to Parliament, which is proposed in the Uluru Statement from the Heart.
The time has come. Share the message far and wide. pic.twitter.com/JPUQVfBYyt

— From The Heart (@fromtheheartau) May 2, 2022
With the federal election right around the corner, here's a look at where the parties stand on Uluru Statement from the Heart and other First Nations policies.
But first, what exactly is the Uluru Statement from the Heart?
The Uluru Statement from the Heart is a 12 paragraph statement calling for major changes to the Australian Constitution.
The statement was endorsed by a gathering of 250 Aboriginal and Torres Strait Islander leaders in May 2017, following a First Nations National Constitutional Convention in Uluru.
It proposes three key elements of reform; Voice, Treaty and Truth.
The first element, Voice, calls for a First Nations Voice to Parliament to be enshrined in the Constitution. This would give First Nations people a say in the laws and policies that are created about them.
First Nations leaders have put forward two potential dates for a referendum on an Indigenous Voice to parliament; May 27, 2023, or January 27, 2024.
The second proposal in the statement is about the creation of a Makarrata Commission. 'Makarrata' refers to the coming together after a struggle and since the 1970s, has been used to describe the process of Treaty. A Makarrata Commission would oversee a process of agreement-making between governments and First Nations people and Truth-telling about the past.
The Coalition.
Unlike Labor, Prime Minister Scott Morrison has ruled out holding a referendum on enshrining a Voice to parliament in the Constitution.
"It's not our policy to have a referendum on the Voice, so why would I be doing that?" Morrison said while campaigning in Victoria on Monday.
Instead, the government plans to establish a Voice through legislation rather than a vote.
According to the Sydney Morning Herald, the government has finished a design process for a legislative model, which was led by Indigenous leaders Marcia Langton and Tom Calma.
"Our policy is to build up a voice from the ground up, and that's the process that we've been going through with Tom Calma and Marcia Langton and that's been led by the Minister for Indigenous Australians. And that process is underway, building up local voices of Indigenous people," Morrison said in April.
The government has also allocated $31.8 million in this year's budget to establish 35 local and regional Voice bodies across Australia.
Here's a look at other policies they promised in the budget for First Nations people:
The Liberal party will provide $8.6 million over three years to establish a National Closing the Gap Policy on social and emotional wellbeing.
When it comes to healthcare, the party will provide $16.2 million for states and territories to improve the health of Indigenous Australians.
They will provide almost $11 million over six years to strengthen cultural heritage protection legislation.
The Liberal party will provide $636.4 million over six years to create 1,000 additional ranger jobs.
$29.4 million will go towards extending the Indigenous Boarding Schools Grants program for a year and establishing a Commonwealth Regional Scholarship Program to assist families with the costs of boarding.
They will provide $1.9 million to extend Custody Notification Services in Western Australia and Northern Territory for another year to provide health and wellbeing support for Indigenous people after being taken into custody.
The Liberal party have promised a further $98 million in 2022-23 towards the controversial Community Development Program, which Labor wants to scrap.
Listen to The Quicky, Mamamia's daily news podcast. Post continues below.
Labor.
Labor supports the Uluru Statement from the Heart in full, including Voice, Treaty and Truth.
On their party website, Labor recognises the statement as a "generous offer of a genuine partnership, and a real chance for us to create a reconciled Australia."
Labor says they will progress a referendum to enshrine a Voice to Parliament in the Constitution "as a matter of priority". They will also establish a Makarrata Commission to work with the Voice to Parliament on a national process for Treaty and Truth-telling.
As for the timeline, Labor leader Anthony Albanese told reporters, he'll "sit down with Indigenous people and, if we're successful, it would be my intention to hold a referendum in our first term."
Here's a look at what other policies Labor are promising to support First Nations people:
Labor will work towards Closing the Gap after establishing its first framework in 2008.
They will scrap the controversial and "punitive" Community Development Program and replace it with a new program with "real jobs, proper wages and decent conditions, developed in partnership with First Nations people".
They will address incarceration and deaths in custody through justice reinvestment funding. This will allow up to 30 communities to establish locally tailored justice reinvestment initiatives and provide funding to legal services to represent families in coronial inquests.  
Labor will fund housing improvements, maintenance and repairs in remote indigenous communities.
They will invest in First Nations conservation of land and waters by doubling the Indigenous Rangers program, boosting funding for Indigenous Protected Areas by $10 million a year and deliver cultural water in the Murray-Darling Basin.
Labor will strengthen First Nations economic and job opportunities. 
They will get rid of the privatised Cashless Debit Card.
The Greens.
The Greens position on the Uluru Statement from the Heart has sparked some controversy.
Why? Well, the party is planning to roll out a different sequence of measures that was originally laid out in the statement - which calls for Voice, followed by Treaty and a Truth-telling commission.
Instead, the Greens are prioritising Truth telling and Treaty, followed by Voice.
They will do this by spending $250 million to create Truth and Justice Commission, which will oversee a truth-telling process and lay the foundations to engage the community to develop a treaty or treaties.
"If we really want success to happen, it's a mistake to do it in any other order, we need to do it in that order where we tell the truth, then strike a treaty, and that will put us in the best position for reforms like the Voice to succeed," Greens Leader Adam Bandt said during his National Press Club address last month.
We need to kick the Liberals out, and the Greens will work with the next government to pass major reforms to improve First Nations rights, set up a Truth and Justice Commission and begin steps towards a treaty.

— Adam Bandt (@AdamBandt) April 30, 2022
Here's a look at some of the other policies the Greens are promising:
When it comes to healthcare, the Greens says they will provide $371 million for community-led First Nations health services so they can better care for their own communities, among other policies.
They will establish a compensation scheme to provide survivors of the stolen generation with a $200,000 payment to support them and their families.
The Greens promise to bring in strong laws to protect First Nations cultural heritage, knowledge and intellectual property.
They will fix the justice system which regularly fails First Nations people.
The Indigenous-Aboriginal Party of Australia.
The Indigenous-Aboriginal Party of Australia was created by Uncle Owen Whyman, a Paakindji man from Wilcannia.
As stated on the party website, "The Uluru Statement from the Heart mirrors all the concerns we as a party have for Aboriginal people in Australia."
The Indigenous-Aboriginal Party of Australia supports the call for a First Nation's Voice to parliament but recognise that it could be "censored or vetoed at any time". Instead, they believe, as a party, it's easier to have a say in parliament.
Q - "What do Aboriginal people want? We throw so much money at them and nothing changes."
A - "To be involved in the decision making that affects us. Local community based solutions."
🖤💛❤️#auspol @NITV

— Indigenous-Aboriginal Party of Australia (@PartyIndigenous) April 10, 2022
Here's a look at some of the other policies the Indigenous-Aboriginal Party of Australia is calling for:
An end to Indigenous incarceration, except for the most serious offences. They say all fines should be worked out with community service and juveniles shouldn't be placed in detention.
Indigenous control of Indigenous school education.
Support for Indigenous businesses.
Better housing, especially in Regional Australia.
A free Indigenous Suicide Prevention phone line.
Traditonal land management.
Feature Image: Supplied/Thomas Mayor.
Love all-things beauty? Take this short survey now to go in the running to win a $50 gift voucher!
Sign up to Mamamia Votes.
The latest in election news straight to your inbox.