The Matildas have emerged triumphant over Jamaica with a 4-1 rout, launching them into the knockout rounds of the World Cup. And it was all led by Captain Sam Kerr, responsible for all four of their goals.
The 25-year-old Australian striker is the first Aussie player, male or female, to score a hat-trick at a World Cup.
There is no doubting the attacking prowess Kerr brings to Australia's forward line puts her firmly in the conversation as the "best [female soccer] player in the world" – a statement made by the Jamaican coach Hue Menzies.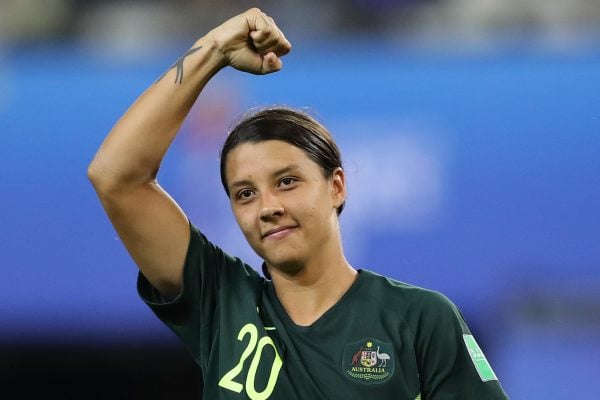 The Captain of Australia's national women's soccer team is humble but hungry in her soccer success.
Despite her stunning performance on Wednesday morning, the Western Australian player said in her post-match interview, "I actually wanted more after that, being my selfish self."
What more could we want from a sports player representing our country?
Her coach, Ante Milicic, said of the star player: "She's an inspirational leader."
"We, as an Australian footballing community, should be thankful that we're witnessing one of the best players in the world live."
The Matildas are next to play Norway in Nice on Sunday, competing for a spot in the quarter finals.
So before the next Matildas World Cup game, we're taking a deeper look at Sam Kerr, the woman Australia can't stop talking about right now.
Sam Kerr started in AFL
Sam comes from a family of incredible sporting talent.
Her father Roger Kerr is a former AFL player and coach of WAFL. Her brother, Daniel Kerr, was also an Aussie Rules player, representing the West Coast Eagles between 2001 and 2013.