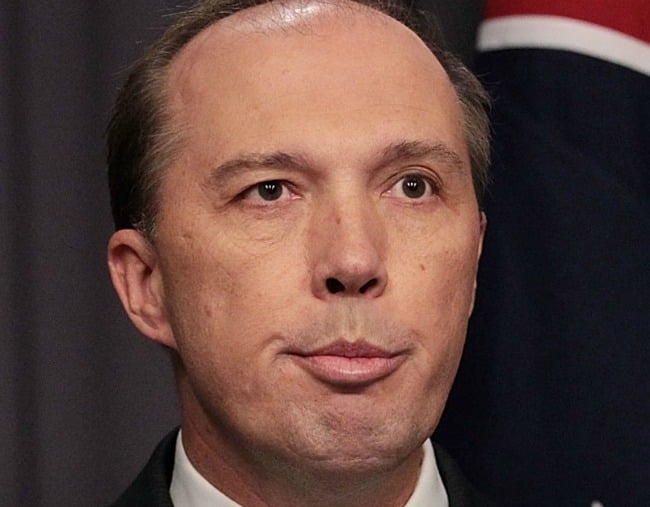 He came oh so close to becoming our next Prime Minister, and has admitted he is planning a second attempt so… who exactly is Peter Dutton?
Dutton has been in Federal Parliament since 2001. He arrived as a 31-year-old having won his Queensland seat of Dickson and told of his nine years as a Queensland police officer in his first speech to Parliament and his tough-on-crime stance. He said he was frustrated by "the boisterous minority and the politically correct".
He is now the second most experienced minister in the Turnbull government, after Foreign Minister Julie Bishop.
So, what do we need to know?
Peter Dutton wife and family.
Peter Dutton, 47, is married to 43-year-old Kirilly Dutton and they share two sons, Harry aged 14 and Tom aged 12.
The pair married in 2003, and now live on a two-hectare property in Dickson, located in north-west Brisbane. Together, they own six properties, which includes a shopping centre in Townsville.
Kirilly is Dutton's second wife. The Queenslander married at 22 but divorced after a few months.
In 2002, Dutton became a father for the first time to a daughter named Rebecca. He now has a shared parenting arrangement with her mother.
Peter Dutton early life.
Dutton was born in Boondall, a suburb in Brisbane, to his mother, Ailsa Leitch, a childcare worker, and father, Bruce Dutton, a builder. He is the eldest of five children.
In 1988, at 18 years old, Dutton joined the Young Liberals, and in 1989 ran unsuccessfully in his first state election.
At 20 years old, Dutton graduated from the Queensland Police Academy. He worked as a police officer in the Drug Squad in Brisbane for nine years, before moving into the Sex Offenders Squad and then the National Crime Authority.
In 1999, the 29-year-old left policing to pursue business. Alongside his father, Dutton founded the business Dutton Holdings, which purchased and developed childcare centres known as ABC Learning.
By 2001, Dutton was heavily involved in politics, elected to the Division of Dickson. In 2004, he was promoted to the ministry as Minister for Workforce Participation.
He successfully held his seat of Dickson at the 2007 election.
Here are the moments that best represent his trajectory since.
Reminder: Peter Dutton boycotted the Apology to the Stolen Generations.
When then-prime minister Kevin Rudd apologised to the Stolen Generations in 2008, Dutton was the only member of the Coalition frontbench to boycott the apology.
At the time he defended his decision by saying the apology was "something which was not going to deliver tangible outcomes to kids who are being raped and tortured in communities in the 21st century".
Last year he told the Sydney Morning Herald that regretted his choice and had not appreciated the symbolism of it and its importance to Indigenous people – conveniently, this was right around the time his name was being brought up as a potential future PM.
If this one fact isn't enough, we've put together a few others about the man who is hoping to become Australia's next PM:
He's the one who said Melburnians were scared to go out because of 'African gang violence'.
Yeah, that was him. In January, Dutton claimed people in Melbourne were "scared to go out to restaurants" due to "African gang violence".
On Wednesday morning, Dutton appeared on Melbourne's 3AW radio and relayed this message.
"If you're a Victorian and you're out in the CBD and you're followed home, you've been out to dinner and your car's been stolen, I do think you have a concern about that," he said on air.
"I don't seek to overstate it, I didn't say every Victorian, I said some and that'd been relayed to me by Victorians as a matter of fact."
He believes "in the traditional form of marriage".
He also thought it was a good idea for an anti-marriage equality song to be performed at the NRL Grand Final. Because "free speech".
In March last year Dutton criticised a list of 20 high profile CEOs who signed a letter urging the prime minister to legislate for same-sex marriage and singled out Qantas CEO Alan Joyce.
"If Alan Joyce and any other CEO wants to campaign on this or any other issue in their own time and on their own dime, good luck to them," he told a Queensland LNP conference crowd at the time.
"Don't use an iconic brand and the might of a multi-billion-dollar business on issues best left to the judgements of individuals and elected decision-makers."
Alan Joyce and Qantas fired back, saying the company would continue to support issues that speak to "the fundamental Australian value of fairness".
He personally voted no in last year's same-sex marriage plebiscite. His electorate of Dickson voted 65.2% in favour of marriage equality, and Dutton then voted for the the law change out of respect for the postal result.
He's not a fan of immigration.
Tony Abbott appointed Dutton as immigration minister in 2014 and he has become well-known for his hardline position on immigration and refugees.
In February Dutton said the Coalition had reduced the number of people settling in Australia by 100,000 compared to the levels when Labor was last in government, and he hoped to reduce this further.
In June he insisted Australia would not sign a United Nations migration agreement as Australia had an issue with the agreement's final draft, which said "migration detention" should only be used as a last resort.
Dutton did however raise a few eyebrows when he advocated for "special treatment" of white South African farmers earlier this year, claiming they were being "persecuted" and faced "horrific circumstances". This, uh, did not go down well in South Africa – its government demanded Dutton retract his comments.
He thinks the effect of climate change is funny.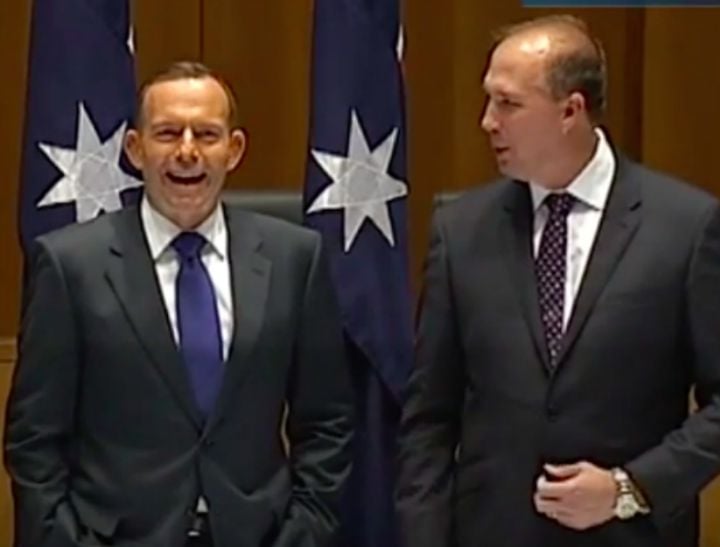 He also doesn't care to check if a microphone is on before he makes a (bad) joke.
In 2015, Dutton was overheard making a joke about the plight of Pacific Island nations facing rising sea levels due to climate change. Who was he telling the joke to? ...Could it really be anyone else but Tony Abbott?
Abbott, who was prime minister at the time, had just returned from talks with Pacific Island leaders about climate change in Port Moresby, Papua New Guinea.
They were late for a meeting about Syrian refugees, and Dutton remarked that they were running to "Cape York time". Abbott replied that there was "a bit of that up in Port Moresby".
"Time doesn't mean anything when you're about to have water lapping at your door," Dutton quipped back.
MP Scott Morrison then pointed out to the pair that there was a large television microphone above their heads.
Dutton later refused to answer questions about the incident, calling it a "private conversation with the Prime Minister".
And finally, he should definitely not be in charge of a mobile phone.
You guys, he sent a mean text message about someone TO THE PERSON. Who doesn't triple check that sort of thing?
Dutton issued an apology in 2016 after referring to former News Corp political editor Samantha Maiden as a "mad f*cking witch" and accidentally texting her instead of the intended recipient, former minister Jamie Biggs.
"Sam and I have exchanged some robust language over the years so we had a laugh after this and I apologised to her straight away, which she took in good faith," Dutton said in a statement.
Maiden called the "mobile phone malfunction" spectacular and said she was not offended.