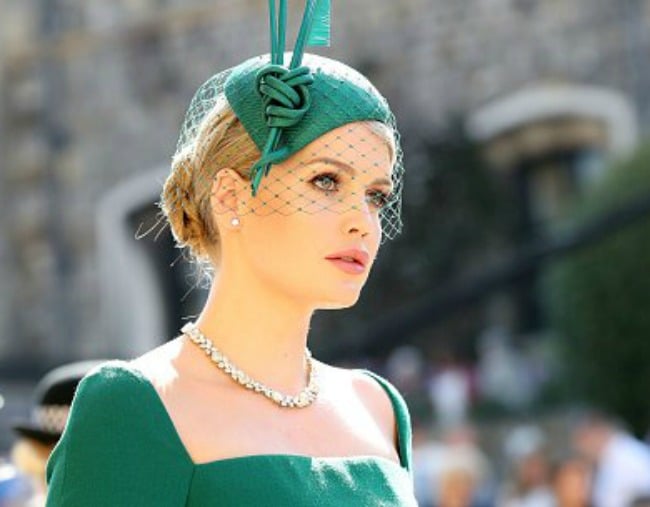 After 2019 proved to be somewhat of an annus horribilis for the British Royals, it seems they may finally have something to celebrate. According to local tabloid media, Lady Kitty Spencer, niece of Princess Diana and cousin of Princes William and Harry, is engaged to be married.
The 29-year-old model, who was the celebrity guest at the 2019 Melbourne Cup, has been dating 60-year-old Michael Lewis, the millionaire chairman of fashion retail company, Foschini Group. He is five years older than Lady Kitty's father, Earl Spencer, 55.
The engagement rumours have been around since June when Lady Kitty was photographed wearing an enormous diamond on her left ring finger at a masquerade ball. Neither of the pair commented at the time and the ring vanished from subsequent photos, so the tabloids calmed down for a bit.
But according to The Daily Mail, this time it's legit.
While, again, there's been no official announcement/comment, an anonymous friend of Lady Kitty (who definitely, maybe, isn't made up) confirmed that the South African-born businessman proposed before Christmas: "She's been in Cape Town for the holidays and told her mother and the rest of the family. Michael is loved by all of them. Despite his wealth, he's very humble and low key."
More on him later. But first, a pertinent question…
Who is Lady Kitty Spencer?
With a name like hers, it'll be no surprise that Lady Kitty Eleanor Spencer comes from British noble stock. She was born in London on December 28, 1990, to model Victoria Lockwood and Charles Spencer, 9th Earl Spencer, who is the younger brother of Diana, Princess of Wales.
Lady Kitty was just six years old when her aunt died in a car crash in a Parisian tunnel, but told Vanity Fair in 2016 that she remembers her fondly.
"There are only a few memories, but special and happy memories," she said, "and I'm so lucky to have those."