A car ploughed into pedestrians crossing a busy street in Melbourne's CBD on Thursday, injuring at least 14 people. As yet, we don't know the driver's motives for this act – although police believe it was deliberate.
It's the second time this year a person has used only a car to inflict pain, chaos and fear on unwitting pedestrians in Melbourne, not to mention the number of similar attacks overseas.
The idea of being caught in a car attack like this is terrifying, but perhaps, given recent events, is one worth thinking about. Because while your capacity to avoid harm in these situations may be limited, there are things you can do to give yourself the best chance of survival.
Move laterally
Forensic engineer Dr Shane Richardson works as the managing director at crash investigation company Delta-V Experts.
He told Mamamia that if a car is coming towards you, you should move out of the way if you can. While this might sound obvious, in this unimaginable moment of fear, you may unintentionally freeze or perhaps even duck. Dr Richardson points out that moving laterally – sideways – can be a simple, life-saving measure.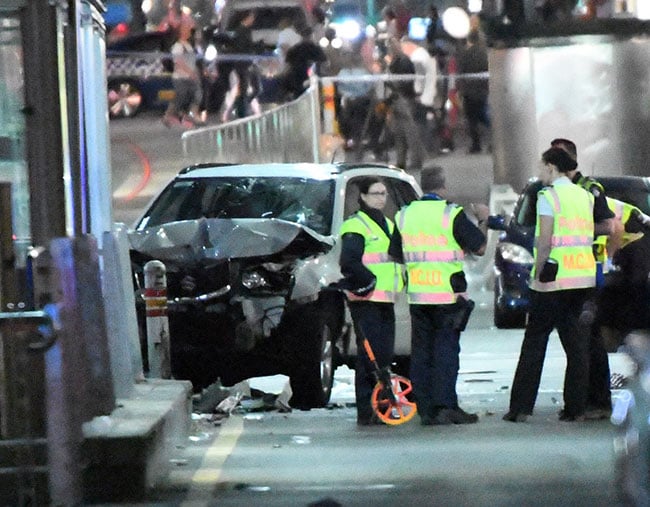 "A motorcycle, car or truck is 0.8m, 1.8m to 2.4metres wide respectively. So if you can move laterally 40 centimetres, 90cm or 1.2m you may avoid being impacted."
"Adults walk at about 2metres/second or run at about 4.2m/s so if you have more than a second of time move laterally to get out of the way."
If you can't run, jump.
However, if there's not a second to run, Dr Richardson says jumping laterally out of the way will still give you a better chance of survival than standing still as you are less likely to be run over after being struck.
And if this is an unintentional collision and the car is braking too slow as it hits you, it's a good idea to try to jump on to the bonnet as it could save your legs from injury. However, this will only be of benefit if the car is slowing.
"If you can jump onto the bonnet of a vehicle slowing in the last two metres you could avoid being impacted by a 20km/h moving vehicle... but will not reduce the overall severity of the injuries you are likely to sustain unless the vehicle is slowing."
"If you cannot move jumping will protect your legs if the vehicle is slowing, however, if the vehicle is not slowing jumping sideways will most likely cause you to be thrown out of the post-impact path of the vehicle."