A car ploughed into pedestrians crossing a busy street in Melbourne's CBD on Thursday, injuring at least 14 people. As yet, we don't know the driver's motives for this act – although police believe it was deliberate.
It's the second time this year a person has used only a car to inflict pain, chaos and fear on unwitting pedestrians in Melbourne, not to mention the number of similar attacks overseas.
The idea of being caught in a car attack like this is terrifying, but perhaps, given recent events, is one worth thinking about. Because while your capacity to avoid harm in these situations may be limited, there are things you can do to give yourself the best chance of survival.
Move laterally
Forensic engineer Dr Shane Richardson works as the managing director at crash investigation company Delta-V Experts.
He told Mamamia that if a car is coming towards you, you should move out of the way if you can. While this might sound obvious, in this unimaginable moment of fear, you may unintentionally freeze or perhaps even duck. Dr Richardson points out that moving laterally – sideways – can be a simple, life-saving measure.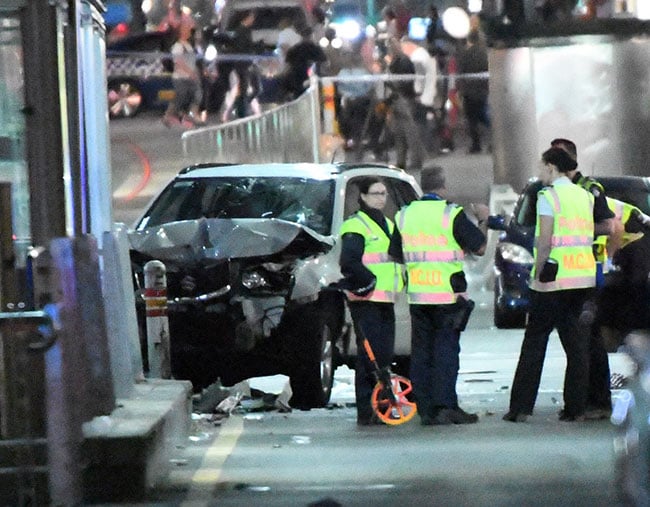 "A motorcycle, car or truck is 0.8m, 1.8m to 2.4metres wide respectively. So if you can move laterally 40 centimetres, 90cm or 1.2m you may avoid being impacted."
"Adults walk at about 2metres/second or run at about 4.2m/s so if you have more than a second of time move laterally to get out of the way."
If you can't run, jump.
However, if there's not a second to run, Dr Richardson says jumping laterally out of the way will still give you a better chance of survival than standing still as you are less likely to be run over after being struck.
And if this is an unintentional collision and the car is braking too slow as it hits you, it's a good idea to try to jump on to the bonnet as it could save your legs from injury. However, this will only be of benefit if the car is slowing.
"If you can jump onto the bonnet of a vehicle slowing in the last two metres you could avoid being impacted by a 20km/h moving vehicle... but will not reduce the overall severity of the injuries you are likely to sustain unless the vehicle is slowing."
"If you cannot move jumping will protect your legs if the vehicle is slowing, however, if the vehicle is not slowing jumping sideways will most likely cause you to be thrown out of the post-impact path of the vehicle."
What to do in the aftermath.
If you are in the vicinity of a car attack, but were not injured (or can move with your injuries) you next need to protect yourself from the potential danger of someone who gets out the gun with a gun or knife, as we saw in the London terror attack in June.
In its wake British authorities disseminated the 'run, hide, tell' system, as something it recommended its citizens follow. Australian authorities offered the similar, escape, hide, act approach:
RUN/ESCAPE

The first thing you should do is look to escape and find a safe place.
Insist that those around you also leave, and abandon your personal belongings.
If running risks greater danger, stay where you are. But if not, determine the fastest and safest escape route.
HIDE
If it is not possible to run, then hide as best you can. Make sure you cannot see the attacker.
Find cover from gunfire behind "substantial brickwork or heavy reinforced walls," and be mindful that gunshots can penetrate glass, wood and even metal.
Turn your phone to silent and ensure vibration is turned off.
TELL/ACT
Once you feel it is safe, call 000. Or if you're not sure what the emergency number is where you are, then call 112.
If you're in a position where you can't speak, just cough. If you can't make any noise whatsoever, then you will be put through to an automated system, where you'll be prompted to press '55'.
This will indicate to emergency services that you are in danger, and the police will be dispatched to your current address.
When police arrive, do not make any sudden movements and always have your hands in view. It can be difficult for officers to distinguish between attackers and civilians.
Help, but don't put yourself in danger.
In the instance of an attack, the best thing you can do to help is call police once you are safe to do so.
Former policeman and safety expert in the US, Greg Ellifritz, advises visitors to his website Active Response Training against rushing to help the injured.
Ellifritz says it's wise to "take a moment and assess the scene before wading into the chaos".
"Is the crashed vehicle a danger? Are there people in the area shooting or cutting people with knives? Is it possible that there is more than one attacker?" he suggests asking yourself.
"I'd want to know the answer to all of those questions before I become completely distracted from my environment while providing aid to the victims.
"Remember, you won't be able to help anyone if you become a casualty as well."
However, that doesn't mean you should allow yourself to fall prey to the 'bystander effect', where everyone does nothing because they assume someone else will do know what to do, or will have already called for help.
"Don't fall for that," Joe Mulligan, the head of First Aid education at the British Red Cross says. "Call the emergency services."
Additional reporting by Jessie Stephens.