On Saturday night, just after 10pm London time, a terror attack was launched on England's capital.
Seven people were murdered, and three terrorists were killed by police. A further 48 civilians were injured.
The attacks took place on London Bridge and Borough Markets, less than two weeks after a suicide bomber killer 22 people at an Ariana Grande concert in Manchester.
LISTEN: Mia Freedman, Monique Bowley, Holly Wainwright and I discussed the Manchester terror attack in a bonus episode of Mamamia Out Loud. Post continues below.

The current threat level for international terrorism in the UK is 'severe' or 'highly likely', the second highest warning possible.
In the wake of the London terror attack, the British Government has issued a set of instructions people should follow if they find themselves in the midst of a terror incident.
Even though it might be your first instinct, according to the UK National Counter-Terrorism Security Office (Nactso), you should not play dead.
"If you can see the attacker, they may be able to see you," Natsco says, and instead you should make it your priority to run.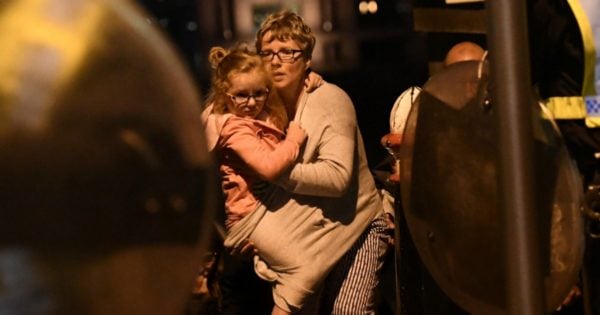 The new 'run, tell, hide,' warning system, in the face of a firearms or weapon attack, offers the following advice.