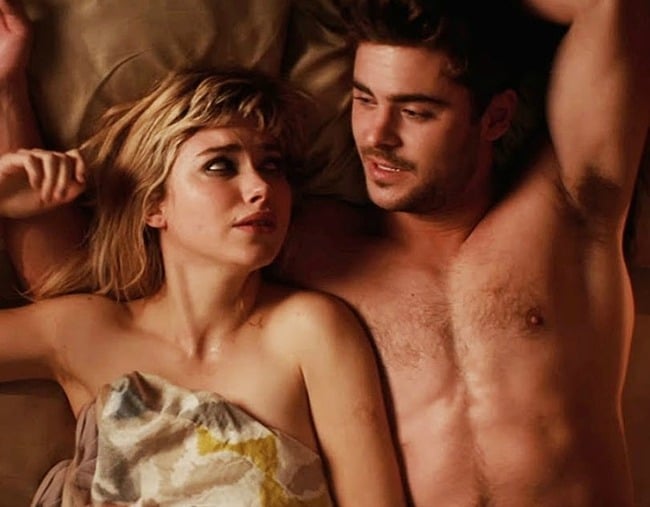 I've always said mouths are great for lots of things in bed, but the most important of them all is talking.
Second most important: knowing when to zip your lips.
There are some sex sentences that should never, ever be said – especially not in the heat of the moment. Like…
"Did you just have an orgasm?"
This sparks immediate paranoia because it makes us feel that we should have been noisier and more dramatic to make it obvious.
Truth is, for every person who moans and groans and makes a lot of noise, there's another person who goes deadly quiet. Silence doesn't mean it wasn't enjoyable.
If you're a woman saying this to a man, you can add extra insult points because he thinks you should be able to feel if he's fully aroused or it's all over Rover. (Is it so small, she can't tell the difference?)
"You've turned me on, now you have to finish me off."
Often followed by snide references to being a 'prick teaser', this is a favourite with teenagers (the whole 'blue balls' thing) but older men sometimes drag it out as well.
There are some very good reasons why this isn't on.
First up, if someone says they don't want to continue having sex, you must accept that no matter what their reasons.
It's called consent.
Mamamia staff confess the weirdest places we've had sex. Post continues. 
Forcing your partner to continue having sex simply because you aren't ready for it to finish yet, is having sex without their consent.
Second good reason: lots of people in long-term relationships agree to start having some type of sexual activity to see if they can get in mood for sex. Stimulation often leads to arousal.
If you know your partner is going to get sulky or moody or aggressive if you don't follow through, you're not going to chance it by letting them try to change your mind.
If you're aroused and your partner says, 'You know what? I'm just not up for this today. Do you mind if we stop?', the only correct answer is 'Of course!'.
Then off to the bathroom you go to DIY (or do it right there beside them, if they're up for it!)
"What are you doing?"
Along with 'Not like that!', disparaging comments about technique can sabotage the best sex session.
I'm all for feedback and letting your partner know what you want but there's a time, a place and a way of doing it.
Unless you've both agreed that this particular session is all about 'training' each other in what you want, you'll generally get much further talking nitty-gritty specifics out of bed.
"Surprise! Come and see our new sex dungeon!"
Some sex surprises are great.
Lingerie (with gift receipt), a new version of a sex toy you use all the time, a booking for a night in a sexy hotel – you won't go too wrong announcing any of these to an unsuspecting partner.
But yelling 'Surprise' as you open the front door for your partner having set the scene to re-enact their darkest sex fantasy (operative word being 'fantasy') is almost guaranteed to backfire.