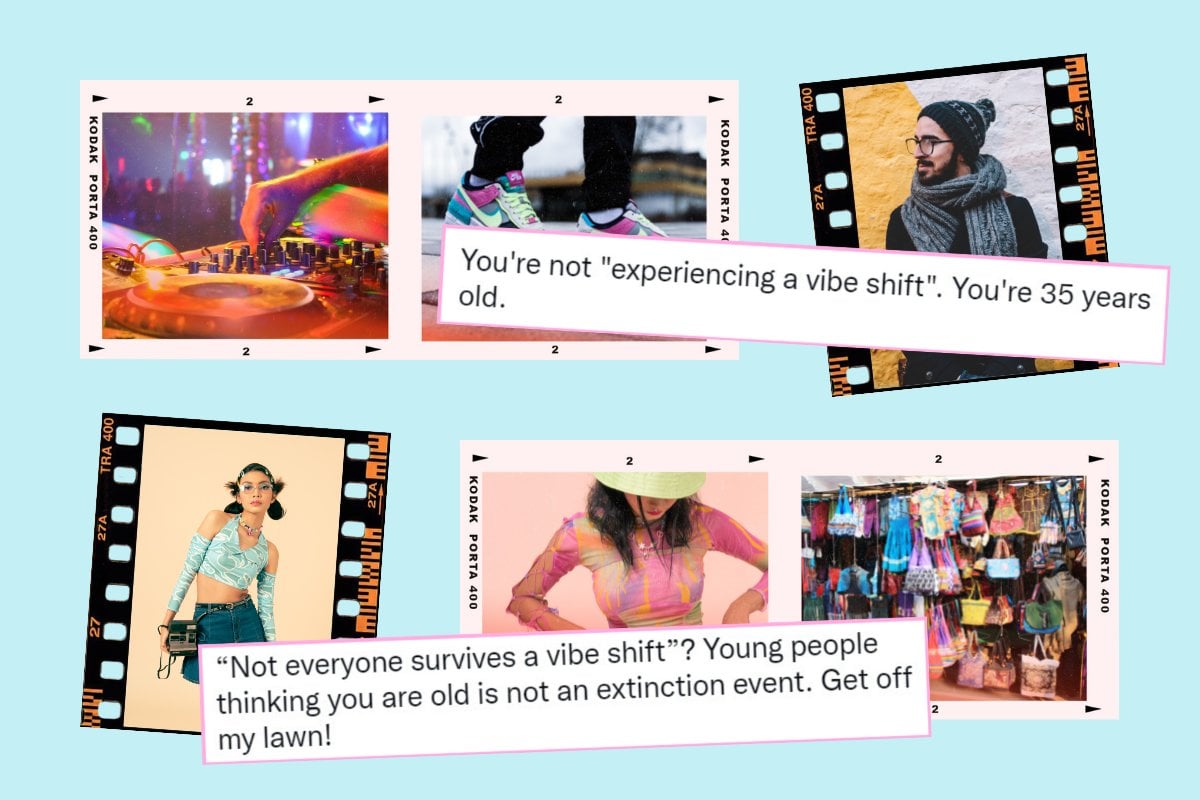 The internet is great for many things: memes, getting stuck down Wikipedia rabbit holes, photos of what cats look like from underneath when they're on glass tables. But... the internet is also a horrendous place, where a multitude of bad things happen every day, and where we are forced into an existential crisis about whether the 'vibe' is 'shifting'.
What does that even mean?
Well, 'vibe shift' is now a term for the phenomenon of trends dying overnight. It's the feeling of everything you're doing, watching and wearing becoming uncool quicker than you can keep up.
The internet has been nose diving this week following an article on The Cut from writer Allison P. Davis, who is no stranger to game-changing - dare I even say, 'vibe shifting'??? - viral yarns. Titled 'A Vibe Shift is Coming, Will any of us survive it?', the story argues, backed by commentary from 'trend forecaster' Sean Monahan, that there have been four great 'vibe shifts' in the 21st century: hipster/indie sleaze music (2003-2009), post-internet/techno revival (2010-2016), Hypebeast/woke (2016-2021), and... now.
A vibe shift is coming. But not everyone survives a vibe shift, writes @AllisonPDavis https://t.co/BsiFwHw45A

— New York Magazine (@NYMag) February 16, 2022
My understanding from this is that 'vibe shift' is basically a way of defining the kinds of t-shirts we have previously worn as if they are the three periods of the Mesozoic Era. Apparently, we now must choose between remaining in the Jurassic period or grabbing a brand new tee.
There have been many signs that a shift was coming, before we knew that a change in trends now has a fancy term. The Kids™ are emerging from years of COVID isolation wearing low-rise jeans and posting blurry flash photography online, for example. The rest of us are shaking our heads in confusion and horror.
Many have pointed out that intently dissecting culture in this way feels unnecessary. But is that not what we've been doing for years now? There have been hundreds of think pieces about the death of skinny jeans, whether 'cancel culture' actually exists and 2021's 'vibe shift'-adjacent term, cheugy. Everything, no matter how niche or innocuous in the real world, becomes ripe for discussion on the internet.