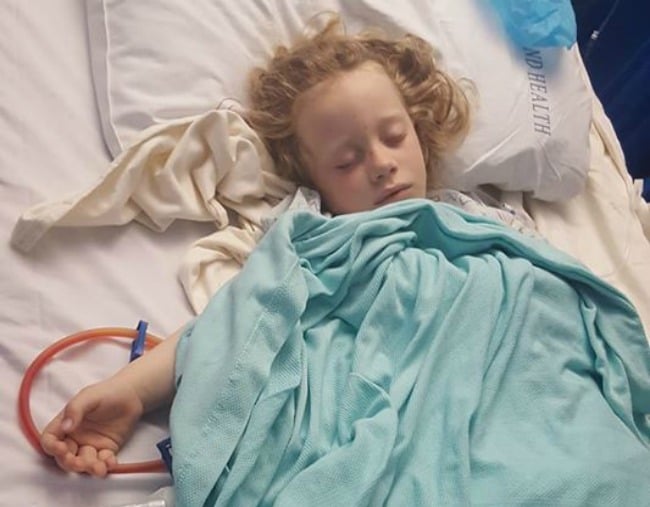 Ryan's Rule may have just saved the life of a Queensland girl. Mum Ayla Gyde has told her daughter's story in a Facebook post and asked people to share it around – which they have, more than 11,000 times.
Ryan's Rule is named after a young boy, Ryan Saunders, who died in a Queensland hospital in 2007. It allows parents to get their child's care reviewed, if they think their concerns aren't being listened to by hospital staff.
Last Sunday, Gyde posted a photo of her daughter, lying in a hospital bed.

"My little girl was admitted to hospital with suspected appendicitis," she wrote in the Facebook post. "After speaking to the first surgical doctor, he explained this was likely the problem. However, he wanted a paediatrician to check her lingering cough to rule out possible mesenteric adenitis (which is swollen lymph glands in the tummy)."
Gyde says the doctor spoke to her at 5.30pm on Thursday. By 7am Friday, she was told that an ultrasound would be done that day.
"However, as I watched my little girl deteriorate before my eyes and frustrated nurses pacing the corridors trying to find out what was happening, like when the ultrasound would be completed , what pain management or fluid levels they needed and when or if she could stop fasting… I had finally had enough, and at 12pm, I said, 'I'm calling RYAN'S RULE NOW.'"
Within 10 minutes, Gyde says, she was speaking to a different surgical doctor about her daughter.
"By 45 minutes she was getting an ultrasound done, and by two hours after calling Ryan's Rule, they were prepping my daughter for an emergency removal of her appendix, as it had perforated.
"Turns out ultrasound hadn't been ordered that morning so we were waiting for nothing."
The post has already had more than 1000 comments. Some parents have said they've had to use Ryan's Rule themselves. Others have said they didn't know it existed, or have asked if it can be used outside Queensland. Ryan's Rule applies within Queensland only, but there is a similar system called REACH in NSW and CARE in the ACT.