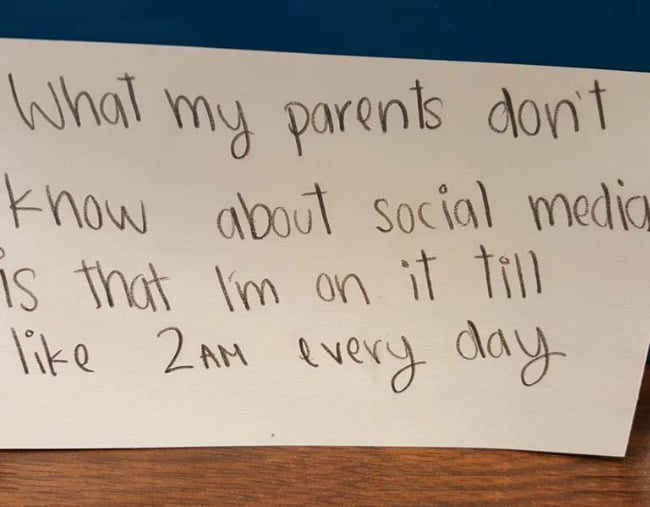 A teacher has shared the "sickening, heartbreaking, depressing" responses she received from students when asked what their parents don't know about their social media use.
Skipper Coates, a high school teacher in the US state of Utah, asked 85 of her year nine students to finish the sentence "What my parents don't know about social media is…" in anonymous notes.
In an effort to educate parents, the mum and teacher, who has been concerned about the "mental health, bullying, and social media use" of her students, shared 13 of the responses on Facebook.
And oh boy, there are some pretty big secrets these kids are keeping from their parents.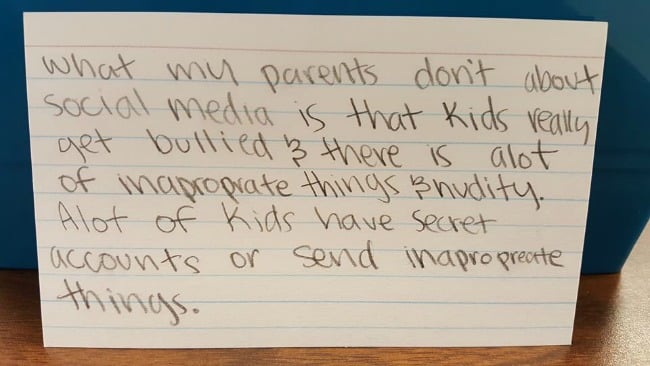 "What my parents don't know about social media is that I have a secret rant account. I talk about my mental health. I also have internet friends," wrote one student.
"I talk to people I'm not supposed to and I have an Instagram account when I'm not supposed to," shared another.
One of the most alarming responses was also the one Coates made sure to point out was not unique.
"What my parents don't know about social media is... I swear so much and I talk shit on everyone," that student wrote. "I get nudes from boys I don't even know. I expose and make fun of everyone and I love catfishing. But there's lit things."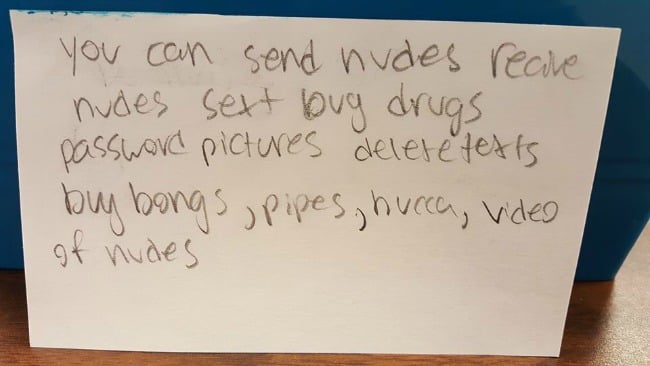 Other notes suggested the students were having a tough time online.
"What my parents don't know about social media is there's a lot of cyber-bullying, sexting, porn and people that don't care about you and try to make you feel like crap," one pupil wrote.
Some students also spoke of their parents' naivety, suggesting they don't know that texts can be deleted or where to find their pictures.
Coates said she shared the messages as a wake-up call to parents, which seems to be working given that the post has been shared more than 18,000 times and reported on by dozens of US news outlets.
Very adult Mamamia staffers confess the times they were caught stalking online. Post continues.
"You guys. The answers were SICKENING. Heartbreaking. Depressing," she wrote on the post.
"Parents of the world, WAKE. UP. Your kids are living in a world that you are not invited to be part of. And they know how to keep you out."
The teacher later added that she would be doing more to improve the situation for these 14 and 15-year-olds, who she said averaged 'As' in class.
"I will be working closely with my school, community, and local therapists to learn more about how we can help."
Shout out to all Dads.
Here at Mamamia we are always looking for ways to make Mamamia even better. Dads, we need you to help us do that by filling out this quick 15 min survey for us. Click the button below for your say.

Got a girl in your life who needs advice? We've got the show for you. Ask Me Anything is the short, sharp, car-trip podcast giving heartfelt answers to real-life anonymous questions from tween and teenage girls. Hosted by Bec Sparrow. Find all the episodes here: