Maybe you're here because you've googled "what does cocktail dress code mean?" just one too many times, after immediately forgetting and going with a jeans and a 'nicer' nice top combo, and then feeling immediately out of place.
Dress codes can certainly be confusing, but thank goodness for Google, because here we are with a complete list of every dress code from casual to white tie and every other style in-between.
Book mark this post and prepare to never do a double take on an invite again.
Casual AKA comes as yourself.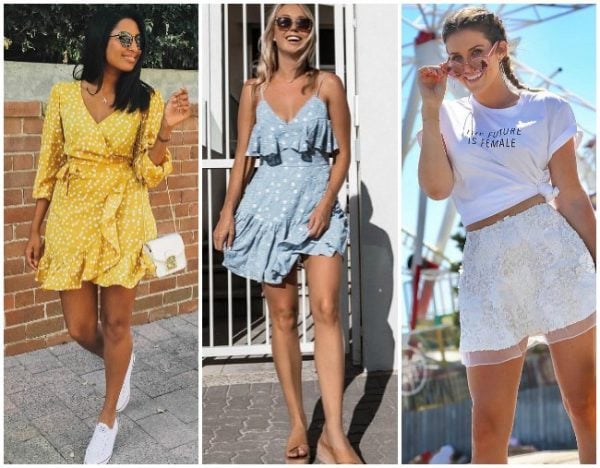 Anything goes.
As the name suggests, it's your everyday, weekend outfit, that's not too dressy - relaxed and easy. The only way you could get this wrong is if you look too 'dressed up,' but add a pair of sandals, ankle boots or sneakers, and you'll hit that casual sweet spot.
If in doubt, go for anything in a cotton or linen fabric.
Fool proof outfit:
Jeans and a t-shirt or a dress paired with sneakers.
Smart casual AKA jeans and a nice top.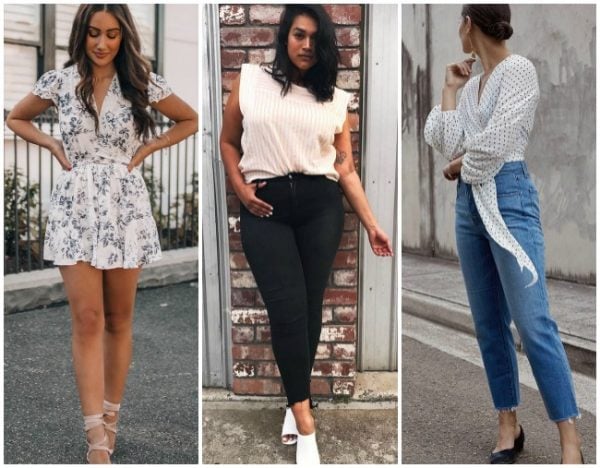 Smart casual is essentially your host saying that they want you to be comfortable, but also try a bit please and thank you.
If you generally sit on the casual side of things, an easy way to unite the 'smart' and 'casual' bit is to use accessories to elevate your favourite go-to outfit. Think of this as your time to bring out the statement lips and earrings, heels, the nice handbag, and jewellery, lots of jewellery.
In this case it's better to look 'over-dressed' and creep into cocktail territory, than look a bit too relaxed.
Fool proof outfit:
Jeans and a nice top. You can never go wrong with jeans and a nice top. Not a pants person? Culottes works a treat and are comfortable as heck, otherwise pair a casual dress and a pair of heeled shoes.
Melania wore white to the State of the Union and we can't quite figure out what statement she was trying to make. Post continues after audio.

Business Casual AKA buttons.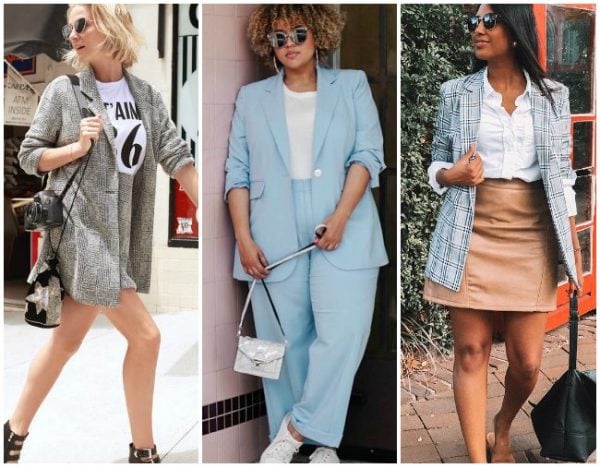 The creative industry's dress code of choice. Business casual can seem easy to dress for, but don't make the mistake of looking too 'dressed-down,' it's still a professional environment. A university tutor once summed it up by telling my class... "cover the crack, front and back."
This is where you'd pull out your buttoned blouses, non-distressed jeans, and dresses and skirts that hit at the knee, or just above.
Fool proof outfit:
Three words: Add a blazer.
Business formal AKA invest in a power suit.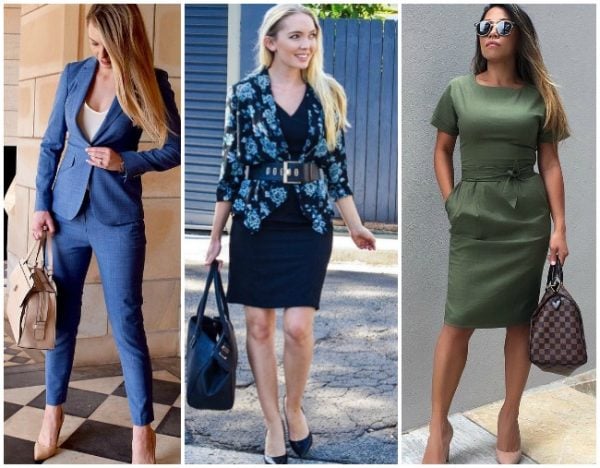 This is the typical work attire you'd expect in a traditional office. Err on the conservative side - to the knee (or below) dress and skirt lengths (preferably with pantyhose or stockings), and nothing that's low cut, or too sheer.
Let the likes of Meghan Markle in Suits, Olivia Pope in Scandal... and every other TV show about lawyers act as your guide.
Fool proof outfit:
A knee-length dress and blazer.
Cocktail AKA go above the knee.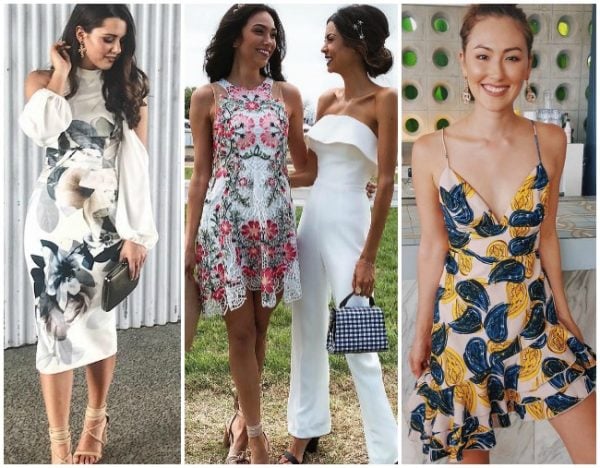 Thankfully cocktail dressing isn't as full on as a cocktail party a la The Bachelor and generally refers to a dress that hits above the knee for less formal, social events.
Jumpsuits, and midi-length dresses will work, but opt for bright, fun prints if you're going for something with a more conservative cut to avoid looking too stuffy.
Fool proof outfit:
If in doubt go for the classic LBD (little black dress) and heels.
Formal AKA the fancy dress.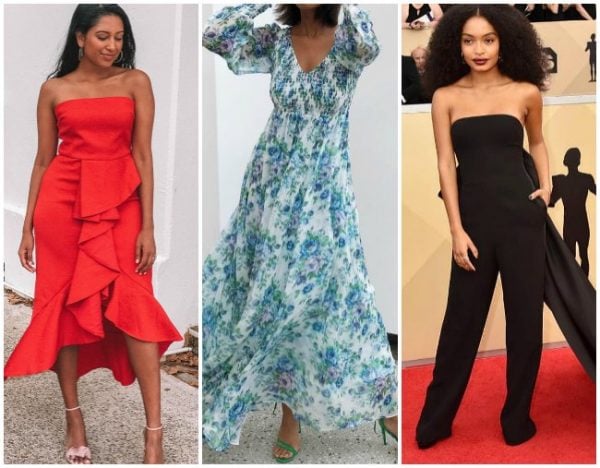 'Formal' is an oddly annoying dress code to prep for. On one hand it's not as prescriptive as Black Tie, but you still don't want to look under or over dressed.
A floor length dress or an elegant jump suit will be your best bet, but depending on the event and host you can play around with dress lengths (a midi or maybe shorter, depending) and style.
If you're unsure of how 'formal' to go, think of how dressed up the host will be and use that to your guide.
Fool proof outfit:
A dressy jumpsuit with heels, or a midi-full length slip dress will get you through any 'formal' event.

Black tie AKA bring out the ballgown.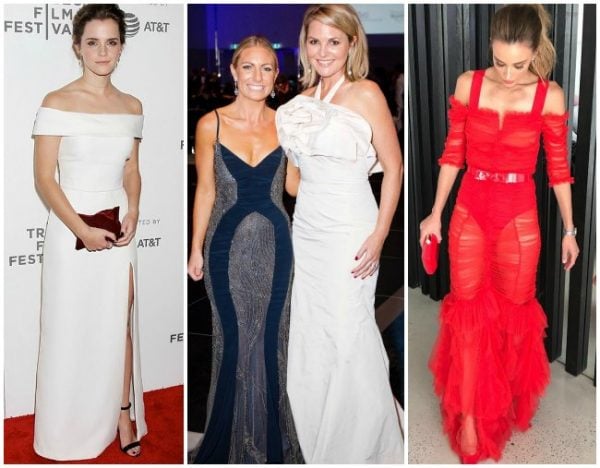 If an invite says 'black tie,' it's definitely referring to a formal dress code. Your best bet is to go for a floor-length gown, as midi and shorter lengths can look too casual.
Other similar dress codes also include black tie optional - which is generally used when people might be coming in from a business function and means you can either dress in black tie or business formal, creative black tie - which essentially means the host wants you to 'go big or go home', or lounge which is a reference to a lounge suit worn by men, but still refers to formal dressing for women.
Fool proof outfit:
Again, it's better to look over dressed than under, but generally anything in the 'evening' section of a department store will fit the bill.
White tie AKA fancy level 3000.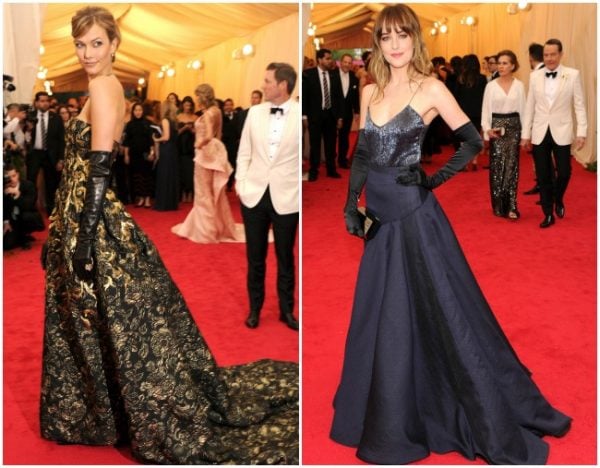 Ok, so this is the big one. Think of it as black tie with gloves. Whatever you do, don't forget the gloves. They maketh the outfit.
For easy outfit inspiration google 'Met Gala 2014' (the theme was 'white tie'), and you know... adjust to your budget.
Fool proof outfit:
A floor-length dress with gloves. Don't forget the gloves!
Now, armed with all this new information, get ready to dress appropriately with reckless abandon.
Do you agree with our recommendations? And were there any dress codes we didn't cover? Tell us in a comment.
Want to win some skin care goodies? Like to have your opinion heard?
Take our short survey now for your chance to a win a skin care pack.