I met my husband Edd when I was holidaying in India. It feels cliché saying it was love at first sight, but it really was. Edd moved to Australia from Liverpool in England, leaving behind everything he knew to take a chance on me.
November 18 2017 was the day we chose for our wedding. All our families were there, including all of Edd's friends and family from the UK. The day was amazing, but there was something not right with Edd.
If only I knew how much pain he was in. He was deflated, quiet (which was incredibly unusual for him) and wasn't drinking (even more unusual), but everyone put it down to wedding nerves.
Fast forward seven hours after our perfect wedding finished and I woke up next to my new husband who had turned a bizarre shade of yellow. I might have thought he had anxiety the day before, but I knew straight away it was something more.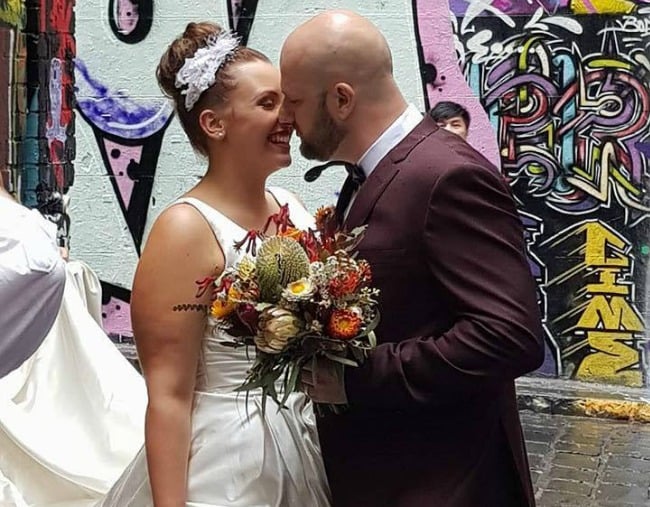 Turns out my new husband had a gangrenous gallbladder that needed to be cut out. We had planned our perfect day for months, but it's clear this was out of our control.
We spent the first week of our married life in Box Hill Hospital after cancelling our much-anticipated honeymoon to Thailand. Edd had his first taste of wedding cake on Tuesday and I had my first taste of "in sickness and in health" from the second he was admitted.
One of the days following the operation, Edd had a procedure to remove the drain tube which was stitched into his side. He was so brave. Being partial to a bit of Grey's Anatomy and Mrs Angemi on Instagram, I decided to watch the entire thing. I wish I hadn't. I felt so hot and sick and then woke up surrounded by nurses and doctors. I'd fallen down and hit my head in the bathroom and was sent to the emergency department.
Poor Edd made his way downstairs to see me, IV drip line still in. There we were, Mr and Mrs Parry; cut, bruised, defeated, but so in love.
Once cleared, there we both were, in our hospital gowns and ID bracelets. We wished we were in matching hotel robes instead. Couples who hospital together stay together, right? We treated ourselves to a romantic dinner from the hospital café, topped up with a romantic stroll past the gift shop back to our honeymoon suite, normally reserved for those in gastro isolation.
As stressful as this time was, I do not hesitate to say for one second that it has brought us closer together. I always think of that honeymoon that Kath and Kel went on to Melbourne airport, and even though it was shit, they had a great time together. The same can be said for us – I'm so glad to have married my brave, strong and loving husband and spend so much time together in the most visceral way possible.
If the first week of married life is anything to go by, we're in for a beauty!
Listen: Bridie didn't need to outsource her wedding vows. But is it a good idea? It's the listener question that has divided the office...