According to lifestyle, decorating, DIY, cooking and crafts goddess guru Martha Stewart, there are 20 questions every couple simply MUST ask themselves before they begin planning their big day.
Seriously, don't even think about drafting a guest list before you lock yourself in a small, preferably dark, room and nut out these questions with your fiancé. Best to do it the second one of you pops the question, really.
That's because the very thorough list – released to celebrate the 76-year-old's latest book, Martha Stewart Weddings Ideas and Inspiration – is designed to help a couple finalise everything from the wedding venue to menus, signature cocktails and decor.
There's only one problem: I got married more than five and a half years ago, and according to Martha, I did everything wrong.
Whoops.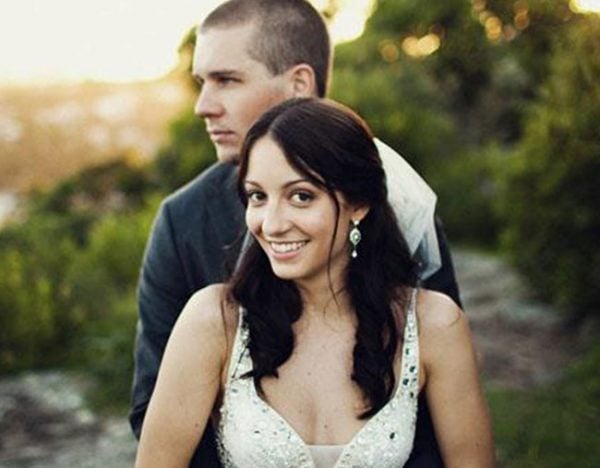 You see, I didn't have this list when I was planning my big day. So I've decided to go back in time and re-plan my entire wedding. With Martha's help, of course.
According to Martha, the answers to questions like 'Where did you meet?' and 'What did you do on your first date?' will be useful in helping you and your partner pick the perfect wedding venue - the first, and arguably most important, set of the wedding planning process.
Locations that are special or significant to a couple should be used as inspiration for where a wedding should take place, Martha says.
Listen to the Mamamia Out Loud team debate whether or not it's ever okay to outsource the writing of your wedding vows. Post continues after audio.

Thinking back, my husband and I shared our 'first date' in the front seat of the black Toyota Corolla I had borrowed from my mum to drive to a party at his house that night. We were hiding from the party after a girl - one he had been on a few dates with before he met me - became hellbent on tracking him down in an attempt to rekindle the romance.
Oh, and we looked a lot like this:
Can you imagine a more perfect inspiration for a wedding?
I'm not entirely sure our 117 wedding guests would have fit inside the car (plus, I'm pretty sure we sold it two years ago for parts).
And I certainly would not have wanted to be greeted by the sight of my husband-to-be in the shrunken football jersey he got when he was seven upon starting my walk down the aisle.
That's okay, Martha. There's still hope. We can re-plan the menu.
The advice suggests couples ask themselves about their favourite bar and guilty pleasures to determine a 'signature drink' and dessert option.
At just 22, my favourite bar at the time was the seediest nightclub in town. Perhaps I should have served my guests overpriced bottles of sickly-sweet flavoured vodka?
I was also well in the midst of my Nutella obsession at the time of walking down the aisle. Martha, are you suggesting I should have served each guests a spoonful of hazelnut spread as a dessert?
(Although, come to think of it, that really doesn't sound half bad...)
Hopefully, I can redeem myself with Martha's très important questions about the details that make each and every wedding 'personal' and 'unique' to a particular couple.
Like, letting a favourite hobby inspire table decorations. Or incorporating your 'dream date' into the event.
Except... I highly doubt that guests, who had travelled from interstate and were all dressed up for the occasion, would have appreciated the inclusion of a three-hour "Netflix binge break" in the middle of dinner.
Or a quick 30-minute snooze.
And while it would have saved thousands and been MUCH more comfortable, I'm not sure wearing a pair of tracksuit pants down the aisle would have made for a picture perfect memory.
That's not to say that there weren't parts of our wedding that were entirely influenced by our relationship and our personalities - which is what Martha's questions are designed to get to the bottom of.
We were young and wanted our day to feel like one big party (of the non, seedy nightclub variety). We surrounded ourselves with friends and good food and wine. We choreographed our own wedding dance because both my husband and I demand the spotlight.
And while my wedding didn't turn out quite the way Martha Stewart and her questions would have liked, there's no denying that some helpful hints like these do go a long way in making sure your wedding day is one you'll never forget.
Martha Stewart's 20 questions every bride and groom-to-be need to answer to successfully plan their wedding:

THE VENUE
1. Where did you meet?
2. Where did you go as kids (summer camp, family trips, summer abroad)?
3. What did you do on your first date?
4. Where was your first vacation together?
5. What time of year do you love the most?

THE CEREMONY
6. What colors do you gravitate toward?
7. Are you obsessed with a certain flower?
8. What family heirloom would you cherish carrying on your day?
9. What song lyric or poem moves you the most?
10. Do you have a pet?

THE RECEPTION
11. What bar do you frequent?
12. What's your favorite sport or team?
13. What's your go-to food?
14. What's your favorite restaurant?
15. Do you share a guilty pleasure?

THE DETAILS
16. What are your hobbies, or do you collect anything?
17. How would you describe your dream date night?
18. What are your nicknames?
19. Do you have a desert-island book or favorite quote?
20. What's your number one film?
To read more about Martha Stewart's 20 questions, click here. To buy the book, click here.