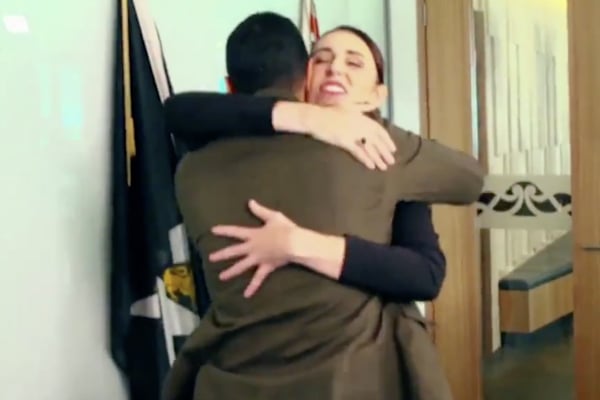 When Jacinda Ardern and Waleed Aly met for an interview, in the wake of the Christchurch terrorist attack which killed 50 people, they greeted each other with a hug, initiated by the Prime Minister.
In a preview for the interview, which is due to air on Monday, the journalist and politician are seen greeting each other with a handshake, before Jacinda Ardern asks Aly, "Do you mind if I give you a hug?"
"Not at all," The Project co-host responds.
"I know that might seem strange!" the New Zealand Prime Minister says as the two embrace.
"Do you mind if I give you a hug?" Waleed meets NZ PM Jacinda Ardern#TheProjectTV – 6.30pm Monday on @Channel10AU pic.twitter.com/kn2w5bYpxF

— The Project (@theprojecttv) March 22, 2019
The journalist asks Ardern if becoming a mother to her daughter Neve has influenced her response to the Christchurch terrorist attack.
"Almost certainly," the mother of one replies in the interview.
"I think it's hard to sometimes analyse the way that you are changed by parenthood," she continues, "but you feel it I think in your responses and your empathy."
Aly also asks the New Zealand politician about her decision to wear a black hijab after the terror attack against the Islamic faith.