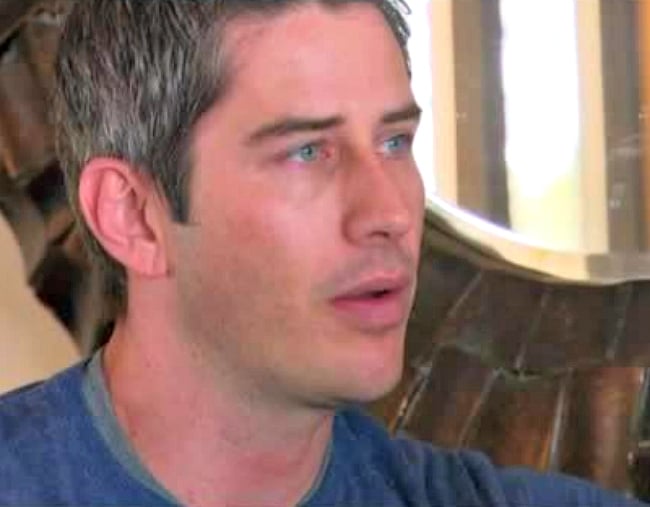 For nearly 40 minutes, I sat propped up on my lounge watching a man break up with a woman on the finale of the American version of The Bachelor.
In what the show's host described numerous times as 'a first in reality TV history', Arie Luyendyk Jr. un-proposed to his winner Becca Kufrin just weeks after he got down on one knee and told her he would choose her "today and everyday".
'I told you I've been thinking about her,' the former Bachelorette contestant quipped. 'I go to sleep thinking about her and she's the first thing I think of when I wake up.' Cheers.
By her, the 36-year-old meant his runner up Lauren Burnham. The, erm, other woman whose heart he broke. His fiance sat across from him completely stunned, covering her face with the hand wearing the engagement ring he gave her.
Watch Arie break up with Becca on the season finale of The Bachelor below. Post continues after video.
It was a cruel moment many fans believe should've never aired. The producers stomped the fourth wall down exposing the full and unedited breakdown of a relationship – a breakdown one half didn't see coming.
The long silences. The subtle shifting of blame. The humiliation. It was hard to watch but impossible to turn away from.
After screaming at the TV for this dish mop masquerading as a man to PLEASE LEAVE, I realised why this hurt so bad. Why it felt like a betrayal, even though I've never met Becca or Arie and never will.
Because we do things differently in Australia. I'm convinced we wouldn't have seen that on the Australian Bachelor or Bachelorette.
Osher just wouldn't stand for it.
When it comes to reality TV match making, The Bachelor is our gold standard. Sure we'll laugh at Dean and Davina on Married At First Sight, but The Bachelor is, for the most part, about watching people fall in love.
Miranda Devine describes the show as cruel but is Married At First Sight really problematic?
Yes, we'll gladly watch Jarrod's heart torn in two, individual shells crunching under his shoes as he walks away from a future with Sophie Monk. But we won't rub those shells into the wound, or trip him up when he's not looking.
This sometimes means sacrificing spice. Australian fans often complain about the lack of suspense. And cat fights. And cliffhangers.
Where's the scandal? we cry. Where's the sex?! The endings are too obvious!
But if taking a girl to meet your parents on the first date, sex in the fantasy suites and telling four women who love you that you love them back on the same night means having to watch someone get their future torn away for my entertainment, I'd rather go without.
Not only do the contestants deserve better, but the viewers do too.
Did you watch the US Bachelor finale? Do you think the breakup should've been aired?