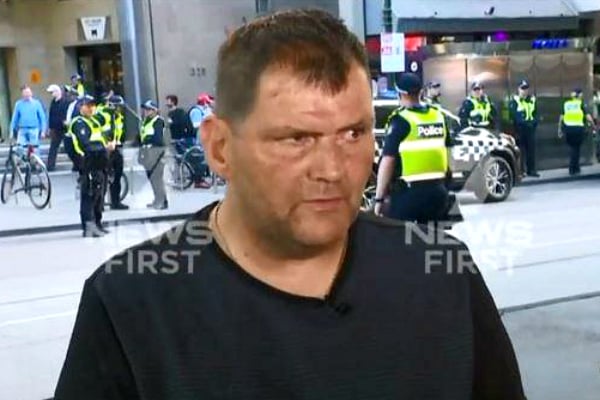 In the wake of Friday afternoon's Bourke Street attack, a man who has been identified as Michael Rogers is being lauded as a hero by bystanders and social media.
The 46-year-old became known as the 'trolley man' after he attempted to ram attacker Hassan Khalif Shire Ali with a shopping trolley. At this point, Ali had already killed one victim, Pellegrini's Espresso Bar owner Sisto Malaspina, and severely injured two others.
In footage captured and shared on Twitter, Rogers can be seen wearing a black t-shirt and grey trousers and tries to stop the assailant twice with the trolley.
WARNING: The following footage contains acts of violence, and may be distressing.
According to interviews between the 'trolley man' and Channel 7 reporter Robert Ovadia, Rogers is homeless, and initially didn't want to be identified. He also doesn't think he should be classified as a 'hero'.
"I threw the trolley straight at him, and I got him. I didn't quite get him down, though. I'm no hero," he said.
Describing the succession of events, Rogers said despite his best attempts, he struggled to stop Ali.
"I've seen the trolley to the side so I've picked it up and I ran, threw the trolley straight at him, got him, but didn't get him down," he said.
"I did that motion quite a number of times but it just wasn't getting him down."
The Herald Sun has also reported that Roger's phone broke during the altercation – one of his very few possessions – but he was not concerned.
In light of his financial hardship, a GoFundMe profile has been started by Melbourne charity, Melbourne Homeless
Collective, with 525 people contributing $14,182 in under 11 hours.
Their campaign summary page states that all funds raised will go directly towards Rogers "to help get him back on his feet".
"We've since learned that our hero 'Trolleyman' [is] homeless and that his phone was destroyed in the incident. We believe his efforts deserve a reward that can really help him out," they wrote.