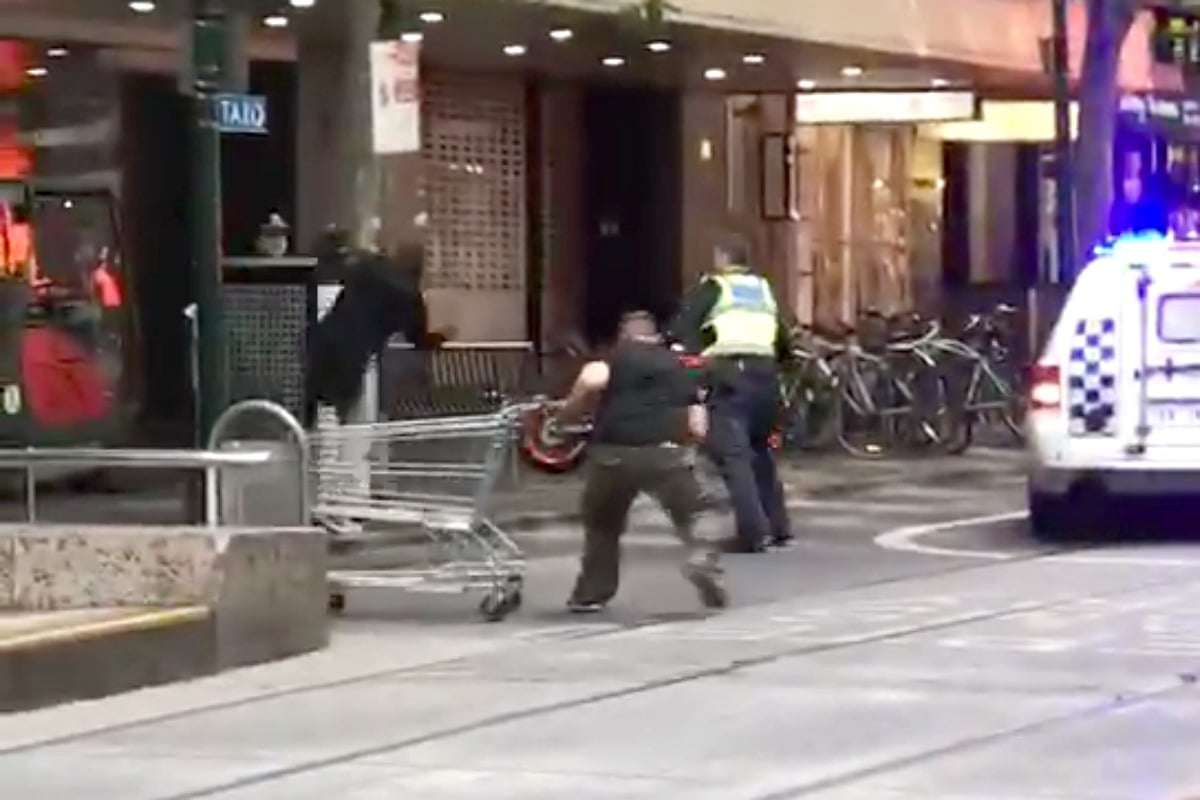 Dozens watched on in horror on Friday afternoon as a lone terrorist set fire to his ute and stabbed multiple people on Melbourne's Bourke Street Mall.
One victim is dead and another two men are in hospital being treated for non life-threatening injuries. The attacker, an unnamed Melbourne man who was known to federal intelligence authorities, was shot by police and died at the scene.
Footage of the incident surfaced on social media within minutes of the incident, which took place shortly after 4pm. In the clips, two police officers can be seen attempting to subdue the knife-wielding man, dodging as he lunges toward them, again and again.
But there's another person in the footage. A man in grey trousers and black t-shirt runs into the left of the frame. Pushing an empty shopping trolley, he shoves it at the back of the attacker's legs. His only weapon against the unfolding threat.
WARNING: The following footage contains acts of violence, and may be distressing.

This civilian appears to have stuck with officers for more than a minute before the attacker was shot, shoving the trolley at him several times. But as yet, no one knows who this man is. His name, his age, where he's from.
On social media he is being referred to simply as 'Trolley Man'.
People on Twitter, Facebook and beyond are hailing his bravery. Several are calling him a hero for running toward the danger and supporting Victoria Police.
I feel safe in my city knowing that somewhere out there – Trolley Man is watching over us. #Melbourne pic.twitter.com/CNLbga8ypY

— John Cameron (@Cameron_John) November 9, 2018