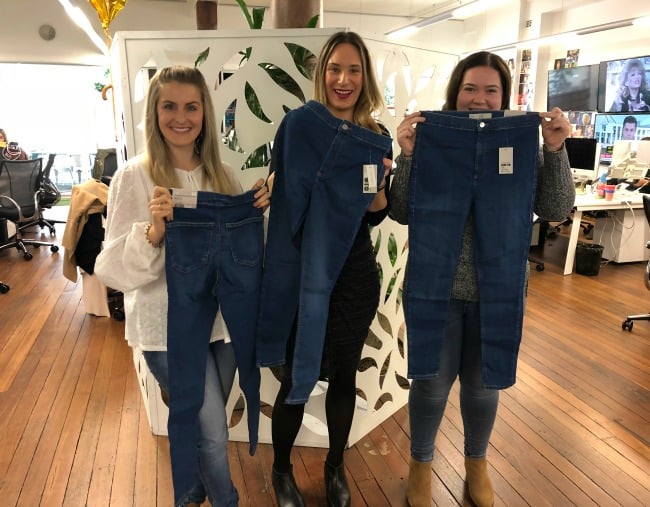 There's no greater gift that you can give to another woman than a good jeans recommendation. That's a fact.
So when you find a pair that does all of the things you need them to do, you do your due diligence and… tell people. That's why when I came into the office this week wearing my new pair of jeans (that I only paid $37.45 for, thank you very much) I had to shout my find from the proverbial rooftops.
First it started by showing my new purchase to a handful of my colleagues, who like me, suffer from online shopping addictions. From there, I put it in our office Buy, Swap, Sell channel. Then all of a sudden, I had women coming to inspect my jeans from all corners of the office and I all but went from desk to desk to tell the rest of the team they needed to buy them.
Before I knew it, five other women in the Mamamia office had checked out of their shopping carts with the same jeans. One, who I will not publicly shame, even got same day delivery because she was so desperate to have them. This must be what it feels like to be a fashion influencer, I thought to myself.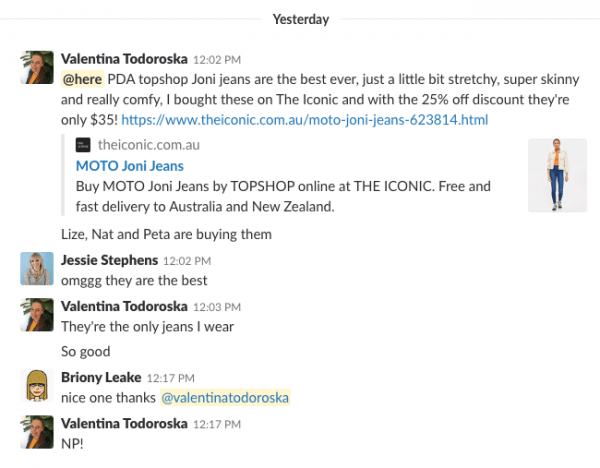 They're high waisted so you don't have to worry about muffin top or bending down and exposing your undies to your colleague at the next desk over. They also have a super skinny ankle which pops perfectly into a pair of boots during winter. Don't underestimate how hard a good skinny ankle is to find, the struggle is real.
And just when you thought it couldn't get better, they also offer sizes based on waist and length. So whether you're short, tall or in between, you can find the exact length you need.