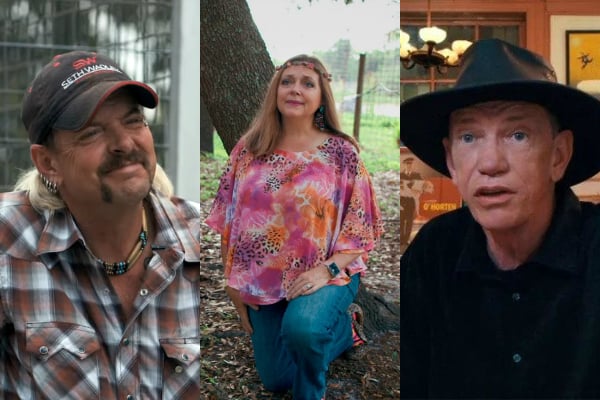 The story of Netflix's Tiger King is straight up bonkers.
From Joe Exotic to Carole Baskin to that drug pin who put drugs in snakes and barely made it into 10 minutes of the series, there's a lot going on throughout the seven episodes.
To keep it… simple, Tiger King shows the rise and fall of Joseph Schreibvogel, a.k.a. Joe Exotic, the owner of an exotic animal park in Oklahoma. But he's more than just that: You see, he's a polygamist, wannabe politician with a passion for explosives who was found guilty of hiring a man to murder his enemy.
See, so simple.
Watch The Tiger King trailer here. Post continues below video.
Even with seven hours worth of content, Tiger King: Murder, Mayhem and Madness doesn't fit in everything about the Joe Exotic and his friends/enemies/friends-turned-enemies story. Here are some more details that didn't make it into the show.
Joe is "a racist".
Within the documentary series, there were some scenes that simply couldn't be included.
Speaking to The Hollywood Reporter, the show's creator, Rebecca Chaiklin, shared that a rant from Joe Exotic about not being allowed to use the N-word wasn't included in the show.
"Joe is a racist, I would say categorically," she said.
"He said things when we were filming that were very unsettling."
When asked why these scenes weren't included in the series, Chaiklin responded: "They didn't have context in the story, but he has a lot to learn. I think most of it was ignorance and not having a lot of exposure, and I think he even evolved over the course of the time that we filmed."