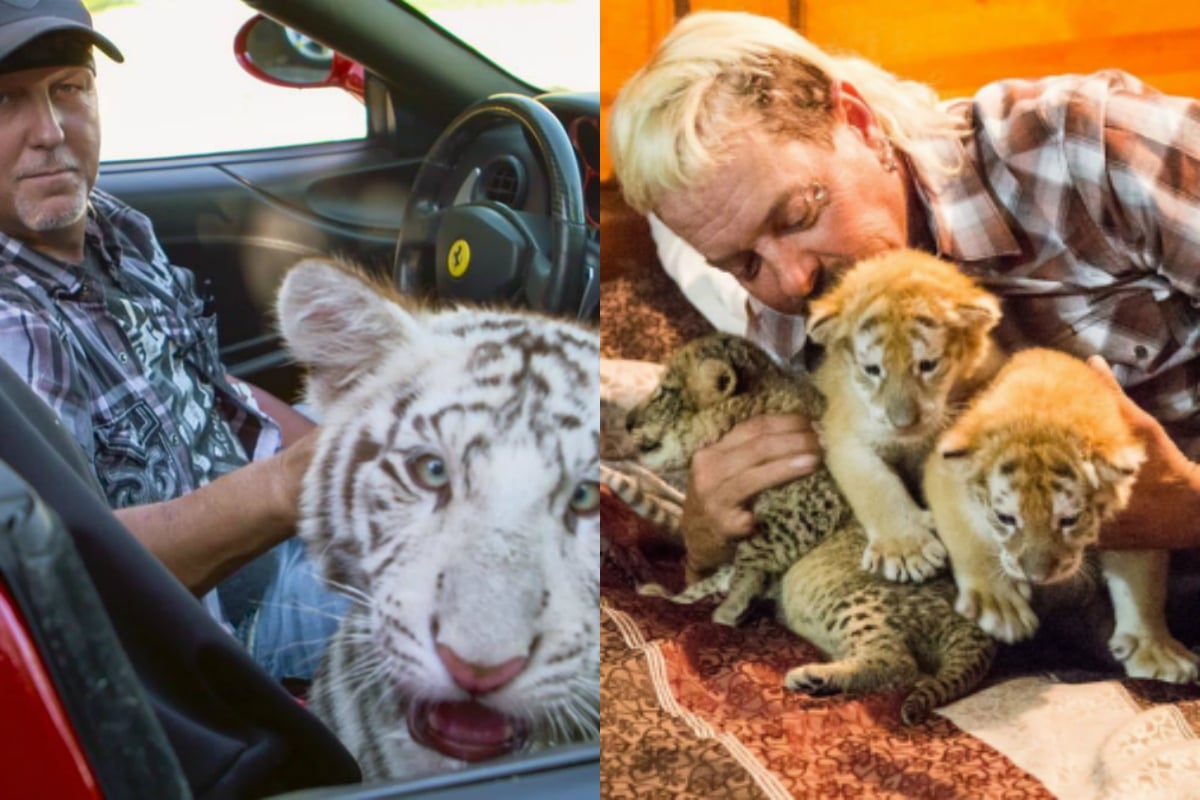 The stories in Netflix's Tiger King are undeniably… bizarre. There's "gay, gun-toting cowboy with a mullet" Joe Exotic, cult-like zoo owner Doc Antle, and cat rescuer Carole Baskin, who has been under a cloud of suspicion for more than 20 years after her husband mysteriously disappeared.
Plus there's about 200 other characters so strange it's hard to believe this is all real. But it… is.
What's also real is the animal abuse. But in Tiger King, the abuse of the big cats and other animals – including chimps, monkeys, snakes and elephants – owned by those profiled in the series took a backseat to the meth, music videos and murder-for-hire plot.
Watch the trailer for Tiger King. Post continues below video.
That's not to say those things were not worthy of the story. Of course they are. Besides shining a light on terrible behaviour and crime among animal collectors, it made for shocking, and bloody entertaining, viewing.
There's a reason it's all anyone can talk about right now (besides that whole global pandemic thing).
But for a docuseries about roadside zoos and the big cat industry, the show only offered a glimpse into the suffering and cruelty of the animals caught up with the likes of Joe Exotic, Doc Antle and Jeff Lowe.
What Tiger King showed.
Throughout the series, many of Exotic's 200+ tigers are seen pacing their small, ill-suited cages. At points, we see animals panting and staring into the distance. There's also a scene of Exotic's workers collecting spoiled food handouts from a local Walmart to feed to the tigers, and of Jeff Lowe smuggling cubs inside suitcases.
We see news footage of animals shot by authorities after a collector released them, and early on are introduced to the practice of people carting big cats to shopping malls for petting and photo ops. We're left to infer this is exploitative and cruel, but there's no explicit mention as to how and why.