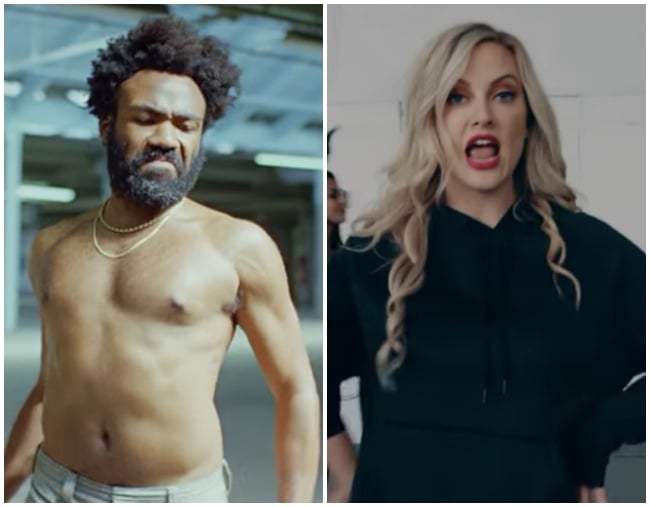 Uh oh.
The Canadian YouTuber who once ranted at fat people to be less fat, pls, has shared an unsurprisingly problematic 'parody' of Childish Gambino's This is America.
Let's start at the beginning.
On Saturday May 5, Donald Glover, who performs under the musical stage name Childish Gambino, debuted his latest song and video, This is America. In the days since its release, the single-take video clip has amassed over 120 million views on YouTube alone.
In four minutes, the video, directed by Hiro Murai, makes a number of unmistakable statements about gun violence and black lives in the US. Critics have almost unanimously described it as "a powerful and poignant portrait of 21st Century America," "genius," and "the best music video of the decade," and major media outlets have attempted to dissect the work's seemingly endless layers of meaning.
Then, exactly one week after the song's original release, Nicole Arbour released a 'Women's Edit' parody version of the clip, and dear God this is one piece of pop culture that really didn't need a parody.
It begins with Arbour singing over Glover's voice (…why), and opens on a warehouse strikingly similar to the original. A woman of colour sits on a lone chair breastfeeding her child while Arbour takes photos on her phone (??), and moments later, the woman is escorted away. For the remainder of the video, only white women are featured – an awkward decision given the subject matter of the original song.
Arbour continues to imitate Glover's style of dancing while very literally referencing a number of issues faced by women in America.
#ThisIsAmerica Women's Edit NOW LIVE!!! https://t.co/BoNDyuJ5OF pic.twitter.com/FbJEyPbwq7

— Nicole Arbour (@NicoleArbour) May 13, 2018
Notable lyrics include:
"Look how we livin' now, the boys' club be trippin' now."
"This is America, got rape in my area, you got a drink, the roofies got into ya."
"We're all too old like, we're not allowed to age like."
"Look how I'm spittin' truth out, I'm so trendy, I wear Fendi, I'm so sexy, Imma get it."
"Get a man, get a man, get a man, start a fam, start a fam, start a fam. I gotta give up my dreams, I'd rather be the Taliban."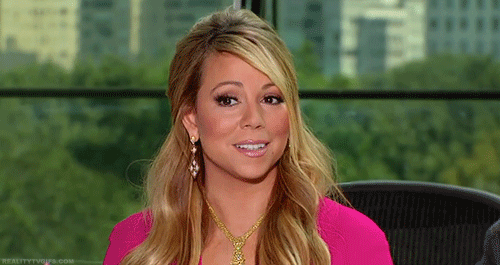 It's not that issues like ageism and sexual assault don't genuinely affect women - they do. It's that this is a really bizarre and oversimplified way to shed light on those problems, and doesn't add any line of thought that doesn't already exist.
Parody also usually intends to make a point about, or make fun of, the original work, but it's very unclear what Arbour is trying to say about This is America.
Glover's song and video are clever, nuanced and laden with meaning, while Arbour seems to have capitalised on this huge success to highlight a different set of issues in a particularly superficial way.
Once she started to receive criticism about the clip, the 32-year-old posted a defence of it on YouTube.
"The purpose of my rendition was to honour the spirit of the video which absolutely moved me, by adding my and many women's life experiences and truths to the brave and brutal truths expressed in the original," she wrote.
"It was created with every intention of bringing a light to women's experiences such as the shaming of mothers breast feeding, common place date rape drugging, the labels put on us of 'prude or hoe,' pressures to create a family, workplace harassment, the glass ceiling, drug dependency, effects of social media on modern relationships and self, and included a nod to the cheerleaders who have come forward demanding at least min wage from the multi million dollar corporations they work for.
"It was a tongue in cheek way to give additional glory to what I believe is the most impactful piece of art in recent years."
Despite Arbour's justifications, for many, her parody missed the mark.
Maybe because it appeared to be making light of women's issues, maybe because it wasn't particularly clever or funny, or maybe because, as a rule, when a piece of art gives us a pertinent message about one of the most pressing issues of our time - you just don't mock it.
Parody should make us laugh and make us think. Nicole Arbour's 'Women's Edit' does neither.