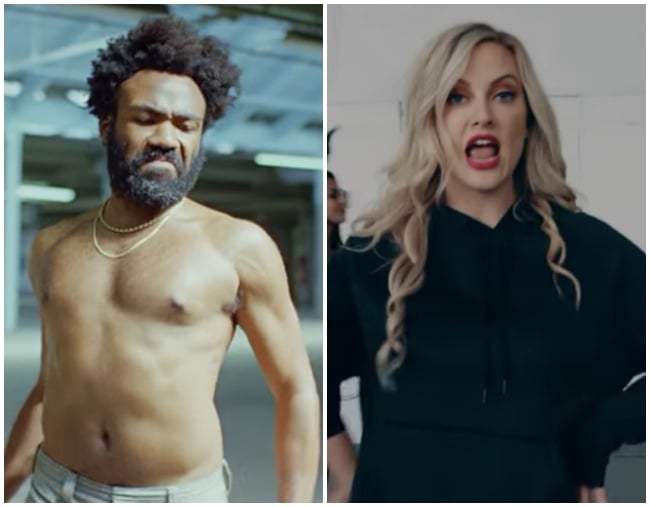 Uh oh.
The Canadian YouTuber who once ranted at fat people to be less fat, pls, has shared an unsurprisingly problematic 'parody' of Childish Gambino's This is America.
Let's start at the beginning.
On Saturday May 5, Donald Glover, who performs under the musical stage name Childish Gambino, debuted his latest song and video, This is America. In the days since its release, the single-take video clip has amassed over 120 million views on YouTube alone.
In four minutes, the video, directed by Hiro Murai, makes a number of unmistakable statements about gun violence and black lives in the US. Critics have almost unanimously described it as "a powerful and poignant portrait of 21st Century America," "genius," and "the best music video of the decade," and major media outlets have attempted to dissect the work's seemingly endless layers of meaning.
Then, exactly one week after the song's original release, Nicole Arbour released a 'Women's Edit' parody version of the clip, and dear God this is one piece of pop culture that really didn't need a parody.
It begins with Arbour singing over Glover's voice (…why), and opens on a warehouse strikingly similar to the original. A woman of colour sits on a lone chair breastfeeding her child while Arbour takes photos on her phone (??), and moments later, the woman is escorted away. For the remainder of the video, only white women are featured – an awkward decision given the subject matter of the original song.
Arbour continues to imitate Glover's style of dancing while very literally referencing a number of issues faced by women in America.
#ThisIsAmerica Women's Edit NOW LIVE!!! https://t.co/BoNDyuJ5OF pic.twitter.com/FbJEyPbwq7

— Nicole Arbour (@NicoleArbour) May 13, 2018
Notable lyrics include:
"Look how we livin' now, the boys' club be trippin' now."
"This is America, got rape in my area, you got a drink, the roofies got into ya."
"We're all too old like, we're not allowed to age like."
"Look how I'm spittin' truth out, I'm so trendy, I wear Fendi, I'm so sexy, Imma get it."