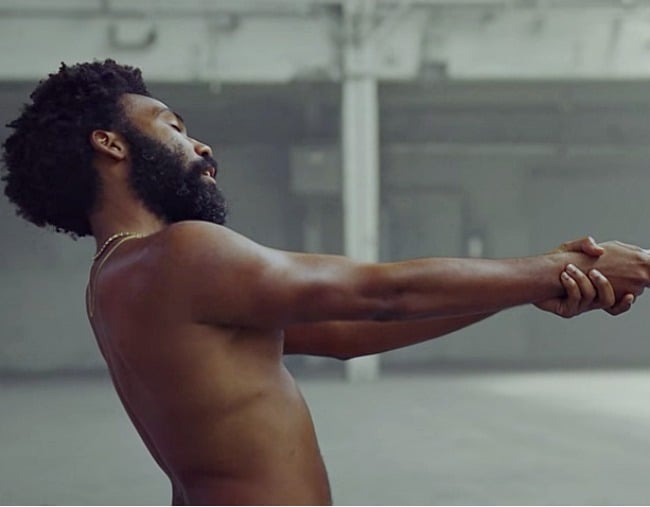 You might not be into hip hop, or even be across the happenings in the wider music scene. But it's still highly likely the artist Childish Gambino has appeared in your social media feeds over the past few days.
That's because the US musician has released a song and accompanying video clip that has already managed to eke out a place in the pop culture cannon.
It's called This is America, and it's being hailed as powerful, political, "genius", even "the best music video of the decade".
Here's the down-low.
Who is Childish Gambino?
In short, a Grammy-winning musician and the rap/soul alter-ego of actor Donald Glover.
To fans of his on-screen work, Glover is best known as Troy – the goofy, washed-up Quarterback from the hit television comedy Community – or as the creator, writer, star and (occasionally) director of the Golden Globe-winning surreal comedy-drama, Atlanta. But the 34-year-old's television credits stretch back to a writing job on Tina Fey's hugely successful sitcom, 30 Rock.
In between all that, he's released three albums as Childish Gambino, the most recent of which – Awaken, My Love! – featured the single Redbone (the 2017 Grammy winner for Best Traditional R&B Performance).
Glover actually announced the retirement of Gambino in 2017, but the character re-emerged on Saturday Night Live last weekend to perform new singles Saturday and… yep, you guessed it, This is America. The music video dropped shortly afterwards. Take a look:

(WARNING: graphic violence)

What is 'This is America' about?
Music critics, cultural commentators and bloggers have already devoted tens of thousands of words to ruminating on this topic. But at its core are themes of race and gun violence.
During the clip, Gambino dances through a warehouse, as a mixture of chaotic and jubilant scenes play out around him. A musician strums his guitar, school children perform viral dance moves, a church choir sings. Gambino joins them in distracting us from the violence and rioting happening in the background. Until…
Twice – casually and without warning – he picks up a gun and fires. The first, a handgun discharged at the hooded guitarist's head. The second, a semi-automatic weapon unleashed on the choir – a reference to the 2015 church massacre in Charleston, South Carolina.
After each shooting he gently lays the gun onto a red cloth, treating the weapon with more respect than human lives. Then it's back to the dancing, as if nothing happened.
What's the reaction to the video?
Pretty damn remarkable. It's been viewed more than 29,000,000 times on YouTube in two days, and shared millions more on social media.
Musicians have joined the chorus of commentary. Lady Gaga offered her praise. Rapper Common offered his thanks. Kanye West shared it. Bruno Mars described Gambino as "all around incredible. And adoring Adele questioned how he has "so much time to offer us so much greatness".
The listening public were equally awed.