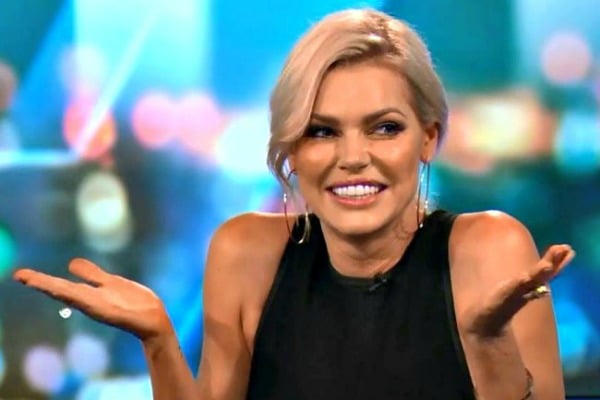 This week, The Project turned 10.
What a great achievement, we're very happy for the current affairs panel, etc., etc.
But let's get down to our favourite kind of reflection.
Reflection of the awkward interview variety.
Yes, this probably makes us sound like terrible people, and if it was us we'd want the interview footage destroyed with fire and never brought up again, but you'd be lying if you didn't agree that watching a live interview derail is extremely entertaining.
(Well, other than a really, really good interview, which of course The Project has had plenty of).
But in the interest of reliving sweaty palms of segments past, here are five of the most cringe-worthy interviews from The Project that we will never, ever forget.
1. Johnny Rotten, 2013.
Ahh, ageing rock stars. You never know what they're going to do in a live interview. Get drunk? Fall asleep? Inadvertently say something deeply problematic?
One thing you hope they won't do is yell at you in a completely misogynistic manner, attempting to belittle you in front of millions of viewers.
Enter former Sex Pistols frontman John Lydon and his bizarre 2013 outburst at Carrie Bickmore.
The interview started with a series of routine questions about his tour, performing on stage and writing music, but when Carrie turned the conversation to the death of former British prime minister Margaret Thatcher, Lydon… threw a giant tantrum.
"Hey, hey, hey Mrs," he barked at her. "Shut up. Whoever you are, shut up. Shut up. Shut up. Now listen, when a man is talking do not interrupt."
Carrie laughed: "There was a break, I thought you had finished, please go on."
"Stop it, you sound like one of them [sic] dreadful loud birds I don't like. You be polite," Lydon continued.
"That's really offensive," replied Carrie, still appearing to laugh it off.
"So are you. You've got to learn more respect and manners," he shot back.
Lydon continued to express his agitation at Carrie and the other panellists, shouting at them that they were speaking too loudly into his earpiece. The irony.
In case it couldn't get any worse, he then said "I'm Johnny f*cking Rotten and you have to respect me," with a Nazi salute, closing the book on a train wreck few minutes of television which you can watch below if you dare.