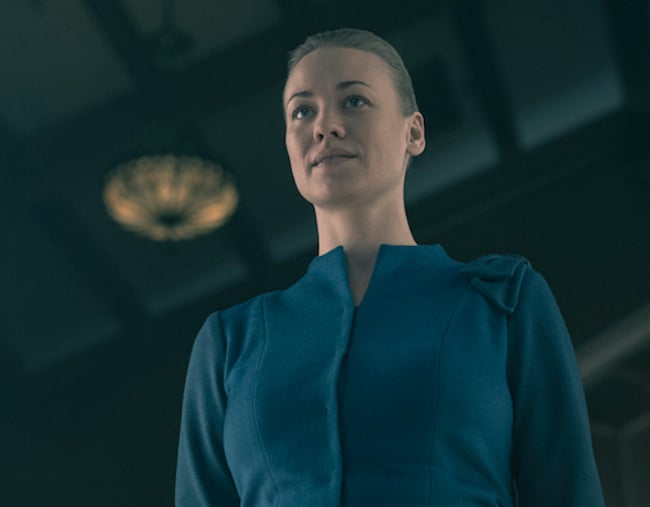 WARNING: SPOILERS AHEAD! 
As good season finales should, Thursday night's episode of The Handmaid's Tale left us with so, so many questions about what's to come next year, about the fate of our favourite and most despised characters.
Thankfully, some of the show's insiders have already answered – or at least hinted – at what we can expect.
1. Is Serena's going to join (maybe even lead) a resistance?
Perhaps the most triumphant scene in The Handmaid's Tale finale (well, aside from when June punched Commander Waterford in the kisser), was Serena Joy leading a troupe of wives into the Council chamber to demand that women be given the right to read the bible.
Hey, it's a start.
With the all-male Council watching on in horror, she unwrapped the good book and began to read aloud. The forbidden act cost her a finger, but there's a sense a huge shift is coming for her. It seems this will spur her on, this was the push she needed to ensure her (read: June and Nick's) daughter, Nicole, is able to live a safer life, "a life of purpose".
The show's writers had been sowing the seeds of Serena's discontent for several episodes this season: she secretly performed her husband's work duties as he recovered from the bombing; she recruited June to edit her forbidden work; she bent the law banning female doctors in the hope of saving Angela's baby – an act for which she was beaten by Fred; she watched in horror as Nick's 15-year-old wife, Eden, was drowned for adultery; then finally, she allows June to escape with her (again, not her) baby, after June convinces her the child "cannot grow up in this place".
As the Australian actor behind Serena, Emmy nominated Yvonne Strahovski, told The Hollywood Reporter, "It really is such a raw place to be left in when you're standing in your life and you no longer have anything to hold onto. What do you do? It kind of forces you to look inside yourself and perhaps face other realities and truths that you haven't faced," she said.