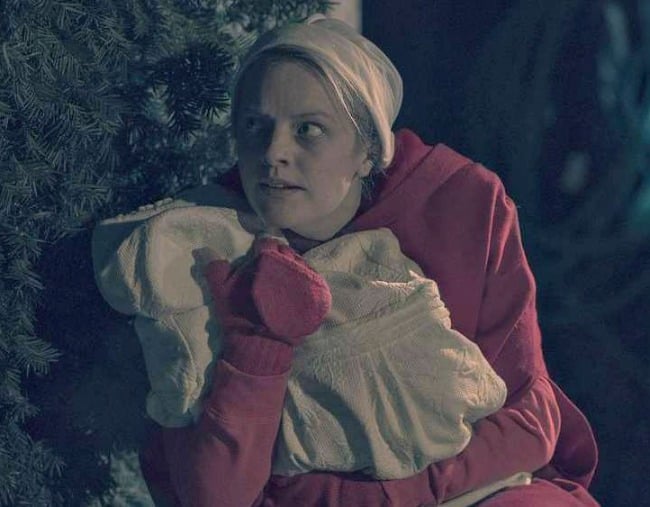 WARNING: SPOILERS. All the spoilers.
We weren't expecting a Hollywood ending, we weren't everything to be wrapped up in a neat little bow. But we also weren't expecting what actually happened at the end of The Handmaid's Tale Season 2 finale.
After an episode packed with triumphant moments (The punch. The stab. The "Go f**k yourself, Fred."), it looked like our heroine June, played by Elisabeth Moss, had finally been given a ticket to freedom. In an elaborate scheme involving several Marthas, burning houses and the surprise humanity of Ofglen's new commander, the pair and June's baby, Holly (or Nicole to the Waterfords), were offered a seat on a truck that would smuggle them out, presumably to Canada.
Yet when the time came to leave, June handed the baby to Emily and remained behind. "Call her Nicole," she said, in a nod to Serena Joy's love for the baby. "Tell her I love her."
It was a decision that left viewers asking/yelling:
Why didn't June leave Gilead?
Me, final few minutes of the #HandmaidsTalefinale: "JUNE. Get in the truck, June. June. JUNE. Get in the…JUNE. Don't you dare. Don't…DON'T. June, get in the…DAMMIT JUNE." <Fin> @HandmaidsOnHulu

— Jayne Denker ???? (@JDenkerAuthor) July 12, 2018
After years of rape, imprisonment and abuse, after witnessing the horrors of Gilead's brand of 'justice, after her previous escape attempts, after all of it, June stays.
It's frustrating as a viewer, for sure. But there's a solid reason for it: her eldest daughter, Hannah.
As the series' showrunner, Bruce Miller, explained to Vanity Fair, June could never really have left without her firstborn; it's a choice, he said, that any parent would make.
"Since the beginning, that kid was ripped out of her arms," Miller told the publication. "It's like a piece of you has been torn off, and you want that piece back."
Miller says it was being reunited with Hannah briefly in episode 10 and hearing the child ask why she hadn't tried harder to find her that spurred June on.
"I really try to think about these things as not, 'How would I make the decision sitting in a nice room in [California]?', but standing there [in Gilead] going, 'F**k, I told Hannah I would do everything I could to see her again … I'm about to leave her completely behind after I promised her I would do everything I could to see her again,'" Miller said. "I mean, my stomach hurts just saying it now."