Welcome, doodle owners.
I'm just dropping by – on behalf of all Australian women – to let you know the jig is up. We know your secret. We know.
You see, for centuries since 2013 when Tim Robards first graced our screens as the Bachelor, you've tried to deceive us.
"We hate this trash TV!" you exclaim at the very sight of Osher Gunsberg's tux. "Can we watch Sam Newman shave his head on The Footy Show instead?"
You fools have tried to tell us that the best show on Aussie television is "horrible" year after year.
Yet every time Blake Garvey spoke in monotone, or Sam Wood grinned like a cheshire cat, or Richie Strahan did an awkward laugh, you were curiously in the room with us.
You tell us you despise it – that you'd rather get a groin rash than sit through a rose ceremony – and yet you're always… just… there.
At the pivotal moments, you're quietly sitting behind us, taking in every candle and rose petal, while pretending to do anything but watch.
Which makes us wonder, do you actually hate The Bachelor, men of Australia? Do you REALLY?
Because suspiciously hanging around the lounge room television whenever it's on, and neglecting your iPhones for 90 minutes straight, and chipping in with questions like, "What's her name again?" and "Do you think she has a chance of winning?" and "Should I organise a Bachelor office sweep?" SHOWS US THAT YOU BLOODY LOVE THE BACHELOR JUST AS MUCH AS WE DO.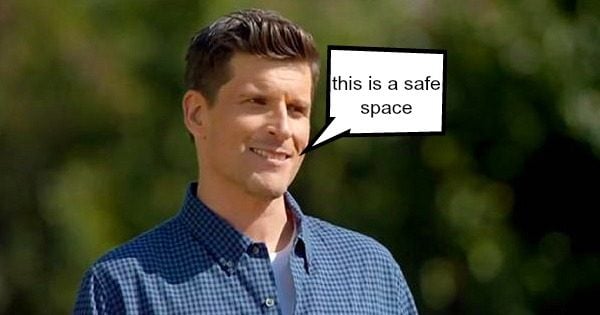 So yes, men, your secret is out. And now? There's nowhere you can hide.
We're not going to turn a blind eye to your two-faced antics anymore. Tonight, when our precious Matty J (who is probably just 'Matty' this year, I suppose) graces the screen, you must decide: you are with us, or you are against us.
No more loitering in the background. No more peering around the door. No more criticising the entire female population.
The Bachelor is back. And it's time you all stopped living a lie.