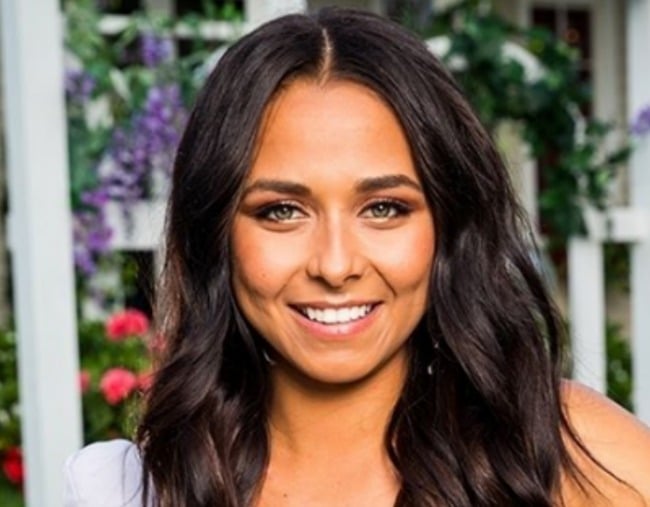 You lil' beauty.
Nick Cummins AKA Honey Badger (and his glorious mustache) is officially The Bachelor 2018.
In case you missed it, Honey Badger Bachelor is a former rugby union player with a larrikin sense of humour.
The 30-year-old says things like "if I get a gig, I'm gonna go off like a cut snake" and "the boys were on it like seagulls at a tip" and "sweatin' like a gypsy with a mortgage, actually".
He's basically the male version of Sophie Monk.
The Badger has just spent the last couple of months living in a mansion in the semi-rural NSW suburb of Glenorie, going on day trips to jump out of planes and sit on romantic-looking couches with his bachelorettes.
And now Network Ten has released the first photo of The Bachelor Australia 2018 contestants.
We also know a lil' bit about five of the contestants:
Cassandra Wood
Cassandra is a bit of an Instagram influencer with over 40,000 followers on the platform.
The Sydneysider was also a Miss World Australia NSW finalist last year and she has the occasional acting gig on Home and Away.
According to the Daily Telegraph, Honey Badger and Cassandra have already had some kind of "romantic relationship" in real life.
"They've definitely been more than just friends," a source confirmed to the publication.
Alisha Aitken Radburn
Alisha is a former Bill Shorten staffer who has been pegged to be the Keira or the Laurina of the 2018 series.
According to Cosmo, Alisha has a bit of controversial past working in politics and causin' trouble on the Sydney University campus.
In March this year, the Sydney Morning Herald published a story speculating that the former Canberra staffer could be this year's bachie villain.
SMH reported that Radburn faced criticism when she told people who were upset about a black face incident on Sydney Uni campus to "settle the f--- down" and added "also pretty upsetting to be accused of racism when you're a progressive women [sic]".
The former student union president allegedly also called a member of the campus's Labor Left a "c**t" during an SRC meeting.
Her Insta is currently set to private and she has 1,145 followers.
Dasha
Dasha is a 31-year-old mum-of-one and personal trainer.
Apparently she does something a lil' daring and makes a great first impression on the Honey Badger.
She's already been referred to as the "Kardashian of the Bachelor mansion".
Vanessa Sunshine
Vanessa is a 27-year-old legal secretary from Melbourne.
She's already been pegged as this year's villain.
Brooke
Brooke is a 23-year-old youth worker from Perth.
When she first meets Honey Badger, unaware of his background, she asks "So, what do you do?".
Honey Badger loves it.
The Bachelor airs on Network Ten at 7:30pm on Wednesday, August 15.