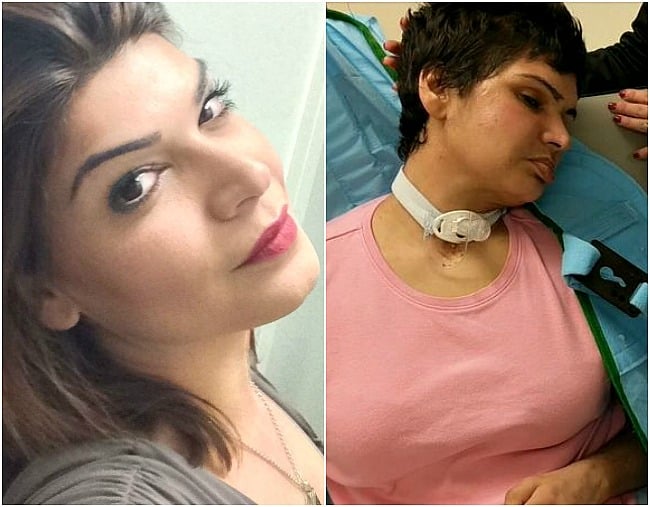 With AAP.
1. Woman left "a shell" of former self after falling down stairwell while fleeing attacker.
A woman who was attacked in a Perth stairwell by a fellow foreign student fell down two sets of stairs trying to flee him and isn't expected to recover from traumatic brain injuries.
Pakistani student Mehreen Ahmad, 32, was found in a pool of blood in the stairwell of a CBD apartment block in May last year.
Brazilian student Eduardo Santos Abrahao Filho, 28, was initially charged with attempted murder but prosecutors accepted his guilty plea to the lesser charge of intentionally causing grievous bodily harm.
The Supreme Court of WA heard on Wednesday the pair were engaged in sexual activity in front of the level 13 stairwell door when she started bleeding and became distressed.
She began screaming and Filho, who had a girlfriend at the time, put his hand over her mouth in a bid to silence her. They struggled and she fell headfirst down the stairs trying to get away from him.
The court heard he hit her head against the ground, inflicting traumatic brain injuries and facial fractures, and she fell down a second set of stairs, again trying to escape.
Witnesses who heard thuds coming from the stairwell went to investigate and saw her face down in a pool of blood.
Filho, who claims he then tried to put her in a recovery position, fled the scene and was arrested hours later at his Inglewood home.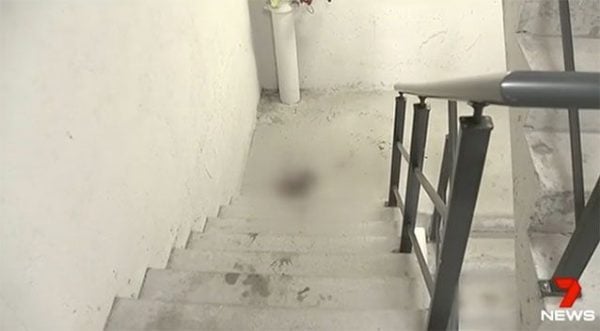 Ms Ahmad was placed in an induced coma at Royal Perth Hospital and needed a tracheotomy to breathe. About three months later, she was treated at one of the world's best rehabilitation centres for brain injuries in the US but still cannot move, communicate or feed herself and is incontinent.
She is not expected to substantially recover and needs constant care.
"She remains unresponsive to this day," her mother said in her victim impact statement, which she read to the court via audio link from Pakistan.
"As parents, we have to reconcile that we'll never have our daughter back. She is now a shell.
"If she had died that day, we would, I think, have come to terms with that loss. We are instead trapped in what feels like a never-ending darkness."
She said her daughter was "on top of the world" on the day of the attack, having completed her last exam.
Defence counsel Linda Black read out a letter from her client, who admitted his actions were "despicable", describing them as a "grotesque attempt to quieten her down", but said they were not premeditated.
She said he acted "in a state of panic and the heat of the moment".
"It appears that what happened ... is largely inexplicable," Ms Black said.
Filho will be sentenced on August 2 and is expected to be deported after he serves his time.
2. Thai boys soccer team tell of the "magical" moment they were rescued.
"Fight on, don't despair": the 12 boys and their soccer coach rescued from a flooded Thai cave complex have described how they survived on nothing but dripping water, and even tried to dig their way out.
The Wild Boars team were making their first public appearance on Wednesday after the long ordeal, waving, smiling and offering Thai traditional "wai" greetings on a national TV broadcast.
One of the boys, 14-year-old Adul Sam-on, recalled the moment when two British divers found the trapped group on July 2, squatting in a flooded chamber several kilometres within the cave complex.
"It was magical," he said. "I had to think a lot before I could answer their questions," added Adul, who speaks English. "Everybody was happy, it was the most hopeful moment in 10 days."
On Wednesday doctors, relatives and friends - some in yellow traditional clothes - greeted the boys, aged 11 to 16, and their 25-year-old coach. The team were kitted out in T-shirts emblazoned with a red graphic of a wild boar, and kicked footballs gently on the TV set.
"Bringing the Wild Boars Home", read a banner in Thai welcoming them on the set, designed to resemble a soccer pitch, complete with goalposts and nets.
Their discovery triggered the rescue effort that brought them all to safety over three days, organised by Thai navy SEALs and a global team of cave-diving experts.
The group had planned to explore the Tham Luang caves for about an hour after soccer practice on June 23. But a rainy season downpour flooded the tunnels, trapping them.
"We took turns digging at the cave walls," coach Ekkapol Chantawong said. "We didn't want to wait around until authorities found us."
One of the boys added: "We used stones to dig in the cave. We dug three to four metres."
Their efforts were to no avail, Ekkapol said, adding: "Almost everyone can swim. Some aren't strong swimmers, however."
The group, who had eaten before going into the caves, took no food on an excursion that was supposed to last only an hour, and had to subsist on water dripping from stalactites, he said.
"We only drank water," said one of the boys, nicknamed Tee. "On the first day we were OK, but after two days we started feeling tired."
Thoughts of their parents also preoccupied the boys, with one admitting, "I was afraid. That I wouldn't go home and I would get scolded by my mother."
The boys, who returned home on Wednesday night, all apologised for being naughty, admitting to having told their parents only that they were going to soccer practice, but not about the plans to go into the cave.
3. Witness saw car like Karen Ristevski's near where her body was found.
A number of police officers are scheduled to give evidence at the high-profile committal hearing for accused wife-killer Borce Ristevski in Melbourne.
The 54-year-old claimed his wife Karen Ristevski left the couple's Avondale Heights home in June 2016 and never returned.
But prosecutors allege Borce murdered her and dumped her body in bushland north-west of Melbourne.
Karen's remains were discovered by two horticulturists working at Macedon Regional Park eight months after she disappeared.
It's alleged Borce drove his wife's Mercedes-Benz roadster to dump the body and lied to detectives about his movements to avoid detection.
A hearing is underway in Melbourne Magistrates Court to determine if there is enough evidence to send Borce to trial.
His daughter Sarah Ristevksi testified earlier this week and said her parents rarely fought and that her dad was "extremely worried" when Karen vanished.
Another witness spoke of seeing a black Mercedes like Karen's near where her body was found and around the time of her disappearance.
Rosemary Davies was on her way to the Trading Post cafe when she saw the "sporty" car at an intersection on Salisbury Road at Mount Macedon, thinking it looked a bit lost.
"It had no indicator on. It almost hesitated," she said on Wednesday.
"I'm thinking to myself, I wonder if they know where they're going."
Borce was charged in December 2017 and he is in custody, facing court each day in a charcoal suit.
Prosecutors have compiled a 22,000-page evidence brief, including CCTV footage of a Mercedes, phone recordings and telecommunications data.
Four police officers are due to speak at the hearing on Thursday.
4. "I want to come home": Sydney woman charged over violent home invasion and attempted murder whimpers to loved ones in court.
Two people are behind bars tonight charged over a terrifying home invasion and stabbing at Bringelly that ended with shots being fired. @AshleaBrown7 #Bringelly #7News pic.twitter.com/aC51weToxJ

— 7 News Sydney (@7NewsSydney) July 18, 2018
A Sydney woman with bikie links charged over a violent late-night home invasion and the attempted stabbing murder of two people inside has whispered to supporters in court "I want to come home".
Kristen Lee Moriarty, from Miranda, faced Liverpool Local Court on Wednesday sporting a black eye after she was arrested over the alleged knife attack at a Bringelly residence late on Monday.
The 28-year-old had lived at the property until recently, police say, and was fighting with those in the home about clothes and other items that may have belonged to her.
Moriarty has been charged with two counts of attempted murder, two counts of malicious wounding and aggravated break-and-enter.
Her alleged accomplice and Rebels bikie associate, 32-year-old Scott Stephen Keighran, from Emu Plains, is facing identical charges but did not face court on Wednesday.
The balaclava-clad pair allegedly stormed the home of Vincent Datillo, 44, and stabbed him in the stomach and back with a knife.
Fellow resident Amanda Bent, 38, was slashed along her face and neck.
Moriarty and Keighran - who deny being in a relationship - then allegedly fled in a Holden Colorado.
Detectives allege Mr Datillo staggered outside with an unlicensed and unregistered rifle and fired at the car at least twice.
Keighran was shot in the arm and lost control of the vehicle before crashing into a telegraph pole on a nearby road.
Mr Datillo remains under police guard in hospital and is expected to face a number of charges.
Ms Bent is in a serious but stable condition and could be released as early as Thursday, police say.
Moriarty said "I love you" to her supporters as she rose from her seat in the dock on Wednesday and pressed her hands against the glass, having earlier whispered "I want to come home" as she was brought into court.
Neither of the pair's lawyers made an application for bail and it was formally refused, however, Moriarty's lawyer Elie Srour indicated a release application would be made on August 10.
Moriarty's former boyfriend, Harley McKenna, was killed in a bikie arson attack in June 2016.
Moriarty and Keighran's matters were adjourned until September 17.
5. Father fronts court after allegedly killing his 12-week-old baby by shaking her.
Joby Rowe accused of shaking his 3 month old baby girl to death. Child Homicide trial underway in Bendigo @9NewsMelb pic.twitter.com/tXeoQj0b40

— Jayde Vincent (@JaydeVincent) March 16, 2017
The range of injuries suffered by a 12-week-old baby girl, allegedly killed by her father, are a "smoking gun" for shaken baby syndrome, a Victorian court has been told.
Joby Rowe was 23 in August 2015 when his daughter Alanah died with Hypoxic Ischemic Encephalopathy - a brain injury from lack of oxygen - along with brain and retinal bleeding.
She also had a "torn or shorn" bridging vein in her brain, but had no external injuries, broken bones, grasp marks or bruises.
"These clinical findings ... (are) a smoking gun that shaking occurred," Crown prosecutor Ben Ihle told the Supreme Court of Victoria on Wednesday when Rowe stood trial on child homicide.
He denies shaking his daughter, with barrister James FitzGerald arguing on Wednesday Rowe had been a "good father".
"He did not shake, he did not drop Alanah. He did not do anything to cause her medical condition," Mr FitzGerald argued.
"He disputes absolutely he shook Alanah."
Mr Ihle said medical experts concluded the baby died from "inflicted head trauma".
He said those injuries were "strong indicators of mechanical head trauma, rapid acceleration and deceleration".
"It's evidence of Alanah being shaken, and being shaken vigorously," Mr Ihle said.
On the night of August 29, 2015, Alanah's mother Stephanie Knibbs had been working at a local hotel at the central Victorian township of Heathcote.
Once home, Ms Knibbs noticed Alanah was pale and appeared to be gasping for breath.
"She picked Alanah up and immediately noticed she was limp and floppy," Mr Ihle said.
Alanah was unconscious, bleeding from the nose and had a small amount of vomit on her mouth when paramedics arrived.
Emergency workers gave her an infusion of adrenaline, which restarted her heart.
The child was airlifted to the Royal Children's Hospital in Melbourne and transferred to intensive care, but died within hours.
A scan showed Alanah had bleeding to the brain and further investigation found her brain was swelling into the base of her skull.
Rowe allegedly maintained he had been feeding Alanah when she started gasping, got a bleeding nose, then fell unconscious.
He also allegedly told Ms Knibbs he had burped Alanah and she had fallen asleep, with Rowe claiming he only noticed something was wrong when he put the baby on a change table.
The trial continues on Thursday.
6. Say goodbye to plastic straws at Maccas, folks.
McDonald's Australia to join global green push with move to phase out plastic straws. https://t.co/v7Z5Ho8GWY

— Business Review (@aus_business) July 18, 2018
Australians will soon be slurping their McDonald's thickshakes through paper straws after the company announced it would phase out plastic straws over the next two years.
Environmentalists say the move is a step in the right direction.
A trial of paper straws will start in August in two outlets, the fast-food giant announced on Wednesday, and the change will roll out to all 970 restaurants nationwide by 2020.
McDonald's says the trial is part of a larger, long-term global effort to identify viable, sustainable alternatives to its single-use plastic straws.
"We know plastic straws is a topic our customers are passionate about and we will find a viable solution," McDonald's Australia supply chain director Robert Sexton said in a statement.
Greenpeace Australia applauded the decision.
"It's wonderful McDonald's is making a commitment to reducing consumption of single-use plastic and we look forward to seeing more detail around this proposal to see the overall impact," Greenpeace spokesman Simon Black told AAP on Wednesday.
McDonald's announcement follows Starbucks' decision last week to eliminate plastic straws from all its store within two years, citing the environmental threat to oceans.
The Macdonald's paper straws are the same as those it's trialling in the United Kingdom, a spokeswoman told AAP.