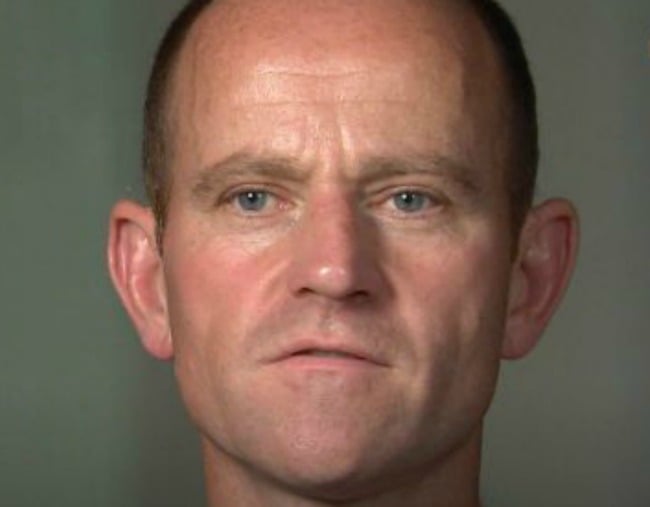 It had been almost 10 days, with hardly any food and little water, when 12 Thai boys and their soccer coach trapped inside the Tham Luang cave in North Thailand, saw two heads emerge from the darkness in front of them.
In Monday night's episode of ABC's Four Corners, we were shown the moment the Wild Boars soccer team were found by two British divers.
As the heads of 57-year-old Rick Stanton, and 47-year-old John Volanthen, popped up from the pitch black water, one of the smallest boys perched on the cave platform can be seen quickly retreating, likely startled by the presence of two new people in the isolated cave.
The first words the boys say in the footage are simple, with a hint of desperation: "Thank you, thank you."
Stanton, a retired firefighter, and Volanthen, an IT consultant, ask "How many of you?" and when they discover there are, indeed, 13, they exclaim, "brilliant".
The boys want to know when they will be rescued, and the British divers assure them there are "many people coming. Many, many people. We are the first, many people come." They tell them their rescue will not be today.
"What day?" one boy insists, but when the answer is "tomorrow" he seems unsatisfied.
"No, no, no," the second British diver interrupts, "What day is it they are asking. Monday. Monday.
"One week and Monday. You have been here ten days. Ten days."
Watch: British diver Jason Mallinson on what happened inside the cave. Post continues after video.

The divers tell them they are strong, unable to keep the relief from their voices. They slowly crawl up to the platform, warning the boys, "We come, we come. We'll come okay? We'll come."
"We're hungry!" one boy shouts, and reassuringly one diver responds, "I know, I know. I understand."
It is evident there is one boy doing most of the communicating, who we now know to be 14-year-old Adul Sam-on. He would become instrumental in the rescue, acting as a translator between the Thai boys and some of the English rescuers.
"Tell them we're hungry…" one boy says in Thai, and Adul replies calmly, "I've told them. They know."
"What day you come to help me?" another boy asks from the back.
"The Navy SEAL will come tomorrow. With food and doctor and everything," a diver assures them, before offering them more light.
"I am very happy," another boy from the soccer team says, and one of the British divers responds, "We are happy too."
The video ends with a chorus of thank yous, followed by the question, "Where you come from?"
When they learn the divers are from the UK they reply "Ooohhhh," both impressed, and perhaps aware of just how many people it has taken to find them, buried kilometres deep inside a flooded cave.
Rescue diver Jason Mallinson was interviewed on last night's episode titled 'Out Of the Dark', and told interviewer Mark Willacy, "The first thought is… they're not going to get out.
"It's all about panic underwater. You can tell a kid whatever you want but in an actual situation where you've got a kid underwater they're more than likely going to panic."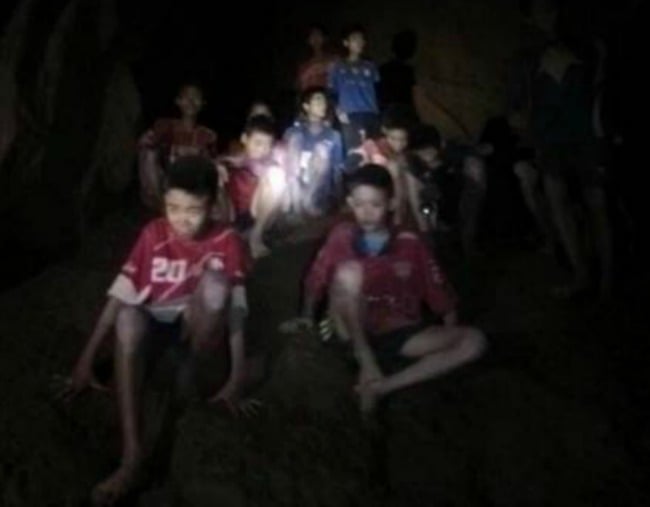 The rescue team detailed how they sedated the boys, and protected their heads as they were ferried out of the cave.
It was previously understood that the strongest went first, but Dr Craig Challen and Dr Richard Harris have since insisted that was not the case. Rather, it was the bravest that went first.
Dr Challen and Dr Harris also received immunity from the Thai authorities, in the case that the sedation of the children went wrong. Thankfully, there were no complications.
"It's one of the most difficult and dangerous and risky things I've ever done, not in terms of my own personal safety, but in terms of the people I was responsible for," Mallinson told Four Corners.
He, along with US Mission Commander Major Charles Hodges, said they were expecting casualties, with the probability of success being incredibly low.
The rescue mission was considered so dangerous, that for a period the team of 150 were considering waiting until the water had receded and monsoon season has past to retrieve the boys, which would have been four to five months.
This plan would have required more than 1800 meals, which Commander Hodges said would not have physically fit inside the cave.
The other factor to consider was hygiene, as by necessity, the boys were eating in the same area as they were defecating.
All 12 boys and their assistant soccer coach are now in good health, and are currently recovering in hospital.