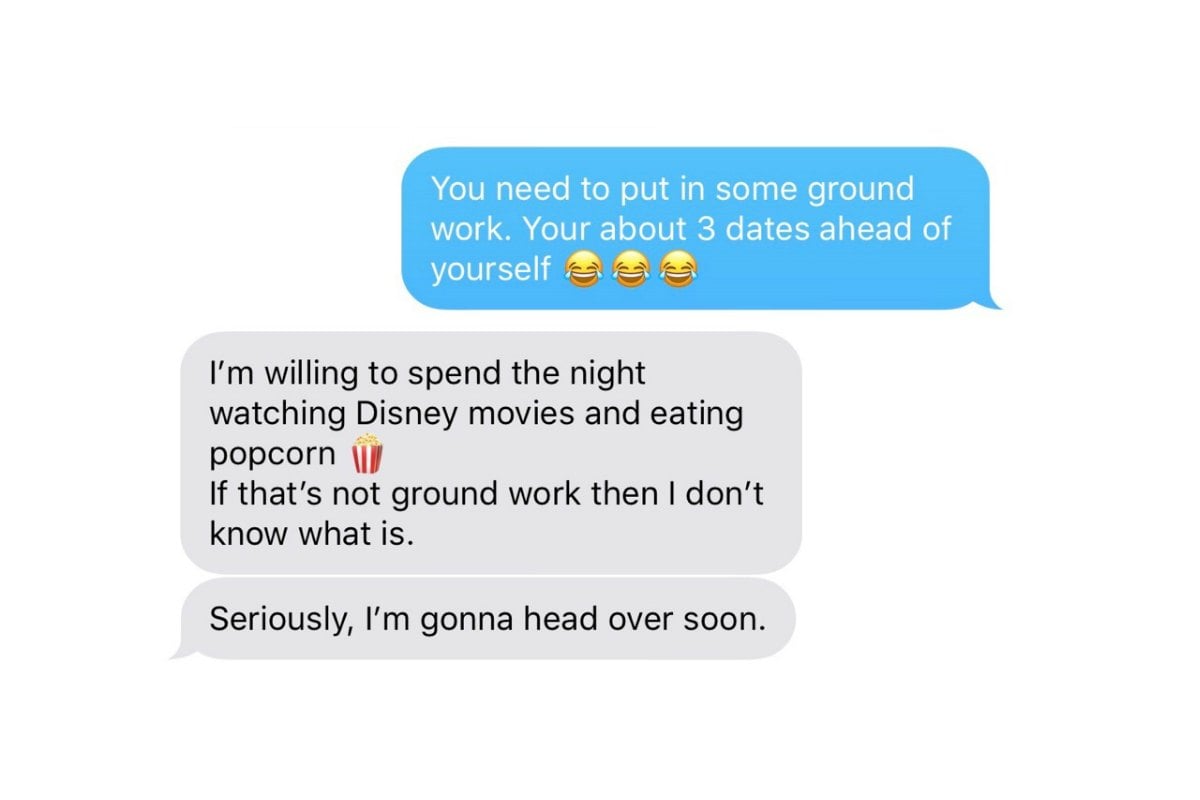 *Elle is not this woman's real name but her identity is known to Mamamia. 
Once upon a time, a girl – let's call her Elle* –  met a guy. We'll call him… Matt.
Elle and Matt are both 20-something millennials who somehow managed to meet at a bar, not on a dating app.
They chatted, exchanged numbers but never saw each other again.
Matt went overseas and Elle continued on with her life.
Then a few months later at precisely 5:13am – we have the time stamps to prove it – she received a text message from her one-time-maybe-suitor.
It was, for all intents and purposes, a booty call, and not a subtle one at that. She didn't respond but that night at 8pm, she got another text.
"I know it's late but how are you doing?" he wrote, before asking her out for drink.
She politely declined, but he persevered.
Team Mamamia decode Tinder profile pics, and ohh goodness..
You see, Elle was in her pyjamas and did not want to meet a strange man who messages women at 5am in the morning after a "good time with the boys". Alas, he did not get the hint.
"Hmmm pyjamas sounds sexy," he continued.
*vomits*
"What about I bring over some snacks and we hang out in your pyjamas."
*vomiting intensifies*
"Come on. I know you have no excuses. I'll provide all the tasty snacks!"
The conversation didn't get much better after that…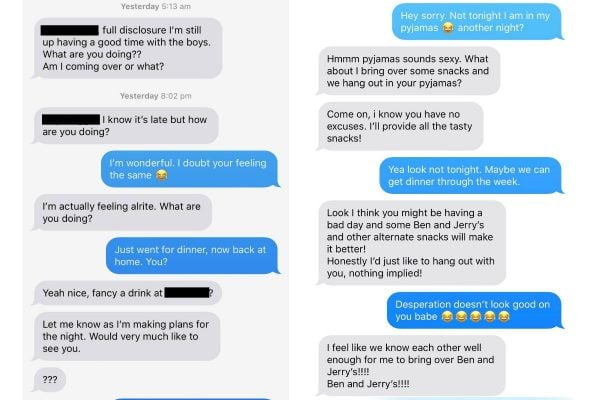 Matt refused to give up. Matt really wanted to get laid and thus, his hormones got the better of him and he lost the ability to communicate.
Side note: we don't actually know Matt. We might be giving him too much credit. Who the hell knows.