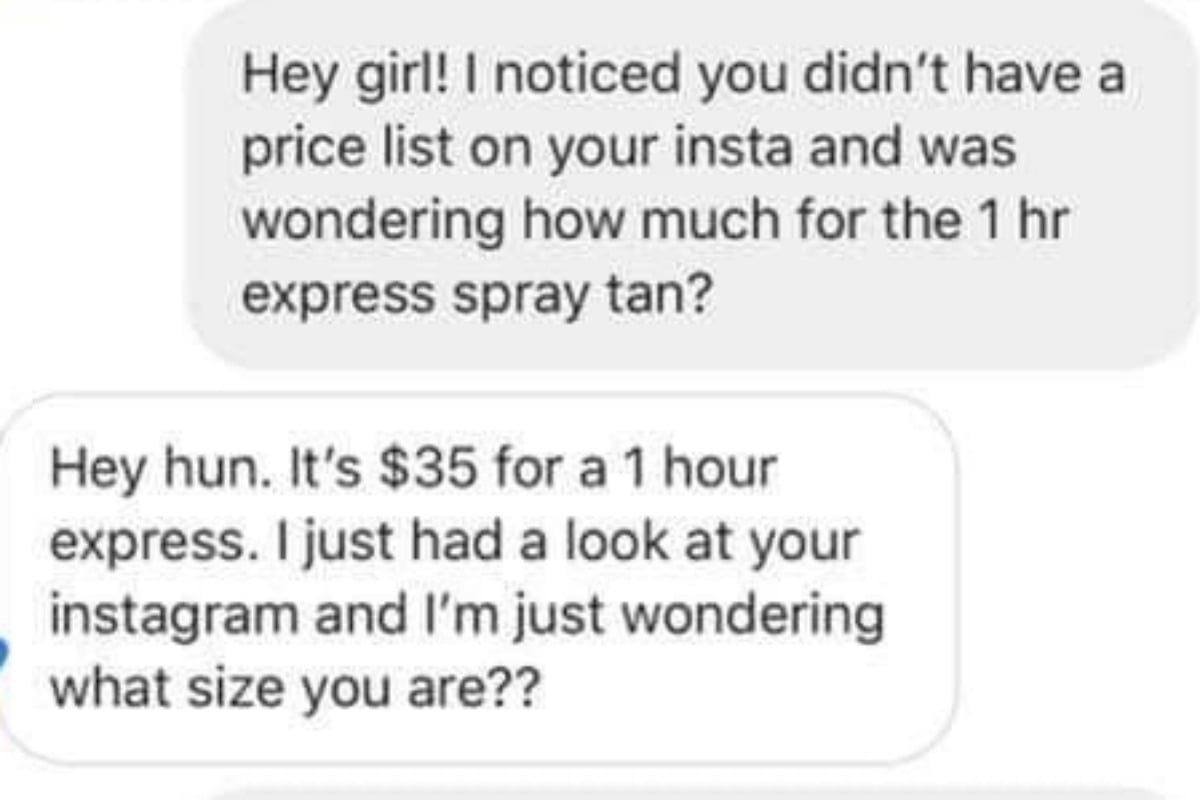 A woman's enquiry for a spray tan has women shocked and confused after the company in question claimed it charged extra for anyone above a size 8.
The message exchange, posted in the Facebook group All Things Tanning on Tuesday evening, has received an influx of passionate responses to the bizarre and offensive claims by the company.
Mamamia's daily news podcast The Quicky will get you up to speed on what you need to know today….
The original conversation, which has had the names blurred out in the screenshot below, started with a woman, Sarah*, requesting prices for spray tanning services.
"Hey girl! I noticed you didn't have a price list on your insta and was wondering how much for the 1 hr express spray tan?," she said.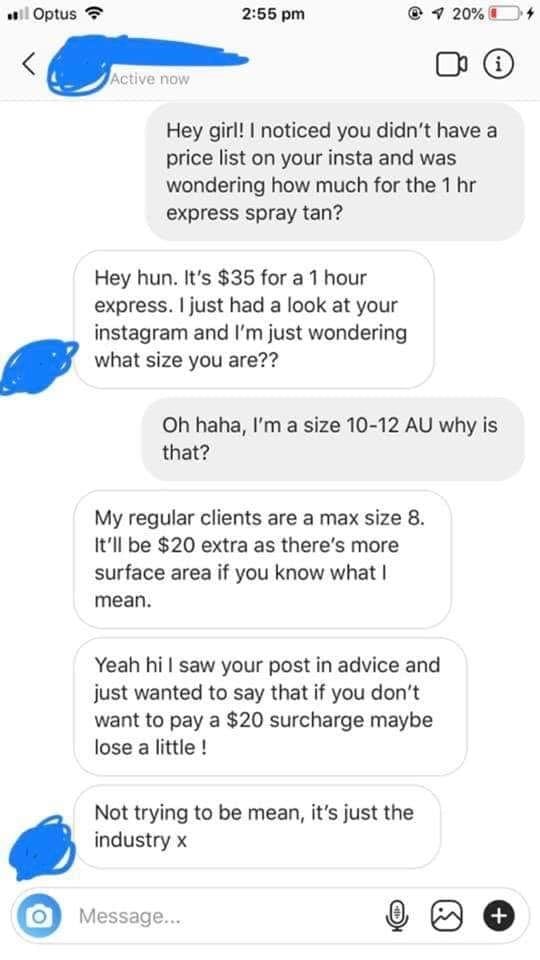 Responding to her message, the company representative offered the standard rate, adding that they'd "just had a look at (the woman's) Instagram and were wondering what size (she) was".
When Sarah responded that she was a size 10-12, she received a very unexpected response from the company staff member.
"My regular clients are a max size 8. It'll be $20 extra as there's more surface area if you know what I mean," she messaged back.
Noticing that Sarah had posted about the deeply troubling exchange in a Facebook group for advice, the tanning technician then proceeded to tell her to lose weight if she wanted to avoid the "surcharge".
Adding insult to injury, she rounded out the messages by saying she "wasn't trying to be mean, it's just the industry".
Facebook users were understandably outraged by the bullying, calling for the company to be "named and shamed".
"What does she charge for height as well? Like sorry you're like 7 foot, that's an extra $20," one said.
Others called the exchange "disgusting".
"It seems this "business owner" actually knows very little about the industry she says she is representative of. This is actually disgusting and an attitude adjustment is needed if she wants to succeed in business," one said.
Fellow beauticians chimed in that it was "disgraceful" and a cruel example of discriminatory, fat-phobic behaviour.
Speaking to Mamamia, Sarah, whose name has been changed to protect her anonymity, said she was "pretty taken aback" by the response.
"I've had a spray tan before and had never been asked for my size."
"Honestly, I just laughed when she said to lose a little. If I ever aimed to lose weight it definitely wouldn't be just to save an extra $20 for a spray tan.
"I'm just glad it wasn't said to an impressionable young teenager who could have developed [serious issues] from her comments."