Some of you may have seen the Academy Award winning film Spotlight. 
If you haven't, I highly recommend it. It's probably one of the best films of the 21st Century.
Anywho. What does Spotlight have to do with Sophie Monk and Stu Laundy?
Well, based on an incredible true story, The Boston Globe's 'Spotlight' team is the oldest running investigative journalist unit in the US. They heavily research a subject, sometimes for months on end, that is of enormous importance to the public.
And today, I present to you a 'Spotlight' investigation of Sophie and Stu – the couple, I believe, who are having us on. 
Love The Bachelorette? Listen to our debrief of the finale on Bach Chat.

Firstly, I can feel it in my loins, an argument often advanced by well-respected investigative journalists.
But I have OTHER evidence, which I will present to you not at all objectively, and then allow you – the jury – to make up your own mind.
AHEM.
1.Where… the f*ck… is the winner video?
Since Thursday night, I have eagerly awaited the video of the pair together where they tell us, the heavily invested public, how in love they are etc.
BUT IT IS NOWHERE TO BE SEEN LET ME ASSURE YOU I HAVE CHECKED.
Matty J and Laura Byrne had one. "This is when my story finally comes to an end and I get to start a new chapter with somebody who I think is completely and utterly perfect," Matty told us alongside a beaming Laura. Richie and Alex had one. EVERYONE HAD ONE.
But not Sophie and Stu.
Somethin. Ain't. Right. 
2. Their first Instagram photo together.
What… the hell… is this.
I'll tell you what it is. It's a picture some camera dude took precisely two seconds after Sophie chose Stu, a few months ago.
Pretty much every other couple have taken an intimate selfie because they can stand being within a foot of each other. 
CASE IN POINT: Laura Byrne.
And note Laura's caption; "utterly smitten with this one". Matty J wrote at the time, "Finding you was better than I could have ever dreamed".
Yes. I see.
And Sophie Monk?
I quote: "Finally WE can walk down the street and go to the supermarket".
WUT?
Finally you can buy toilet paper and goddamn pasta sauce together? Is that it?
And Stu's caption was… an emoji. Just a heart. NO WORDS.
THEY'RE NOT SAYING ANYTHING BECAUSE THEY'RE OVER. FIN.
3. Interview on Kyle and Jackie O.
Excuse me, but last night I dedicated 45 minutes of my life scrutinising Stu and Sophie's interview on the Kyle and Jackie O show, and I don't regret it one bit.
Firstly, look at the image of the pair after their interview.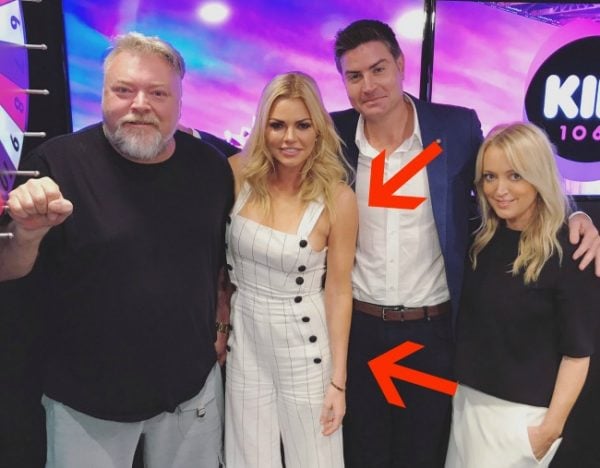 Why... doesn't Sophie have her arm around him? It's like she's actively avoiding having to touch him.
Speaking of being a body language expert with precisely no qualifications, here is specimen B.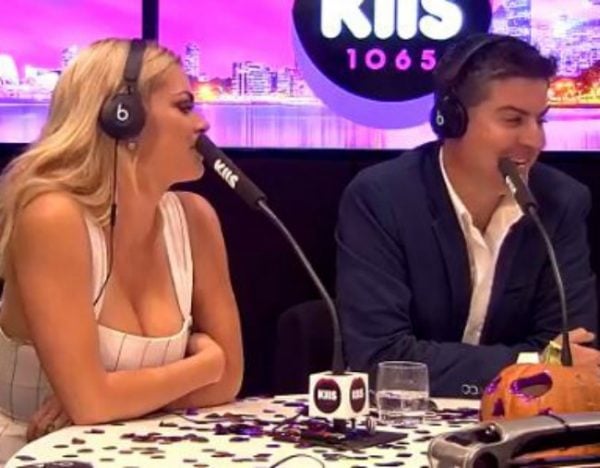 For the entire interview, Sophie has her arms crossed. At no point do they touch, or appear moderately affectionate towards each other.
It also became very awkward when the subject of children came up. They rambled about how they haven't even really spoken yet, and then Stu said, "ahh... yeah... I'd like to," before looking at Sophie like, "Yeah... nah." 
STU WAS FULL KEEN ON HAVING HIS VASECTOMY REVERSED ON THE SHOW AND NOW THEY SEEM UNSURE.
Stu on @sophiemonk meeting his kids and having new babies. #KJshow pic.twitter.com/w7CMGGrRu8

— Kyle and Jackie O (@kyleandjackieo) October 26, 2017
4. Their interview on The Project.
The first question they were asked, from host Meshel Laurie, was "Are you guys still together?"
They both laughed, and neither answered immediately. There was a weird shrug thing, then they looked at each other and Stu said, "Well... it's been a rough afternoon".
HEH?
Sophie then added with laughter, "I hope so... Of course we are, very happy," but I would like that stricken from the record please as it does not support my case.
Moving on.
Sophie said later in the interview, "I couldn't deny I liked... loved this one," and ACCORDING TO MY CALCULATIONS THAT IS PAST TENSE.
#BacheloretteAU's lovebirds Stu and @SophieMonk reflect on the finale, talk falling in love and their chemistry. ???? #TheProjectTV pic.twitter.com/6PWN9O4UEp

— The Project (@theprojecttv) October 27, 2017
5. The clever and intelligent woman who is Kate Langbroek.
And also Em Rusciano... who posted on Instagram that you can "See her [Sophie's] skin crawling," but then she deleted it so that evidence is not permissible.
BUT. Langbroek posted on Instagram, after having interviewed the pair herself just hours earlier, and then watching them on The Project last night, "She hates him".
We have never in our entire lives seen a radio personality make such a bold remark following The Bachelorette. 
6. Sophie's long AF trip to Thailand.
Sophie went to Thailand for like three years following The Bachelorette finale and it was weird.
Winners in the past have been photographed by the paparazzi not-so-secretly seeing each other (Laura and Matty) but Sophie literally escaped the country. The only time they were spotted, was to do a photo shoot which they would have been contractually obliged to carry out.
Now, I'm not going to go into the images published on The Daily Mail of Stu with a blonde woman. I'm not going to mention that. Because here at Mamamia we do not reproduce paparazzi images or encourage the paparazzi economy. It's gross. So for that reason I'm not going to bring up those images that exist on The Daily Mail if you were to google Stu Laundy blonde woman Daily Mail. 
Erase that from the record.
7. Sophie's best friend in the whole world: Oscar Gordon.
Sophie's friend, Oscar Gordon, follows Apollo on Instagram, which is all very nice.
He does not follow Stu Laundy.
Sophie's best friend in the entire universe who she travelled to Thailand with and is with approximately all of the time, does not want to see Stu on the Instagram. 
Why?
Because he broke his best friend's heart.
WE MAY NEVER KNOW.
It's time for you to make up your own mind.
Now please, hand me my Walkley.
You can follow Jessie Stephens on Facebook, here.