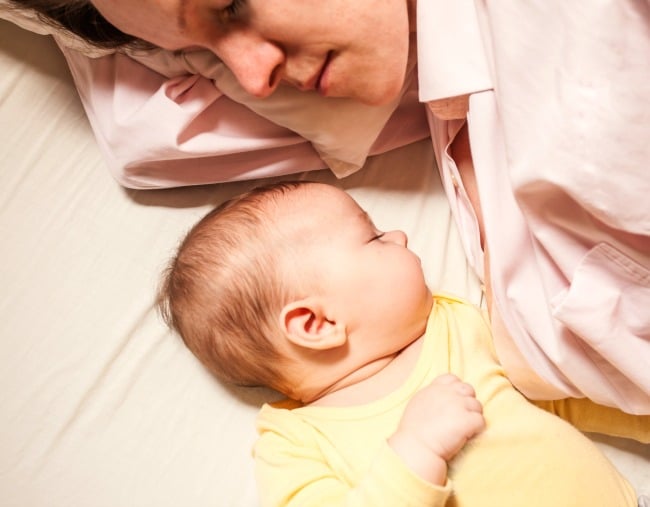 Eight years ago, and a few months after the birth of her first child, Nat was a tired and cold new mama who just wanted some sleep. Not planning on 'co-sleeping' as a lifestyle choice, Nat was getting weary from the frequent night wakings, so with husband Bob working away, she started bringing baby Phoenix into bed.
"We were not keen on the idea of co-sleeping before we had kids, or even once we did. It was just something that happened thanks to a combination of Phoenix breast feeding up to 10 times per night, the mid-winter temperatures and Bob being away.
"I initially started bringing him in to our bed when he was about four months old and it carried on for around two and half years until I was about to deliver our second child."
The same pattern emerged with daughter Frankie and with third child Violet, born nearly three years later. As Nat points out, it didn't happen at bedtime, just later on in the night for warmth, feeding and cuddles.
"We have always had a bedtime routine for the kids, meaning Bob and I have time together in the evening to talk or watch a show, and so we never go to bed with the kids already in our space.
"Most nights we hear little footsteps in the hallway at around 2am and Frankie and Violet, who share a room, jump into bed with us. Sometimes they are so quiet we don't hear them and wake up to find them already in our bed like sneaky little ninjas."
Why co-sleeping is no-sleeping. As every parent will know… this is the realities of co-sleeping.
Another couple, with similar night-time 'musical-bed' arrangements, are Lucy and husband Shane.
"Eddie is almost four and he will frequently hop into our bed at midnight, armed with a pillow and ten of his favourite teddies. Occasionally Shane will fall asleep in Eddie's bed after a hard day at work, but mostly it has been Eddie sleeping in with us over the last couple of years."