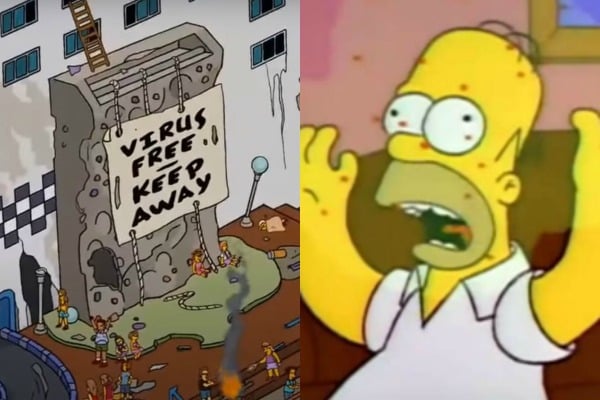 Forget your horoscopes and forget old mate Nostradamus because The Simpsons have proven quite accurate at predicting world events long before they happen.
In its 600 episode (and counting) series run, the show has spanned 31 seasons since its debut in 1989.
From an eerie reference to September 11 to Disney's ironic acquisition of 20th century Fox, here are the 12 moments in which the show predated history.
1. Coronavirus cruise ship quarantine.
Episode:  Season 23, Episode 19 – 'A Totally Fun Thing That Bart Will Never Do Again'.
Year predicted: 2012
When did it come true: December 2019 / 2020
What happened?
In this 2012 Simpsons episode, a very bored Bart sells everything he owns to fund a family holiday on a cruise ship.
Once on board, Bart enjoys the cruise so much that he becomes depressed at the thought of returning to his normal life.
In an attempt to extend the family holiday, Bart pranks the entire ship, playing an emergency message from a military officer (from a straight-to-DVD movie), which announces that all crew and passengers must stay on the ship indefinitely as a deadly virus has started spreading around the world. (Sound familiar?)
The Simpsons really predicted the corona virus cruise ship quarantines pic.twitter.com/tpiV5Gskbb

— Very Angry Scon Boy (@BudnholzerDaddy) February 8, 2020
Over the next 12 days, the ship falls into disrepair and chaos as the food supply slowly starts to run out.