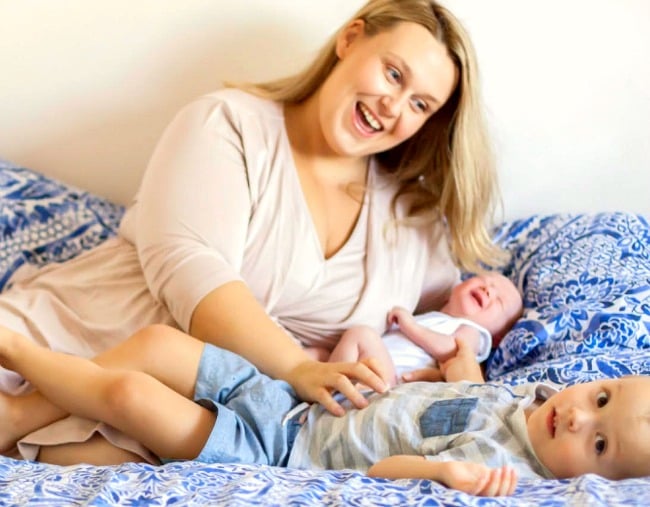 I have an eight-week-old baby and a three-year-old son, and my obsession with screen time was ruining our lives.
At various times since my first child was born, I had introduced a relatively screen-free lifestyle. We've gone for months at a time without my son having any access to a screen at all.
We've also had periods of time where we have had excessive exposure to screens; where breakfast, lunch and dinner have all been consumed with a side dish of YouTube.
In the first couple of weeks after our baby was born, the three-year-old spent a lot of time snuggled with us watching movies, or playing at our feet accompanied by the iPad. Initially, I was accepting of this.
I had a new baby, I was recovering from a C-section, and my husband had come down with a virus that meant he wasn't in a position to provide a great deal of support.
So I let the screen thing happen, and we all relaxed into the adjustment to becoming a family of four.
Then, as all started to return to life as we knew it, the screen time exposure naturally started to reduce. We began returning to our regular activities, I began to feel more confident going out and about with a newborn and a three-year-old, and we found ourselves using the screens less than we had been in the earliest days – but still more than we had before baby arrived.
One night, I started reading articles online that talked about the dangers of screen time exposure. About the importance of having our children outside, engaged in the natural environment, for hours every day. And I started to worry that maybe our screen time was doing damage to our kids.
I joined parenting pages that outlined daily activities designed to stimulate and entice the enquiring minds which were developing in our care. I started to feel an enormous pressure to be doing more. And more. And more.
In an effort to ensure I was being the screen-free parent I needed to be, I began filling our days with a barrage of activities. We'd plan play dates and playgroups and park dates. On the rare occasions we were at home, I'd stay up late at night, setting up the activities I had googled, ready to engage as soon as the sun rose in the morning.
I based the success or failure of my day – and as myself as a parent, and honestly, as a person – on whether or not my son had watched TV. We were in a constant state of rush. I had no time to just sit and BE with my newborn baby, who was getting carted from activity to activity, or event to event.
My son was becoming chronically overtired from being in a state of perpetual movement and activity, and being offered no opportunity to rest or reconnect with me or his sister in a slow and gentle way.