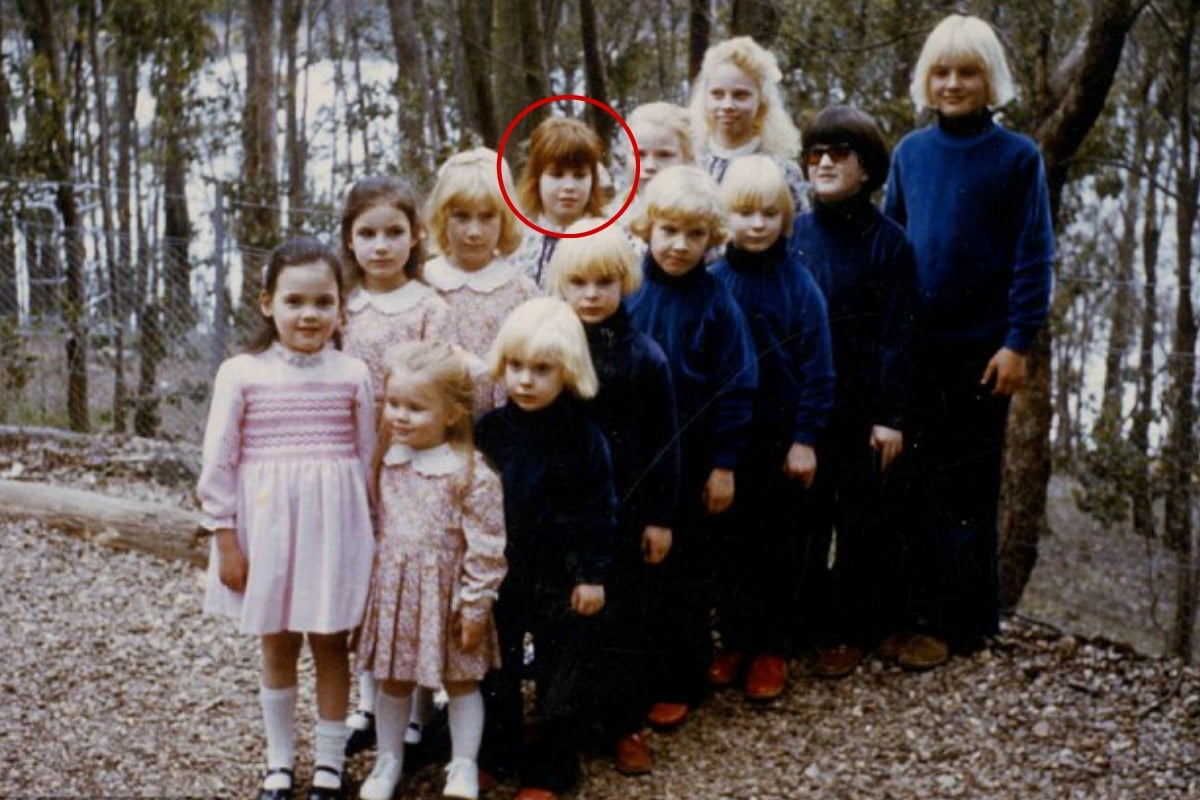 In 1987, Sarah Hamilton-Byrne was kicked out of the only family she'd ever known.
The teenager was a member of Australia's most notorious and dangerous cult, The Family. Sarah Moore, as she was later known, had grown up on a remote Lake Eildon property, outside of Melbourne. She'd never seen the outside world.
Sarah grew up believing she was the biological daughter of the cult's charismatic and controlling leader, Anne Hamilton-Byrne, who had adopted at least 14 babies and young children through illegal means.
Hamilton-Byrne and the other adults in the cult, who the children referred to as "Aunties" and "Uncles", dressed the kids in identical outfits and gave them the same blunt, blonde haircut to make them look like siblings.
We take a look inside Australia's worst cult on True Crime Conversations. Post continues after podcast. 
The children were beaten and drugged. As they got older they were forced to take LSD as part of a religious ritual.
When Sarah began acting out in her late teens, Hamilton-Byrne kicked her out of the cult.
The then 17-year-old met with a private investigator, known only as Helen D, who had been looking into The Family's operations. Helen D then introduced the teenager to two female police detectives who were able to win her trust and who encouraged her to open up about her experience in the cult.
On August 14, 1987, law enforcement raided the Lake Eildon property and removed the remaining children.
It was only then that the children realised their upbringing wasn't normal.
Ben Shenton was only 15 when the police arrived at the compound. He told the ABC's You Can't Ask That, he was initially confused and panicked.
"We hear this running up the steps. Suddenly these police turn up. 'It's OK, it's all right, we're here to rescue you'," he said.
"So, in my mind, these people were removing me and I fought to stay."
As he was being driven away, Shenton realised he had finally escaped captivity.
"I remember saying, 'I'm free'."
Although Sarah managed to escape the cult before the raid, she struggled to adapt to her new life in the outside world.
She went on to study medicine and would later become a qualified doctor. She worked in a number of Melbourne hospitals and did extensive volunteer work throughout India and Thailand, before starting up a medical practice in the Dandenong ranges.
In 1995, Sarah's book about her experience in the cult – Unseen Unheard Unknown – was published by Penguin.