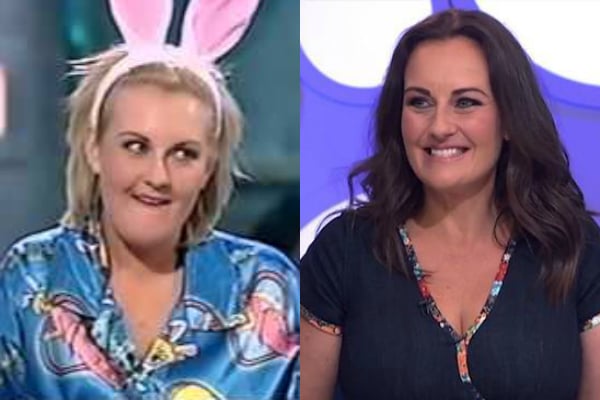 Sara-Marie Fedele has never understood why anyone would want to know where she is now.
It's been nearly 20 years since the now-42-year-old bum danced her way into the hearts of Australians on the first ever season of Big Brother. The year was 2001 and Sara-Marie was just 21 years old when she entered the Gold Coast Big Brother mansion. She came out an instant celebrity.
Anyone who watched that first Big Brother season – one of the first Australian reality shows to hit our screens – will remember just how loveable she was, and still is. Her cute pyjamas, bunny ears, infectious personality and, of course, the bum dance endeared her to everyone, but in particular, Aussie women.
In the words of Mamamia co-founder Mia Freedman, who nearly lost her editor's job when she put Sara-Marie on the cover of Cosmopolitan Australia almost two decades ago, Sara-Marie was a pioneer of the body positive movement in Australia. Back then, we didn't have social media and Instagram didn't exist, but when Sara-Marie was eventually eliminated from the Big Brother house (she came third), thousands of women turned up to the live eviction wearing bunny ears and shaking their bums.
Prior to 2020, you couldn't really find out that much about what Sara-Marie has been up to over the last 20 years since she shot to fame as one of the country's original reality TV stars. She's walked an unexpectedly fine line between public and private life, a choice made less deliberately and more out of not being bothered by it all.
This is one of the reasons people are fascinated by Sara-Marie – because in the age of influencers and reality TV stars, it's strange to not be able to pick up your phone and find out what your favourite TV personality is up to.
When Sara-Marie sat down to speak with Mia on the No Filter podcast, it was the first interview she'd said yes to in a long time. So, let's take a look at where Sara-Marie is now.
WATCH: How Sara-Marie's life changed after Big Brother. Post continues after video.
Sara-Marie's life before Big Brother.
Before applying for Big Brother, Sara-Marie worked as a receptionist and then a manager at a strip club. Prior to that, she'd worked at a pharmacy.
"I never knew what I wanted to do. I went to the strip club for a Christmas party and ended up helping out the manager… they offered me a job at the front desk," she said.