Children of the '90s, one of your favourite TV shows, Sabrina the Teenage Witch, is getting a reboot.
And while in September we heard the show was in early development with US broadcasting company CW, Deadline reports it has been snatched by Netflix, who have ordered two seasons, and a total of 20 episodes.
Cue irrepressible screams of joy from anyone who has fond memories of Sabrina Spellman, her aunts Zelda and Hilda, her loveable dork boyfriend Harvey Kinkle and of course her aspiring world-conquerer cat Salem.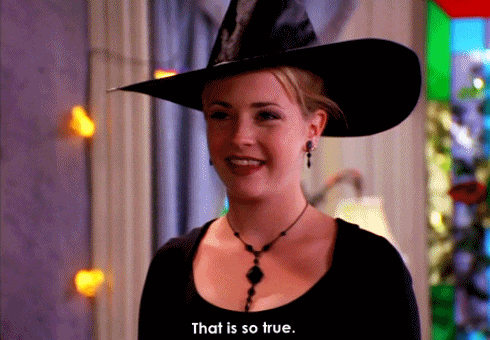 But before you get too excited about reliving these hilarious hijinks from the 1996-2003 series, all reports say this version of Sabrina will be a much darker take on the Archie Comics source material.
It will be based on Archie Comics graphic novel The Chilling Adventures of Sabrina series, and will fit firmly in the dark drama/horror genre.
The graphic novel is set in the 1960s and features characters like Madam Satan. The new TV series will be a dark coming-of-age story with horror, occult and witchcraft themes, as Sabrina battles evil forces that threaten her and the rest of the world.
Riverdale fans will be happy to know the team behind the hit teen drama, specifically, writer Roberto Aguirre-Sacasa and director Lee Toland Krieger, Berlanti Productions and Warner Bros TV, are bringing this series to life.
No word yet on the air date, but rest assured we will be keeping a keen eye on it. Until then, we'll have to tide ourselves over by rewatching the entire Sabrina the Teenage Witch seven-season box set.
Listen: Want more teen drama fun? Laura Brodnik, Clare Stephens and Gemma Garkut deep-dive on Veronica Mars in this episode of The Binge.