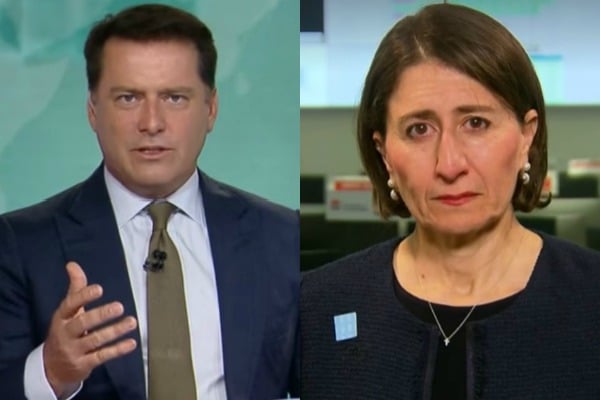 On Wednesday night's episode of 7.30, a man whose wife died of COVID-19, after travelling on the Ruby Princess cruise ship, vowed to seek justice for her death.
"I'm angry," Graeme Lake, who lost his wife Karla, told the program.
"The cruise has ruined us. It broke me, it's broken the kids, the grandkids," he continued.
"She didn't deserve it. She went on the cruise for her birthday so it's really devastating. Even now I'm still struggling."
Watch: Mamamia's Claire Murphy breaks down your most asked questions about COVID-19. Post continues below.
Graeme and Karla Lake are just some of the human faces behind the Ruby Princess cruise ship disaster.
At the time of publishing, 18 passengers from the ship have died and hundreds of confirmed cases of coronavirus have been linked to the Ruby Princess.
In fact, the cruise ship, which set sail on March 8 just hours after sick passengers disembarked, is currently responsible for more than 10 per cent of all coronavirus cases in Australia.
As a result, the cruise ship is currently at the centre of a criminal investigation. But so far, state and federal government bodies and the cruise liner have pinballed the blame, with no one taking responsibility for the handling of the disaster.
When New South Wales Premier Gladys Berejiklian appeared on the Today show on Thursday morning, Karl Stefanovic took the opportunity to grill the Premier about the state government's handling of the cruise ship fiasco.
During the interview, Stefanovic asked Berejiklian if she had "any regrets" about the infamous incident.
"Not at this stage. But at the end of the day, Karl, this is the biggest issue I think any of us will face in our lives," the NSW Premier responded.
"Who would have thought that at the beginning of the year that we would be in the middle of a pandemic."
After thanking Berejiklian on being a "stand-up leader" amid the pandemic, Stefanovic went on to ask the Premier whether she was "sorry for what happened" on the cruise ship.
"This is why, for me, I want some straight talking from you about the Ruby Princess. I want you to say, yes, we were responsible. Yes, we stuffed it up. Yes, it caused a great deal of uncertainty. Yes, it caused a great deal of anxiousness and pain out there in the community," the Today co-host said.