For everything Prince Harry, Meghan Markle and the Royal Wedding in one convenient place, visit our Royal Wedding hub.
Guests at the royal wedding of Meghan Markle and Prince Harry on Saturday were bound by strict rules. They were told to bring their passports and rainwear, to only carry small bags, to donate to charity instead of bring a gift and to under no circumstances come accessorised with a… sword.
But there was one, slightly more important rule, that some of the most well-known guests simply didn't – or couldn't – obey: no mobile phones.
While weddings appear to exist as much for Instagram as they do for marriage, the royal wedding's 'exclusive' reception, of course, was meant to be different.
That was until some guests indulged those of us playing along at home, gifting us with some images from behind the castle walls and offering rare glimpse on what really goes on at a lavish royal wedding.
One of those people was Aussie actress Jacinda Barrett. Along with some more-than-appropriate photos from the wedding, Barrett posted a photo that rivals Ellen's famous Oscar selfie. The photo was of herself, her husband Gabriel Macht, Priyanka Chopra, Abigail Spencer, Sarah Rafferty and Gina Torres on the bus.
Rick Hoffman, who plays the character of Louis Litt on the television show Suits, also gave fans an insight into the stark reality of a jam-packed royal wedding, on Instagram revealing why he was pulling a face that later went viral.
"To answer the question about that weird face that was made at the wedding. Imagine sitting next to people on your right, not knowing which person it was that has halitosis (bad breath). Hence the face that is apparently now all over the place," he said in the video.
And that wasn't the only part he shared, either. Posting on Instagram, he posted a few candid shots of inside the wedding.
Oh, and let us not forget this one, which looks as normal as a photo taken at a non-royal wedding:
Rick Hoffman wasn't the only Suits co-star who broke the palace walls down to give fans a tiny chunk of insight. Patrick Adams, who plays Mike Ross on Suits, shared a selfie with his wife Troian Bellisario. He captioned the image, "Freeloaders #royalwedding."
Troian Bellisario, no doubt following her husband's lead, posted a video to her Instagram story of the bride providing the women with slippers for when they wanted to take off their heels.
Priyanka Chopra, close friend of the bride, shared some behind-the-scenes photos, posting several photos of who she called the "Bridal Crew #Squad."
Then there was Idris Elba, who didn't quite break as many rules as the rest, sharing a selfie from the car, with his soon-to-be wife Sabrina Dhowre.
Ever the professional, Serena Williams knew there was a high chance her feet wouldn't last the day in heels, planning ahead and sharing with her Instagram followers that she was wearing sneakers beneath her evening gown.
Jessica Mulroney, whose daughter Ivy was one of the carefully chosen bridesmaids, shared pre-after-party photos of herself in a stunning gold dress.
Meanwhile, her makeup artist, Rachel Renna, also had zero qualms about posting this behind-the-scenes video from the reception, and we aren't unhappy about it.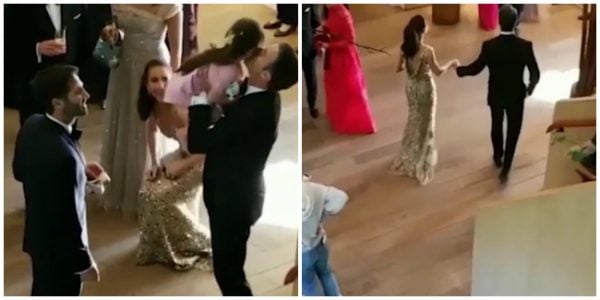 And finally, with a clear disregard for the royal protocol, Joss Stone shared this picture of her throwing her scarf in the air. Amen, sister.