Poor Richard Wilkins is copping it lately. Sylvia Jeffreys compared him to a dinosaur. His son spilled the beans on his alleged 'secret' celebrity fling.
Then this morning, on live television, a beloved British actress told him she didn't like him.
Those familiar with the name Miriam Margoyles will not be surprised to learn it was she who delivered the hilarious burn.
"I like you better now than I used to," she said during an interview on The Today Show.
Lisa Wilkinson's jaw dropped. Karl Stefanovic erupted in laughter.
"You've improved," the 75-year-old continued. "You honestly have. You've mellowed. And you're not just interested in you, you are interested in other people. And I like that."
"It's taken a while, but it's a work in progress," said Wilkins.
"Well, we're all works in progress. But truly I mean that," Margoyles said. "I like you now."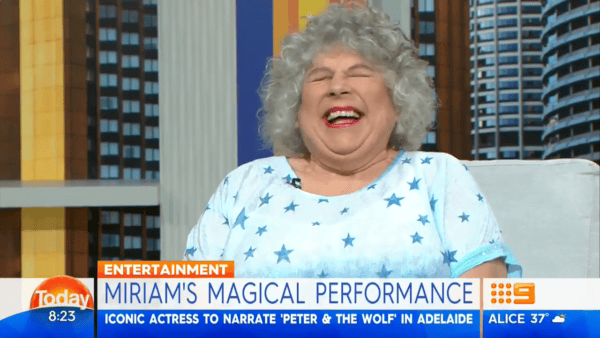 The actress, whom Harry Potter fans will recognise as Professor Sprout, is famously candid. Her various appearances on The Graham Norton Show have delivered some of the most hilarious/cringe-worthy moments the chat show has seen.
There was that rather, erm, graphic recount of her reaction to meeting Lawrence Olivier, (the telling of which fellow guest Matthew Perry named as "the worst moment" of his life).
Plus the one about propositioning an American soldier during college and another about public masturbation.
Oh, and who can forget when she told Mamma Mia star Dominic Cooper she thought it "was a dreadful film".
Yep, our mate Dickie got off lightly.
What do you think of Miriam's burn? Cruel or candid?