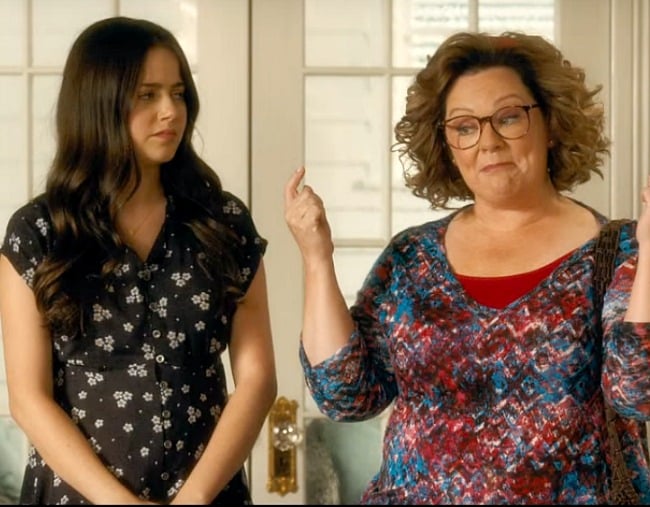 If you've ever watched a friend suffer through a truly horrendous train-wreck of a moment in their life and have been powerless to do anything other than sit back and grit your teeth in sympathy, you'll have an idea of what it's like to sit through Melissa McCarthy's latest movie.
I'm throwing in that friendship caveat because my dislike of this film has nothing to do with the woman herself; with one Ms Melissa Ann McCarthy – comedy legend, sublime actress and the kind of chick you can imagine having the best kind of in-depth chat with over a jug of margaritas.
In this case, it is the movie Life of the Party, and not McCathy, that has failed us all.
Melissa McCarthy stars as Deanna Miles, a dedicated housewife and mother who is brutally dumped by her husband of more than 20 years just moments after they drop their daughter Maddie (Molly Gordon) off for her senior year of college.
Since she was forced to drop out of college before her own graduation to raise her daughter and support her husband, Deanna decides to jump back into the higher learning fray alongside her daughter so she can finally finish her degree.
Life of the Party was co-written by McCarthy and her real-life husband Ben Falcone, who also served as director.
This is where things also start to get a little strange.
When filming TV interviews together, Falcone and McCarthy always give off a particular kind of hilarious and love-filled magic, and with their joint comic timing and knack for colourful storytelling at play this movie should have been a slam-dunk.
Instead, it is a bedraggled mess of movie cliches, undeveloped characters and half-baked storytelling.
The kind of movie that, even if you were on a plane with a screaming child on one side and a belligerent drunk on the other, you'd still opt to read the faecal-covered in-flight magazine tucked down the side of your seat rather than suffer through this jarring film.
The idea that you can start your life over at any age, even during the the hardest of moments, is a good one. Yet it's not an idea that is executed with any grace or ingenuity here.
Take a look at the trailer for Life of The Party and see what you make of this movie.
Deanna herself is a somewhat bland character, one who is able to totter aimlessly through her college scenes without managing to do the one thing she's there to convince the audience to do – root for her.