If you're a woman in your 20s and you step foot into any bar, club, cafe, restaurant or festival, chances are you've seen another girl in a Réalisation Par dress.
Created by two Aussie bloggers – Alexandra Spencer and Teale Talbot, the duo have built up a loyal global following through their low-fi images of trendy girls in flirty dresses, and it's proving to be a winning combination.
Their aesthetic is bullet-proof and their marketing flawless. They've managed to recruit an army of famous Aussie fans, with Jessica Gomes, Bambi Northwood-Blyth, Margot Robbie, Montana Cox and Nicole Trunfio all appearing regularly on their Instagram.
Internationally, Kaia Gerber, Emily Ratajkowski, Bella Hadid and Lorde are fans, too.
Despite being in operation since August 2015, their collection is small. They've limited their styles to a few signature dresses in recognisable patterns and were one of the first brands to bring back the wrap dress in a contemporary way.
First there was The Alexandra in the Navy Star print, then The Ozzie tea dress in Pansy and The Juliet midi in Rouge Fleur also favourites in the range.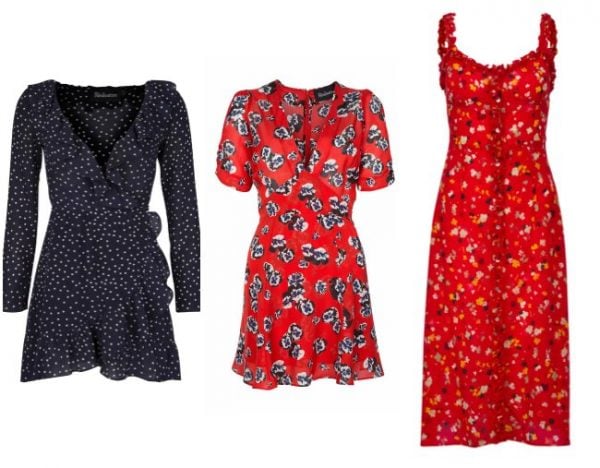 But despite the dresses being in the wardrobes of next to everyone, they've yet to reach saturation point. However there are drawbacks (other than accidentally twinning with a complete stranger at Friday night drinks).
Unfortunately you can only purchase Réalisation Par dresses through their website, and international shipping is a flat $15 or $25 for express, making the fee unavoidable. Sizing can also be an issue - when in doubt size up, especially for bustier girls.
However, through the glory of online Facebook groups, like this Réalisation Par page, you can find pre-loved dresses cheaper than retail, or swap dress sizes and colourways with someone living in the same city as you. This also works most serendipitously if you've bought a dress that's not quite right and don't want to fork out on the return shipping and postage.
When it comes to these dresses, perhaps millennials are falling for their vintage touches and unique, house-designed prints, or maybe it's because the clothes are feminine without the excess frill, while being versatile too.
Wear them with a pair of Stan Smiths or Vans and you've got a casual look for the weekend, or change into a pair of heels for the evening. Doc Martins, ankle boots and cow boy boots work equally was well.
Now tell us if we're making this up but do you own or are you lusting over a Réalisation Par dress or like us, have you seen them everywhere? Tell us in a comment.
Now, speaking of fashion things, when Laura Brown, aka the funniest woman in fashion sat down to have a chat with Mia Freedman we were all ears and we guarantee you will be too. Happy listening.

Shout out to all Dads.
Here at Mamamia we are always looking for ways to make Mamamia even better. Dads, we need you to help us do that by filling out this quick 15 min survey for us. Click the button below for your say.

Want to win some skin care goodies? Like to have your opinion heard?
Take our short survey now for your chance to a win a skin care pack.