Summer is here (finally) which means most of us have shoved our winter clothes to the back of our closet and embraced lighter and brighter options.
Already there's one clear standout of this season's wardrobe.
Introducing the dress everyone will be wearing this summer – if they're not already.
In fact, we guarantee you've seen at least three people wearing one this week.
Yes, it's the mini wrap dress.
We know, we know. Last summer was ALSO about the wrap dress, but I promise you there's a twist.
The wrap dress enjoyed a resurgence last year, but it was mainly in maxi length and floral prints. But as the saying goes, if it ain't broke, don't fix it. Just zhush it up a little.
That's exactly what's happened. The dresses still have the universally flattering v-neck and wrap detailing to cinch in the waist but they're also bolder, shorter and in brighter colours. Oh, and they have a little frill at the bottom  because why not?
They can be made dressy AND casual, look good on everyone and most importantly, very appropriate for Christmas overeating.
So whatever your budget, we've picked our 10 favourites to enjoy Summer in.
1. Bardot Frieda Frill Dress, $129.99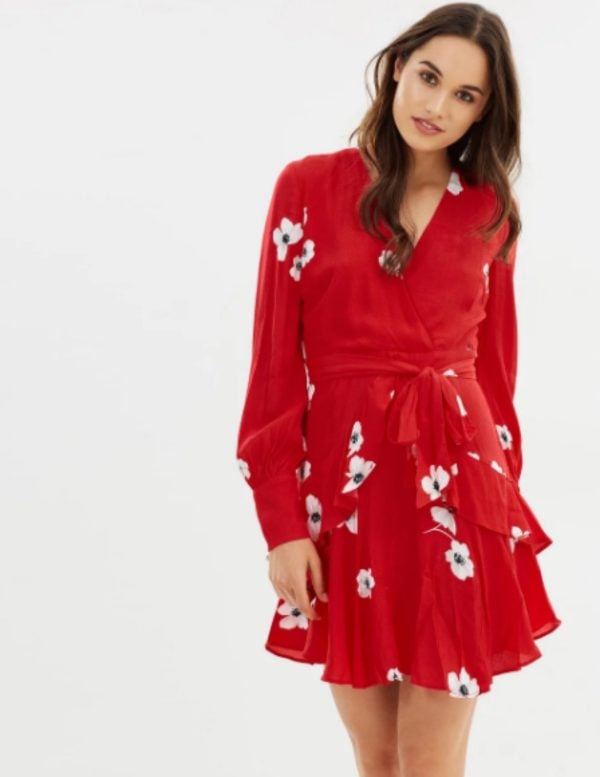 2. St Frock Gemma Frock in Dusty Pink, $59.90.