Before Wills and Kate, the Royal Wedding that captured the nation, and indeed the world, was that of Charles and Diana.
The year was 1981, wedding dresses were big and puffy and 750 million people worldwide tuned in to watch Lady Diana Spencer marry the young prince.
But what was it like to be a part of the bridal party?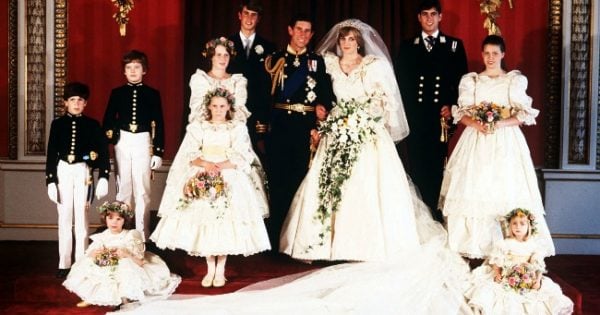 India Hicks, a former model and now lifestyle brand owner, was just 13 years old when she was asked to be a bridesmaid for the iconic wedding.
The 50 year told E! Prince Charles, her second cousin and godfather, called her while she was on holiday in the Bahamas in April and simply asked 'Would you like to be a bridesmaid'?
Her mother, Lady Pamela Hicks, was a bridesmaid to The Queen at her wedding in 1941, making them the first mother and daughter who have acted as royal bridesmaids.
Of the actual event, Hicks remembers a few things.
A stand out moment was an encounter with Princess Margaret the night before.
After a firework display to celebrate, Hicks was meant to go back to her parents' house to get ready for the morning but the crowds made that impossible. So Princess Margaret invited her to stay with her.
Listen: Laura Brodnik interviews Vanessa Kirby about her role as Princess Margaret in The Crown Season 2. Post continues after audio.

"My mother thought it was the perfect plan as I can get to bed nice and early and it would be super comfortable because it's the Palace," she told E!
"Of course, Princess Margaret was entirely practical and saw a 13-year-old, grubby little schoolgirl and thought, "I'll put her in the nanny's room," which was a tiny little single bed—so not quite the luxury my mother had been anticipating.
"But, nevertheless, she was very nice and I do remember the moment Princess Margaret came, very sweetly, to the door in her dressing gown and offered to lend me her toothbrush."
Yes, her very own, actual toothbrush.
"It was so sweet and so horrifying all at the same time... I don't think I did it, I think I used my finger."
She didn't sleep very much that night.
"I was nervous because I'm not home, and where are my pajamas?!" she said.
Her mother did not give her any advice for her bridesmaid duties, other than to make sure she waved, which 13 year-old Hicks found embarassing.
"But my mother was right, her point was people have come and they have slept out in the streets in order to witness a wonderful occasion, they want to be as acknowledged or as involved as they possibly can and to have someone waving at them means they've been seen," she admitted.
At St. Paul's Cathedral, Hicks said she was "very busy", with her task to keep hold of Diana's 7.6 metre train.
"I remember my shoes pinching, they were a size too small, and I remember the King of Tonga's wife passing sweeties across to me," she recalled.
And after all that, Hicks said she ended up missing the wedding reception.
After the ceremony, she was exhausted. So her mum told her to lie down for a bit.
"I woke up and it was midnight, and everyone was gone. I couldn't believe it. I couldn't believe I'd missed my first big ball. I was so annoyed at my mother," she said.
Shout out to all Dads.
Here at Mamamia we are always looking for ways to make Mamamia even better. Dads, we need you to help us do that by filling out this quick 15 min survey for us. Click the button below for your say.

Want to win some skin care goodies? Like to have your opinion heard?
Take our short survey now for your chance to a win a skin care pack.