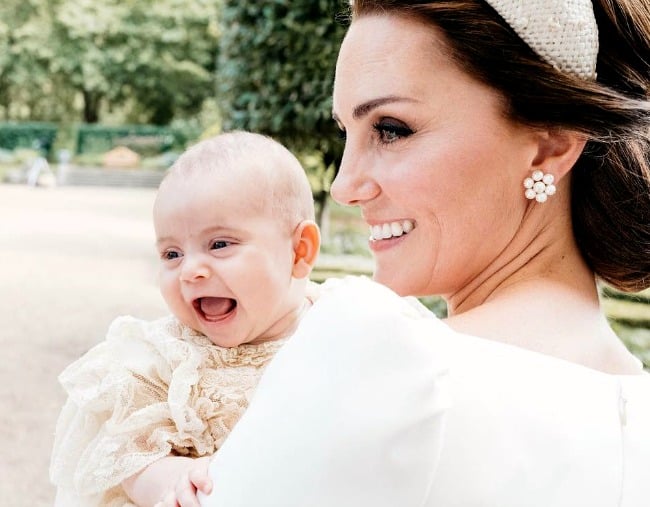 Want more stories about the Royal Family? Then head straight to our Royal hub. It's a blast.
When Kensington Palace released five photos from Prince Louis' christening yesterday, there was one photo we weren't meant to see.
Four photos were taken by the official photographer, Matt Holyoak, but there was one extra snap by Matt Porteous the royal family shared hours after the first ones.
"The Duke and Duchess of Cambridge have released an additional photograph taken following the christening of Prince Louis," read the Instagram caption.
"The Duke and Duchess hope that everyone enjoys this lovely photograph of Prince Louis as much as they do."
This stunning fifth photo shows a tender, candid moment between the Duchess of Cambridge and her two-month-old son that we don't normally see from the royals. But it isn't part of the 'official' christening set.
According to The Mirror, Porteous was hired as the couple's private photographer, meaning his photos would be for the family's private album and therefore off limits to the public. However, it seems this photo was too good to not share – and we're so glad they decided to do so.
Writing to fans on his Instagram account, Porteous re-shared the christening photo on his Instagram Stories and expressed his gratitude to the royal family.
"Overwhelmed by the love and support, an image that has touched so many hearts," read the caption.
"Thank you for all the comments and support, it is a true honour to capture moments in time."
This isn't the first time the Jersey and London based photographer has shot for the royals. Porteous also photographed Prince George for his third birthday last year and his shots perfectly captured the young prince's cheeky side.