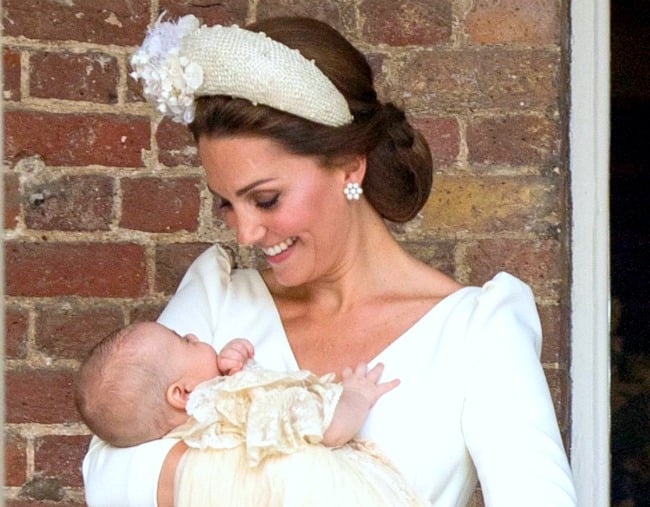 At only 11 weeks old, Prince Louis made his second public appearance in the arms of his mum the Duchess of Cambridge at his christening.
The ceremny took place at The Chapel Royal at St James's Palace in London, and in attendance was Prince Charles, Duchess Camilla, Prince Harry and Meghan Markle, as well as Duchess Catherine's family – parents Carole Middleton and Michael Middleton, and siblings James Middleton and Pippa Middleton who is pregnant herself.
But away from the main event, were the little, touching details you didn't get to see. From the beautiful tribute to the late Princess Diana, and Princess Charlotte's cheeky moment, here are the moments you need to see.
Princess Charlotte and Prince George being bloody adorable, as per usual.
Princess Charlotte and Prince George had the world fawning over their cherub cheeks once again at their little brother's christening.
All eyes were on the four-year-old and three-year-old when they arrived and we got to see the little royals shake the hand of the Most Reverend Justin Welby. Princess Charlotte was ready to go, giving the Reverend a very confident hand shake, while her older brother George needed a little bit more coaxing from their dad.
Prince Louis arrives for his christening at the Chapel Royal with the Duke and Duchess of Cambridge, Prince George and Princess Charlotte pic.twitter.com/8pz9ZTDMpI

— Lizzie Robinson (@LizzieITV) July 9, 2018
Prince William and Duchess Catherine's subtle tribute to Princess Diana.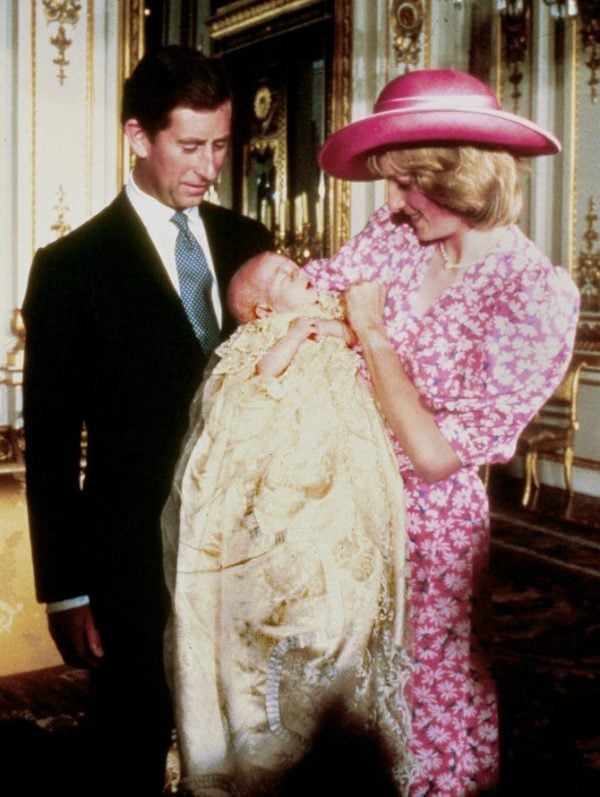 The memory of Prince Louis' late grandmother was kept alive in a touching musical tribute.
The processional organ music played during the ceremony was the song Rhosymedre which was also played at Diana's funeral in 1997.
Prince Louis' christening was the first time we've seen the entire family-of-five together.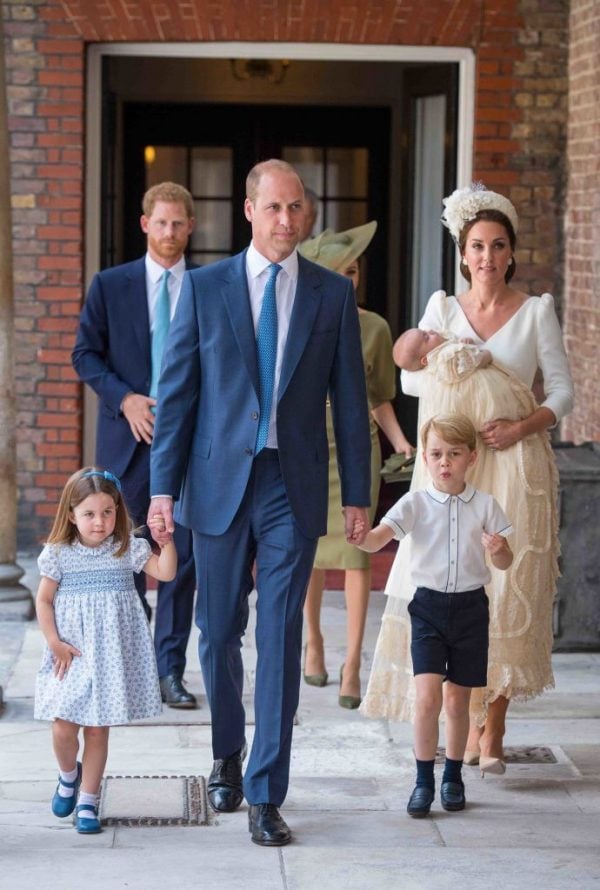 The Duchess has significantly cut down her royal appearances after giving birth to Prince Louis on April 23 and this was the first time we've seen her in public since she attended Trooping the Colour on June 9. This was also the first time we've seen Prince William, Duchess Catherine, and their three children together in public, as well as our second time glimpsing Prince Louis.
The last time we saw the 11-week-old Prince was when he was with his parents outside the Lindo Wing of St Mary's Hospital right after his birth.
Watch the royal family arrive for Prince Louis' christening:
The touching throwback to Prince William and the Duchess of Cambridge's wedding in 2011.

Royal onlookers noted a few throwbacks to the 2011 wedding of Prince William and Duchess Catherine at the christening of their third child.
Among them was the anthem, This is the day which the Lord hath made, which was composed by John Rutter for their nuptials seven years ago. The anthem was also sung by The Choir of Her Majesty's Chapel Royal, who performed the song at their Westminster Abbey ceremony.
The Duchess also wore an elegant, knee-length, long-sleeved dress by Alexander McQueen, who was also the designer behind her iconic wedding dress.
The royal tradition behind Prince Louis' christening Robe.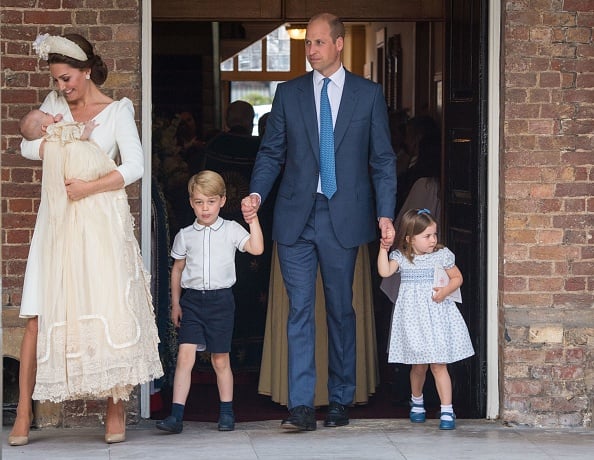 Prince Louis' christening robe was a replica of the exact same robe worn by royal babies since it was used at the christening of Queen Victoria's eldest daughter, Victoria, Princess Royal, in 1841. Up until 2008, the royal family continued to use the original gown until the Queen commissioned for an exact replica to be made in order to preserve the original.
The robe features layers of fine Honiton lace lined with white satin and the replica was made by Angela Kelly who is also known for being Queen Elizabeth's personal wardrobe advisor.
The Duchess of Cambridge's very relatable joke.

Although Duchess Catherine and Prince William are very well accustomed to the spotlight, things are always more unpredictable with an 11-week-old baby.
So far, all the photos we've seen of Prince Louis show him peacefully asleep, but the chance of a minor outburst was no doubt very real.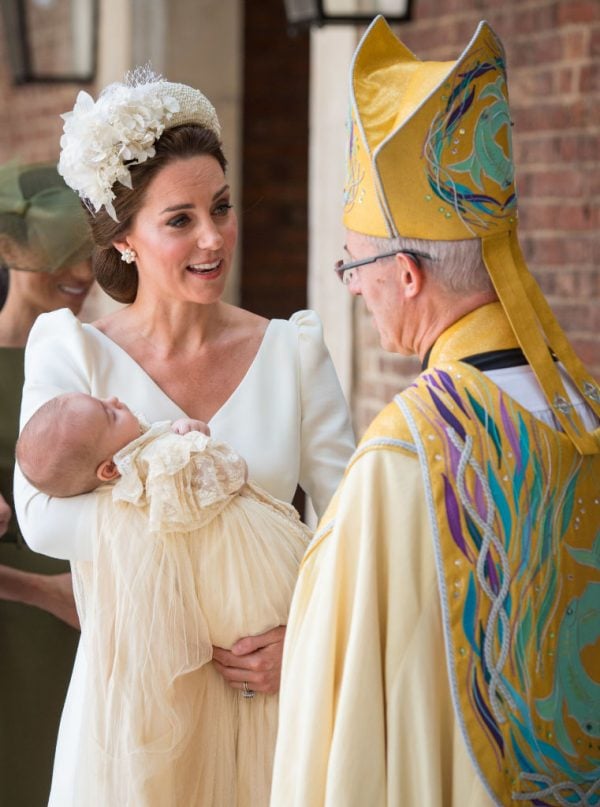 It's been reported that as the family arrived, they were greeted by the Archbishop of Canterbury and the Most Reverend Justin Welby and upon seeing the baby prince, Most Reverend Welby told the Duchess he looked "very relaxed and peaceful."
Smiling, she joked back, saying: "I hope he stays like this," while smiling.
Royals... they're just like us.
Meghan Markle wore colour... again.
The Duchess of Sussex looked oh-so elegant in a matching monochromatic, olive green ensemble featuring a dress by American designer Ralph Lauren, paired with a hat, belt and pointed court heels in the matching hue.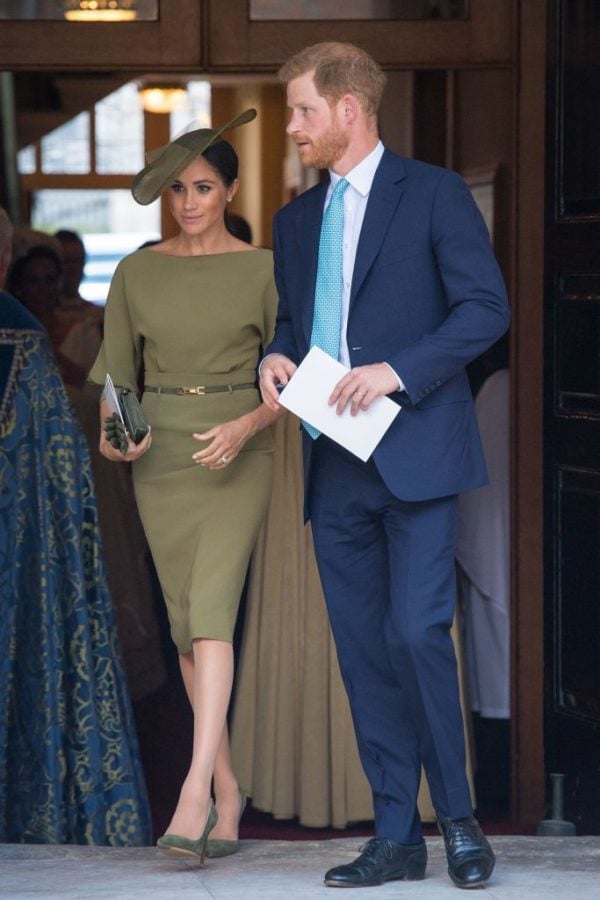 Since her wedding we've rarely seen Meyghan in colour and apparently there's a special meaning behind this shade. Olive green represents the traditional colour of peace and according to the Mirror, it's also the shade of growth, rebirth and unconditional love.
And whether it was a conscious effort on Meghan's part or lovely coincidence, it's definitely fitting for the occasion.
Guests had to consume a seven-year-old cake.
The music wasn't the only throwback to Duchess Catherine and Prince William's wedding, however this tradition is a little more irksome.
It was stated by the royal family's official website that after service, the Duke and Duchess held a private tea at Clarence House where they served slices of 'christening cake' which came directly from their wedding cake.
From 2011.
Seven years ago.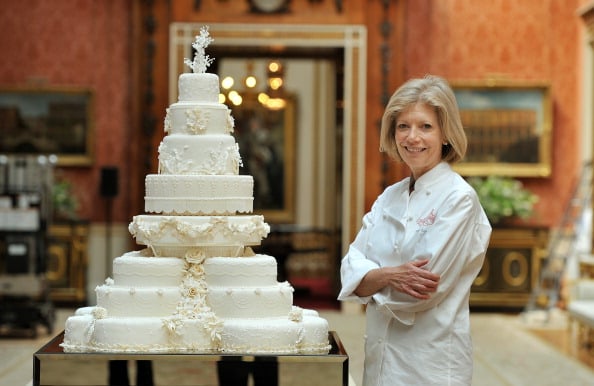 Their wedding cake was originally made from 17 individual fruit cake and had a towering eight tiers, so luckily for guests (or not so) there was a lot to go around, and it's a tradition the couple have done so for all three of their children.
What was your favourite moment from Prince Louis' christening? Tell us in a comment!