If you were one of the many people watching the royal wedding with your eyes glued to Prince George, you may have noticed that his outfit was a little different than usual.
The four-year-old royal is always spotted in shorts, and never in full-length pants, even during the winter.
That's why when George arrived at the wedding of Prince Harry and Meghan Markle on the weekend, all his biggest fans were discussing his attire, which was a miniature version of the Blues and Royals coat that Prince Harry and William wore.
The tiny coat was matched with a pair of custom-made black pants made by Savile Row tailors Dege & Skinner with a striking red stripe down the side. And they were full-length.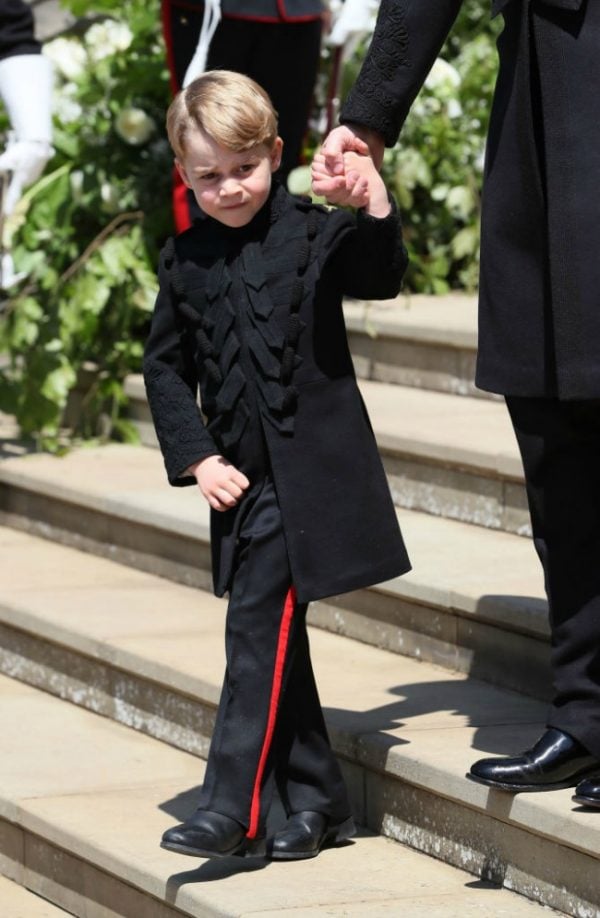 Despite England's cold weather, the royal wedding was the first time Prince George has worn long pants in public. That doesn't mean his parents, Prince William and the Duchess of Cambridge, are putting him out to fend for himself in the freezing cold.
The young Prince is often spotted with knee high socks with a pair of shorts in the winter, even at the wedding of his aunt, Pippa Middleton.
"It is considered very suburban for a little boy to be in long trousers when he is just a little boy," said the Editor-in-Chief of Majesty magazine, Ingrid Seward, in an interview with People. "Boys wear trousers until they are 8… it is very English."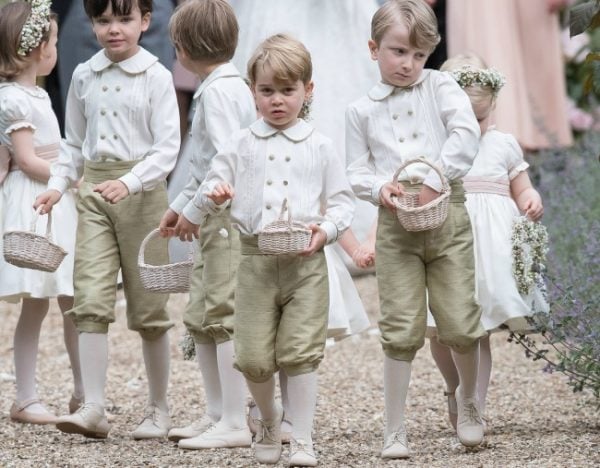 Etiquette expert, William Hanson, also said the tradition is very classed.
"Trousers are for older boys and men, whereas shorts on young boys is one of those silent class markers that we have in England," he told Harper's Bazaar UK.
"This is, historically, perhaps due to the practice of 'breeching', which dates back to the sixteenth century. A newborn boy would be dressed in a gown for their first year or two (these gowns have survived as the modern Christening robe) and then he was 'breeched' and wore articles of clothing that more resembled shorts or trousers than dresses."
The wedding of Prince Harry and Meghan Markle marked a milestone not only for the happy couple but for the very stylish Prince George too.
Thank you - just by clicking on this and other content on Mamamia, you are helping to fund education for some of the world's most disadvantaged girls.
Together with our commercial clients and charity partner Room to Read, Mamamia's goal is to be funding 1,000 girls in school each and every day, by June 2020.
Learn more here about our ongoing mission to make the world a better place for women and girls.