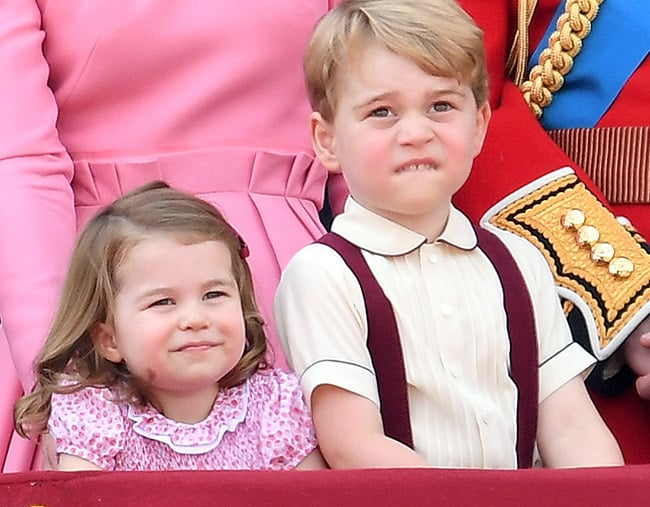 For all the Prince George, Princess Charlotte and royal news in one convenient place, visit our Royal hub.
For most of us, it's expected that we will be on our best behaviour when our grandparents are around. We are told to talk slowly and loudly and to do the washing up, but for Prince George and Princess Charlotte, they will soon be expected to bow to their great-grandmother.
While most of the royal family, such as Prince Harry and Prince William, have been bowing to the Queen for years, the tiny royals have to start bowing to Queen Elizabeth II when they are five years old.
"Certainly by age five. The only person they will curtsy or bow to is the sovereign. A royal highness does not curtsy to another royal highness," historian Marlene Eilers Koenig told Hello!. 
For Prince George, that means that following his fifth birthday last week the young prince has had to start bowing to Queen Elizabeth II.
It seems very young. Especially since just three years ago Prince George literally called the Queen Gan-Gan.
Yes, Gan-Gan.
"George is only two and a half and he calls her Gan-Gan," Kate Middleton said in ITV documentary Our Queen At Ninety. 
According to a source who spoke to PEOPLE magazine, George is "very independent now and not as interested in playing with Charlotte all the time."
It's nothing personal, he's just very grown up.
"They are close," the source insisted, "but George likes to go off and do this own thing."
Earlier this year, Prince George was very adult when he wore long pants for the first time, for the wedding of Prince Harry and Meghan Markle.
The five-year-old's outfit, which was a miniature version of the Blues and Royals coat that Prince Harry and William wore, marked the first time Prince George didn't wear shorts to a public event.
"It is considered very suburban for a little boy to be in long trousers when he is just a little boy," said the Editor-in-Chief of Majesty magazine, Ingrid Seward, in an interview with People. 
"Boys wear trousers until they are 8… it is very English."
The royal family are expected to bow twice in the presence of the Queen, once when she arrives, and once when she leaves.