"Am I being unreasonable to wonder why retired parents live in big houses and don't help family?"
This is the question that user Dojos (whom we assume is a woman based on the forum) asked in a recent Mumsnet thread; a question that was met with some very real responses.
Obviously struggling with her own immediate family finances, the woman said she isn't "judging", but couldn't help but notice that both sets of grandparents have multiple properties, while her own family is "struggling to make ends meet."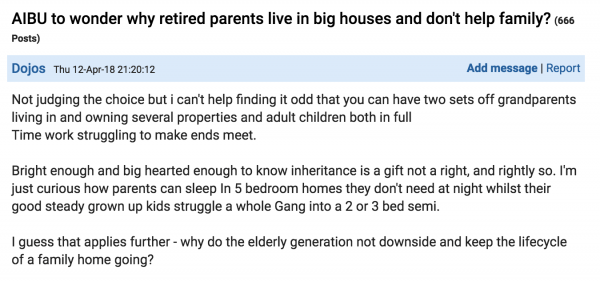 Dojos noted that she understood that "inheritance is a gift, not a right," but still questioned how the senior family members could sleep at night in their large homes with empty rooms, knowing their kids and their grandkids were struggling to fit into less palatial accommodation.
The line of questioning may have simply been an indication of Dojos querying her parents' love for her and their priorities - we all know that family relationships can be complicated. But then she also asks:
"Why do the elderly generation not [downsize] and keep the lifecycle of a family home going?"
The last question seems to be a suggestion that the older generation surrender their home for the good of the younger generation; and that seemed to be the nail in Dojos' coffin, ending any chance of empathy from forum users.
Most people seemed to feel her attitude was very entitled.